Erie At Large: Making love or expecting rain
The new year will be a prelude to a defining moment for the future of the Erie region: the elections of 2017.
December 23, 2015 at 10:30 AM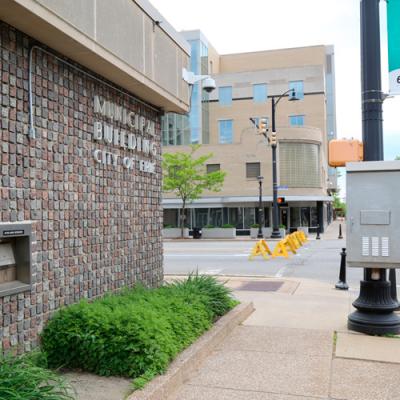 The election of Sonja Arrington to Erie City Council in November and the death of Erie County Councilman Phil Fatica on Dec. 6 could lead to dynamic shifts on both councils in the year to come and beyond. As evidenced by Arrington's victory in the May Democratic primary, which ensured her a seat on City Council by virtue of an uncontested race in November, the public seems relatively open to a change of tone on Erie City Council. The congenial atmosphere on Erie County Council, however, will be something County Council will seek to maintain as they accept applications from people wishing to represent the county's first district.
City Council has been locked in a staring contest with the mayor's office for most of Erie Mayor Joe Sinnott's last term. If there's dialogue, it's been quiet. If there's change, it's been subtle. Many on the current council long to occupy the fifth floor of City Hall in 2018, but that hasn't seemed to motivate them to act in exceptional ways on behalf of the city they serve. Few of them hold serious prospects.
Veteran councilman and public school teacher Bob Merski has been less than modest about his intentions to run for mayor in 2017. And why not? His time is now. In a city where the incumbent is rarely challenged, Merski, now 40, could ride three terms as mayor into an early retirement. But like all politicians who have long staked their claim on an executive office, Merski has an almost Clintonian aversion to political risk. As the city prepares to close out the Sinnott years, a period of guarded and disciplined stewardship despite mounting crime and economic problems, such safe calculation could be Merski's undoing rather than the cushion he needs to pad his landing in 2017.
Council president Dave Brennan also looks like a contender. His recent challenge to the Mayor's proposed budget in the face of mounting crime and economic problems drew praise from those expecting innovative solutions from City Hall. As Erie Times-News columnist Pat Howard concluded, Brennan's proposal to move $300,000 from administrative departments to public safety "smacks of pragmatism, not politics."
And although he's not talking about being much more than Councilman Brennan, there's a "draft Brennan" air about that's hard to ignore. His leadership on City Council and commendable relationship with Erie County Council positions him well for higher office. The Brennan and Breneman alliance that's formed around a rails-to-trails plan for the 19th Street corridor smacks of the "Rick and Rick" show that came to town in 2001, when Ricks Filippi and Schenker were elected as city Mayor and County Executive, respectively. To be clear, this doesn't mean Breneman is looking to take on incumbent County Executive Kathy Dahlkemper in 2017, when she will run for reelection. But it's clear that the two-B alliance has the potential to politically elevate both men.
Arrington's tenure on City Council may bring out the best in both Merski and Brennan. Her motivations and objectives come from a different place. The hardship of losing her son to gun violence in 2010, her anti-poverty agenda, and her detachment from the political vestiges of generations past allow Arrington to speak to and influence council in ways unseen in recent terms.
No doubt, Arrington is politically green. But if she brings to council the fervor and commitment to learning as much as leading – just as her predecessor Jessica Horan-Kunco did when first elected in 2003 – Arrington could be a powerful looking glass for Erie's elected class.
County Council faces a different issue. Phil Fatica was generally well liked – if not loved – by almost everyone with whom he made contact. He was a friend to the Erie Reader and always willing to take a call or point us in the right direction when we were in need of a compass. He was an educator and local television personality, and the skills he developed in those roles made him one of the most approachable and pragmatic politicians Erie has known. For those reasons and more, there was little dissension in the ranks of County Council during Fatica's tenure, and when there was it generally went unseen. He fueled no fires.
There is no substitute for Phil Fatica, but someone must occupy the seat he held. Personality will play as much of a role as experience in making that selection. It will require someone who is complementary to, but not necessarily compliant with, the current power dynamic of that body.
The new year will be a prelude to a defining moment for the future of the Erie region: the elections of 2017. The battles fought and the lessons learned will shape the next generation of leaders, winners, and losers.
So if the close of 2015 is in need of a theme, Bob Dylan's notion that "everybody is making love or else expecting rain" would do just fine. But unlike that tale of woe, let us hope our good samaritans aren't preparing for the carnival down on desolation row.    
Jim Wertz can be reached at jWertz@ErieReader.com, and you can follow him on Twitter @jim_wertz.