Erie Axe Throwing Everything It's Hacked Up To Be
The hoopla on hatchet hurling
January 15, 2020 at 1:15 PM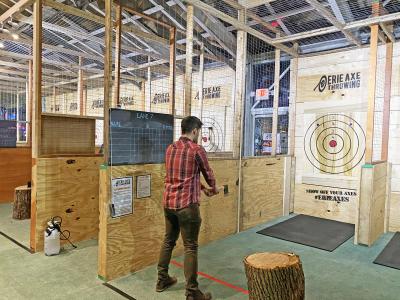 In the quest for our sporting first loves, some of us never find our perfect spiral or go-to pitch. We go through a series of flings, but nothing ever seems to stick. Although it may sound defeatist, that's exactly why I suggest you get together with an axe.
It's nothing to be ashamed of — tens of thousands of people, including prominent Erie businessman Nick Scott, Jr. — are already doing it. If you've grown frustrated with round or oblong objects, Erie Axe Throwing can help you find your release. Scott became enamored with the idea of an indoor axe throwing range after visiting one in Philadelphia, and in his family's Quaker Steak & Lube location he had the ideal venue; its underutilized patio was begging to be repurposed. As the "edgier" counterpart to Scott Enterprise's Hooch & Blotto's — which features duckpin bowling — Erie Axe Throwing's eight throwing lanes debuted last December to great fanfare among adults and teens.
You can do it, put your axe into it
The concept is simple: step into a throwing lane, face the 4-foot by 9-foot wooden target with feet shoulder-width apart, hold a hatchet above your head using a one- or two-handed grip, and come straight forward with the arm(s) in a continuous arc. Let go of the axe "as soon as you see your hands," on-site "axe master" Josh Norris tells me. He's as reasonably tall and bearded as his title would suggest. Norris or one of the other "axe"-perts will teach you the basics of proper form upon signing the mandatory waiver and release. A proper throw will lodge the blade firmly in the target and will not drop until it is safely retrieved.
The nuances, of course, are more complex. The key, says Norris, is "rotation and repetition." Rotation is facilitated by using a hatchet that is both light enough and long enough for you — after watching a few practice throws, the overseeing axe master will be able to discern whether a 12-inch, 14-inch, 16-inch, or 18-inch handle suits you best (there is one that is longer, but Norris has yet to see anyone wield it gracefully). Ideally, the axe should rotate exactly once between the thrower and the target. Shorter participants should throw from the front line (12 feet from the target), whereas taller participants should favor the back line (16 feet from the target) to allow more room for their greater range of motion.
I'm one of those guys that's not quite six feet tall — and although I may not ever be quite as handsome or smart or funny as y'all up there breathing that rarefied air — I leave the axe throwing range the same height (5'10") as I came in, which is a success in my book. Furthermore, most of my throws stick, a marked improvement over my only previous (and admittedly not fully sober) attempt at axe throwing. Heed the instruction of the axe master, stay patient, and with any luck yours will do the same.
Hurtling forward as a sport
Axe throwing as a physical act has been around for as long as mankind has been raiding coastal villages, but axe throwing as a sport is a relatively new phenomenon. Initially, it fell within the purview of competitive lumberjacking — aka loggersports or timbersports — which began to rev up in the 1980s with the inaugural STIHL Timbersports Series. These competitions, inspired by those held at traditional lumber camps, measure athletes' tree-felling efficiency across several events, including trunk climbing and log splitting. While axe throwing has little to do with bringing down trees, it's not difficult to imagine lumberjacks casually tossing axes and tossing back some whiskeys after a tough day's work.
In that sense, today's recreational axe throwing is a chip off the old chopping block. The roots of today's urban axe throwing leagues trace back to the desire to simply have something fun to do when the working day is through. Matt Wilson founded the Backyard Axe Throwing League in 2006 after inviting friends over to hurl hatchets outside a cottage in Ontario. The activity was an instant hit, and Wilson would eventually parlay that enthusiasm into North America's first axe throwing bar (2011 in Toronto) and a fully regulated sport. Wilson co-founded the sport's first governing body, the International Axe Throwing Federation (IATF), with Brian Simmons in 2016.
Erie Axe Throwing's scoring system and house rules more closely mirror those of the World Axe Throwing League (WATL), the sport's other major governing body (est. 2017). Targets are composed of four concentric circles (scored one to four from outermost to innermost) with the bullseye in the center counting for six points. Each head-to-head participant gets 10 throws to amass the higher point total — with the greatest earnings potential coming in the fifth and 10th rounds. That is when either contestant can call for a "kill shot," which is achieved by sinking the axe into one of two small blue dots situated in the top half of the outermost ring. Landing a kill-shot is worth eight points, but missing it means you walk away with nothing for that round.
In time, Erie Axe Throwing hopes to become an official WATL affiliate and host bona fide league competition at the venue. With the number of regulars Norris has already seen, that might happen sooner rather than later. Rotation and repetition indeed.
Erie Axe Throwing is located within Quaker Steak and Lube at 7851 Peach St. It is open Thursday and Friday 5 p.m. to 11 p.m. and Saturday and Sunday noon to 11 p.m. Rates are $25 per lane per person for one hour, or $40 for two hours. Maximum six guests per lane. Discounts available for larger groups. Ages 14-17 must be accompanied by adult. No open-toed shoes (the only visible Bunyan should be in your throw).
Also be on the lookout for the mobile pop-up 40 Whacks Axe Throwing (40whacksaxethrowing.com), the opening of BYOB/BYOF franchise Stumpy's Hatchet House in the Liberty Plaza (facebook.com/stumpyshherie), and the start of Sprague Farm & Brew Works' Effin' Axes League this spring (spraguefarm.com/calendar)
Matt Swanseger is a bit of an jackaxe, but he can be reached at mswanseger@eriereader.com regardless.