Erie Clinches Playoff Berth in 4-1 Win over the IceDogs
Chris Festarini stopped 23-of-24 shots, which was good enough for the Erie Otters to clinch a playoff spot.
March 2, 2011 at 10:29 PM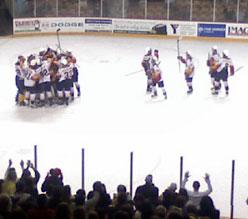 By ALEX SIBLEY
ASibley@Eriereader.com
The Erie Otters are back in the Ontario Hockey League playoffs.
More importantly, rookie goaltender Chris Festarini is playing the like the goalie the organization envisioned when it drafted him in 2009.
Festarini, making his fourth consecutive start for the injured Ramis Sadikov, stopped 23-of-24 shots, while Phil Varone scored the game-winning goal 1 minute, 35 seconds into the third period in the Otters' 4-1 victory in front of 2, 976 at the Tullio Arena. It is Erie's third trip to the playoffs in as many years.
"We knew we were going to be in (the playoffs)," said Varone, who finished the night with three points. "We were confident in that. Now, it's just about getting good seeding and see who we play first."
With Midwest Division rival London idle, Erie took sole possession of sixth place in the Western Conference with 70 points. Erie trails fourth-place Plymouth by three points, which guarantees home ice advantage.
"My thoughts are on where we're going to finish," coach Robbie Ftorek said. "We want to (finish) as high as we can."
The Otters haven't finished above seventh place in the conference, leading to just one playoff win in the last two seasons. The last win came in Game 3 of the Western Conference Quarterfinals against the London Knights in 2009.
Erie came into the game against Niagara needing just one point to solidify itself in the postseason, but found itself in an early hole, as Anthony Luciani made a costly turnover at the blue line to Ryan Strome, who beat Festarini between the pads for an early 1-0 lead.
For the second straight game, Festarini gave up an early goal. And for the second straight game, he stopped every shot afterwards.
"I feel like it's my net," said Festarini, who earned his second career OHL win. "We clinched a playoff spot tonight and I'm extremely excited about that."
His confidence is high and his numbers prove it. Before his first win against Kitchener Saturday evening, Festarini was 0-8, with a .587 goals-against average and a .821 save percentage. After Wednesday it's a different story-– 2-0, 1.0 goals-against average with a .961 save percentage.
"It's just confidence, that's the biggest thing," Varone said of Festarini. "If you don't have confidence, it doesn't matter who you are, you're not going to perform the way you want to. He knows that he owns the net right now. We've always had confidence in him; we were just waiting for him to throw in a good performance."
The offense decided to show its muscle a game after scoring just two goals.
After Luciani tied the game with the only goal in the second period – his 28th of the season – Erie put the game away with a strong third period.
Just 1:22 into the final frame, Varone went 1-on-3 against the Niagara defense, made some nifty moves with the puck before firing it over the shoulder of Mark Visentin for the eventual game winner. Visentin stopped 21-of-24 Erie shots.
"I decided to try something," Varone said of his highlight-reel goal. "Usually when it's one-on-three, guys start to be lackadaisical."
Brett Thompson gave the Otters some breathing room as he crashed the net and poked home his 41st of the season at 15:18, while Greg McKegg putting the finishing touches on the contest with an empty-net goal with just over a minute remaining.
The celebration was short-lived, as the Otters have six games left to build their positioning to better their chances in the playoffs.
"It's just another step," Varone said. "We're a solid team. But we have important games coming up, so before we get too ahead of ourselves we have to start worrying about this weekend."
 
~Alex Sibley covers sports for the Erie Reader. You can contact him at ASibley@Eriereader.com, or you can follow him on Twitter @ErieReaderSport.