Erie County Executive Dahlkemper Issues Stay At Home Order
What this means for Erie County residents
March 24, 2020 at 3:45 PM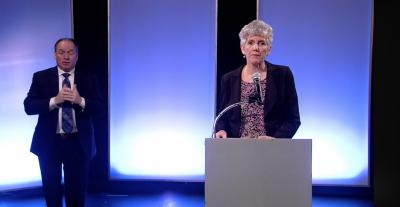 Erie County Executive Kathy Dahlkemper has issued a Stay At Home order for all Erie County residents, effective immediately, after announcing the fifth confirmed case of COVID-19 in the Erie area. 
What the Stay At Home Order Means For You
In outlining expectations for Erie County residents, Dahlkemper advised the following:
Stay at home as much as you can
You can still go outside (such as for a walk, run, or bike ride), but practice social distancing — but you cannot get within six feet of any individual who is not a roommate or live-in family member.
You can leave the house for groceries, food, and/or essential items. "Buy what you normally buy — do not hoard," she said. "The supply chain is still working."
You can still travel to work if deemed a "life-sustaining" or "essential" business per Governor Tom Wolf's order.
You can leave your home to attend to a family member, friend, or pet if the need is life-sustaining.
You cannot travel outside of Erie County unless absolutely necessary.
When traveling outside the home and returning, she reemphasized handwashing for at least 20 seconds and changing (and washing) clothes that may be carrying the coronavirus. She urged residents not to touch their faces in public and/or until proper handwashing can be completed and to utilize hand sanitizer after contacting objects or surfaces in public, such as gas station pumps and ATMs. 
She reminded Erie residents to "stay home, stay safe, and stay calm" until the threat has passed.
COVID-19 case details
In sharing the latest on Erie County's five positive COVID-19 cases, Dahlkemper revealed these details:
All five individuals are in their 20s or 30s, a phenomenon Dahlkemper called "surprising."
Three out of the five had traveled (Cases 1, 2, and 5)
Two of the five contracted the virus from a known contact (Cases 3 and 4)
None of the five individuals required hospitalization.
All five have self-quarantined — additional individuals who may have been exposed due to interaction with those infected have been contacted by the Department of Health and asked to also self-quarantine at least 14 days while waiting for development of symptoms.
Despite these precautions, the number of COVID-19 cases is nonetheless expected to escalate in the coming weeks. By adhering to best practices and staying at home unless absolutely necessary, local health and government officials hope to minimize the pandemic's impact on Erie County.