Erie County United Rallies for Local Union Workers
81 Ohio GE Lighting employees facing potential layoffs
February 25, 2021 at 11:34 AM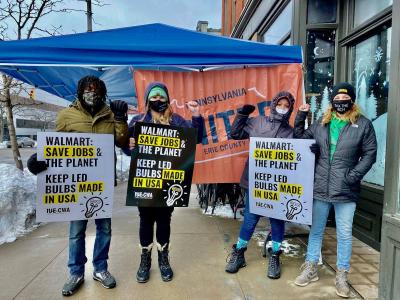 Members of Erie County United, including Erie City Council candidates Kendrick Tate (left), Jasmine Flores (second from right) and Elspeth Koehle
On Feb. 20, Erie County United joined efforts to save the jobs of 81 workers at a GE Lighting plant in East Cleveland. All employees facing cuts are part of IUE-CWA Local 84704 workers union in Bucyrus, OH.

The potential layoffs come following the Jan. announcement that the plant will no longer service Walmart's need for LED bulbs. Walmart plans to move this product line to their Great Value brand which is manufactured in China.

According to a petition supported by Erie County United, this lighting plan is the only remaining residential light facility in the United States. It reads, in part: "Walmart's new national advertising campaign claims the company is dedicated to promoting American manufacturing and reducing their carbon footprint. Ensuring that these bulbs are made in the U.S. is how they can show they actually mean what they say."

GE Lighting was purchased by Savant Systems in July 2020.