Erie Needs the Energy to Turn Itself Around: Wind Energy
In addition to solar potential, we also have a lot of wind. Thus, we must have a lot of answers blowin' about in it.
February 3, 2016 at 11:15 AM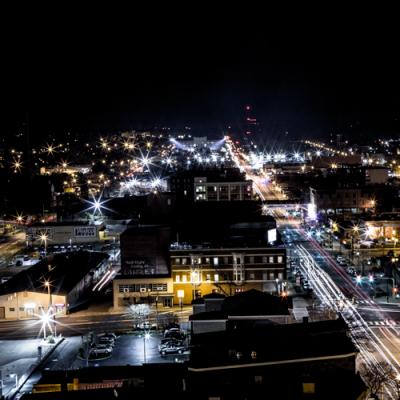 In his December 2015 feature in the Erie Reader on DonJon ShipBuilding, Contributing Editor Jim Wertz notes something important to the future of energy – and manufacturing – in Erie.
"DonJon purchases the majority of its raw materials from local vendors and appears to be committed to the Erie region," Wertz wrote. "It has a long-term lease with the Port Authority and it's contracted with the Lake Erie Energy Development Corporation (LEEDCo) to begin a geotechnical investigation of Lake Erie soils. It's part of the process that is expected to lead to offshore wind turbines for energy generation."
In those three sentences, there's a lot to be happy about – if you care about the future of Erie and think that future has something to do with manufacturing and energy.
First, DonJon is buying locally, which stabilizes (two-thirds of money spent locally stays local) and grows (nearly half of the money spent locally recirculates in a local economy immediately) Erie's economy.
Second, DonJon is remaining an anchor on Erie's bayfront. Few better emblems of our industrial might and potential are so publicly featured than our claim to one of only two shipyards on the Great Lakes capable of servicing 1,000-foot ships (which means other really big things can be made and serviced there).
At DonJon, it's the meeting of past and future in the present, an example of what has been and what could be. And at that convergence lies wind energy.
Ignore the let's-not-disturb-our-beautiful-lakeview-horizon-with-turbines argument and explore the potential for wind energy in Erie the same way Buffalo is harnessing solar energy for progress: By manufacturing the things that manufacture it. Through its budding relationship with SolarCity, America's largest solar power provider, which prior to opening a plant in Buffalo purchased all of its panels from China, Buffalo's rebounding in a big way.
Buffalo's investment has become the exciting new tinder for a once roaring fire nearly choked out by aged rust. But instead of wheezing quietly into that good 21st century night, Buffalo's raging through a reinvention of nothing new: Manufacturing.
While Erie could learn from that, it can also learn from wind energy by looking towards Cleveland.
As reported by The Plain Dealer's John Funk, Norwegian wind farm developer Fred.Olsen Renewables plans to construct a $120 million pilot wind farm on Lake Erie. The largest independent power producer in the United Kingdom and fifth largest in Europe, Fred.Olsen has also partnered with LEEDCo.
Aesthetics of turbines on the horizon aside, we've technologically eclipsed the concerns of carrying canary in the coalmine when it comes to wind turbine safety and the region is moving forward whether Erie likes it or not. And if you still think that fossil fuels are the best answer to fueling the planet, you likely have more in common with the fossils than with those of us who want to have a future and place faith in renewables. And a bright part of that future can be happening here in Pennsylvania – and chiefly here in Erie.
According to the American Wind Energy Association (AWEA), "Pennsylvania is a manufacturing leader for the wind energy industry. Many of the skills Pennsylvania workers possess easily transfer to wind energy manufacturing, providing thousands of new jobs and spurring billions in investment." On a map of the state, AWEA dots our rectangular outline with both turbines and gears, signifying the production of energy and the production of the things that harness that energy. You can guess which Erie has.
Although the state currently only powers the equivalent of 329,000 homes with wind energy, it's projected that by 2030 the state could power 1.6 million American homes. If we're going to meet those numbers, we need to get busy building. And according to 2004 legislation, we have to.
The Alternative Energy Portfolio Standard (AEPS) mandates electricity suppliers supply "18 percent of their sales from alternative energy sources by 2021." Those 329,000 Pennsylvanian homes powered in 2014 results in a paltry 1.62 percent from wind, but when it comes to renewables, wind alone has accounted for more than 80 percent of requirements set through 2011. That is, wind is working, but it could be – and needs to be – working better.
So while we can prolong the debate over whether we want turbines dotting our precious strip of lakefront, we can't afford to delay the inevitable: Wind is on the rise and so is the need to manufacture turbines. And Erie can play a big part in this.
And if we care about our rebound, we'll need (more) energy. One of the answers, as it turns out, is blowin' in the wind. And it's time we do more than just enjoy the breeze; it's time we make the breeze work for us.
Ben Speggen can be contacted at bSpeggen@ErieReader.com, and you can follow him on Twitter @BenSpeggen.