Erie Playhouse Produces Classic American Tale: To Kill a Mockingbird
Catch the classic tale in a fresh medium.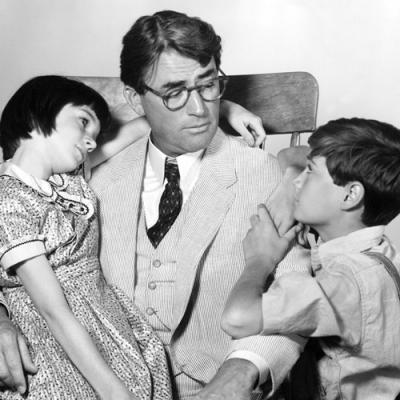 It's been more than 50 years since Harper Lee first published To Kill a Mockingbird, and more than 20 years since the last time the Erie Playhouse staged a production of the play adaptation.
But the message of Lee's Pulitzer Prize-winning work is more relevant than ever, said Almi Clerkin, executive director of the Playhouse and director of the show, which opens Friday, March 13.
"When it comes to being a good person or a bad person, or how to treat people, it doesn't matter about the color of your skin," Clerkin said. "It goes beyond race. It comes down to being a person who is genuine and kind."
To Kill a Mockingbird is a classic among all ages, and for good reason. Clerkin is re-reading the book now and still finds it "so engaging." The story follows siblings Jem and Scout, whose father is appointed to defend Tom Robinson – a black man accused of a crime he didn't commit. The trial divides their sleepy, Depression-era Alabama town, and issues of justice and racism are at the forefront.
And at the center is the quiet heroism of the lawyer, Atticus Finch, played in this production by Matthew Fuchs (Two cool notes: Fuchs is actually a lawyer, and Atticus' daughter, Scout, is in turn played by Fuchs' real-life daughter, Aurora).
Harper Lee once said that "in that film, the man and the part met," when it came to the actor playing Atticus, Gregory Peck. Peck's performance garnered him an Oscar, and a place for Atticus Finch as the greatest hero in American film, according to the American Film Institute's ranking.
"When you think of heroes, you don't think of men like that in this day and age," Clerkin said of Atticus.
Clerkin said the Playhouse chooses mainstage productions for several reasons. While the Playhouse is known for its musicals, Clerkin said it's also important to pick plays that will challenge both the audience and actors and create showcases for diverse talent pools, as well as titles that are familiar to a broad audience and provide matinee opportunities for area students. With the popularity of To Kill A Mockingbird in high school reading classes, the play is a perfect pick.
The timing of the announcement that a previously lost Harper Lee manuscript – a To Kill a Mockingbird sequel written before the original book – was set to be published turned out to be "the kind of publicity you can't buy," Clerkin said.
"We can't even begin to plan for such surprises," she said. "That's been one of the most interesting things to come out of this. We were all a-twitter and so excited."
Ultimately, amid the perfect storm coming together to make Erie Playhouse's production of To Kill a Mockingbird one for the ages, Clerkin said it's the simple message at the heart of the classic book that still resonates.
"We have to have patience and try to understand one another," Clerkin said. "It simply comes back to how you love and treat one another. That's what it comes down to." – Sara Toth
7:30 p.m. March 13-14, 19- 21, 25- 28; 2 p.m. March 22, 29 // Erie Playhouse, 13 W. 10th St. // Tickets $15.90 - $24.40 // erieplayhouse.org