Erie Reader Recipe Book: Cristina?s Traditional Hummus
If there's one thing Cristina does right, it's hummus, she says. And here's her proof.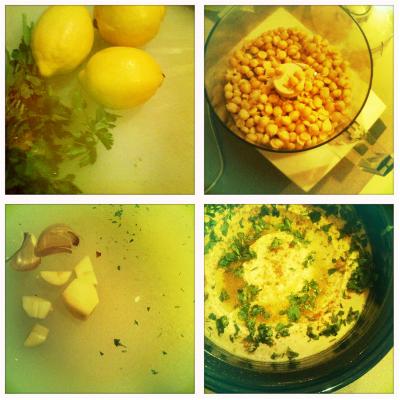 Who hasn't heard of hummus these days? You know that delicious chickpea blend that can be found at any olive bar around town. Well, if you love this Middle Eastern staple as much as I do, then it's time to start making it at home. It's easy, cost effective, and once you get a taste of the real deal, you will never go back to the packaged variety again.
Now I'm not one to toot my own horn, but if there is one thing I do right, it's hummus. There is only one woman that I have ever met who makes it better than I do, and she is Lebanese and also happens to be the owner of my favorite restaurant in Brooklyn. So trust me on this one.
Let's start out by discussing exactly what hummus is. Simple put, hummus is a combination of chickpeas, tahini (sesame seed paste), garlic, lemon, olive oil, and salt all blended together into a smooth flavor explosion. I know that store bought hummus can come in many different flavors like roasted red pepper, sundried tomato, and so on, but I consider myself a hummus purist and the traditional recipe does not include any of these extra "flavor enhancers." Hummus should be creamy and smooth, not a stiff paste, and should taste nutty with a touch of tang from the lemon. Garnishing can consist of a drizzle of warm olive oil, a dusting of cumin, fresh chopped parsley, or even a sprinkle of thyme.

This recipe is simple and all of the ingredients can easily be found at any grocery store. Aside from a food processor, all you will need is; 1 can of chickpeas (or ¾ cup dried chickpeas), 1 tsp. of good salt, 1 Tbs. of olive oil, 1 to 2 garlic cloves pending on your taste, ½ cup of tahini, and ¼ cup to ½ cup of lemon juice depending on your taste. You will also need a dash of cumin and a palm full of fresh, chopped parsley for garnishing.

There is one of two ways to get started with this dish and that all depends on if you are going with the canned chickpea route, or if you would rather use the dried version instead. The canned varieties keep cleanup and time to a minimum, but I prefer to use dried myself for a couple of reasons. Dried chickpeas purchased in bulk are a lot cheaper than canned ones. Also, the dried version have a much more distinct nutty flavor. When using dried chickpeas, you must soak them in water the night before you plan on making this recipe. If you don't then they will not cook all the way through. The next day, drain and rinse the chickpeas, and then place them in a pan with water (enough to cover) and bring it to a boil. Once the water is at a rolling boil, turn the heat down to a simmer and partially cover the pan. Let the chickpeas simmer for about 40 minutes or until they are soft and cooked through. You can test the chickpeas by tasting them. If they are a little firm, or mealy, then let them cook a little longer.

At this point in time, you should have chickpeas in liquid, whether you cooked them yourself or they came in a can. Strain the liquid into a bowl and save it for later. The reserved liquid is crucial to this recipe, so it's important not to discard it. The next step is to remove the skins from the chickpeas. All this means is that you are going to squeeze the little skin right off of each chickpea. This sounds tedious, but it makes a big difference in the texture and flavor of your hummus. Toss the skins into the sink and the chickpeas into your food processor. Removing the skins from the chickpeas is not absolutely necessary, but when you see how big that pile of flavorless fiber is in your sink, you'll be glad you took the time to do it. If time is scarce, you can skip this step entirely and just jump to placing the drained chickpeas in the food processor.
Now we begin the blending process and I swear it's important to do this in the right order. Start with the shelled chickpeas sitting in the food processor. Add the salt, the olive oil, and the garlic. I use about one and a half cloves of garlic cut into large pieces. Process these ingredients until they are completely blended and have a crumbled, dry texture. Turn the food processor off. Next add the tahini, ¼ cup of lemon juice, and a spoonful of the reserved chickpea liquid. Process again until all the ingredients are combined and then turn the processor off. At this point you should have a thick, but relatively smooth paste. Now you need to thin the hummus out by adding splashes of the reserved liquid and the lemon juice while pulsing the food processor. Just add a little bit at a time until you reach a desirable consistency that is nice and smooth, but not too runny. Keep in mind that if you are planning on serving your hummus later in the day that it will thicken up a bit in the refrigerator.
You have made it this far through the recipe so lets keep up the at-home-chef momentum. Skip the Tupperware and transfer your hummus from the food processor into an attractive serving dish. After all, you deserve the total chef-prepared experience and part of that is presentation. All that's left to do is garnish. I like to use a spoon to make a moat-like channel depression in the top of the hummus. I then fill the depression with warm olive oil. Sprinkle with cumin and chopped fresh parsley and serve with warmed pita bread. If you are serving hummus at a party, I recommend setting out a tray of cut of veggies and pita chips in lieu of the pita bread.
Now this doesn't sound too hard does it? This is a very easy and inexpensive recipe to try out, not to mention that cleanup and prep time is minimal. So next time you are planning a party, you could go with the fallback bag of snack chips and a tub of dip, or you could mix it up with a middle eastern theme of olives and feta, pita, fresh veggies, a wine sampler, and your new hummus recipe.