Erie Strayer Workers Hold the Line
What the Erie steel construction labor strike of the 1950s shows us about today
December 1, 2021 at 1:00 PM
On July 3, 1941, the Bridge, Structural, and Ornamental Iron Workers Union won a labor board election with the workers of Erie Steel Construction in Erie, Pa. It was a year in which organized labor was flexing its muscles across the country; industries were growing rapidly as the economy rebounded from the Great Depression and defense contracts were increasing due to the war. Over 4,000 strikes took place nationwide during this year (before Pearl Harbor brought the U.S. into the war and many agreed to "no strike" pledges). This involved over 2 million workers who demanded fair pay for their labor, more reasonable hours, and safer working conditions. In Pennsylvania alone, nearly 550 strikes took place (the second most of any state in 1941), involving nearly half a million workers.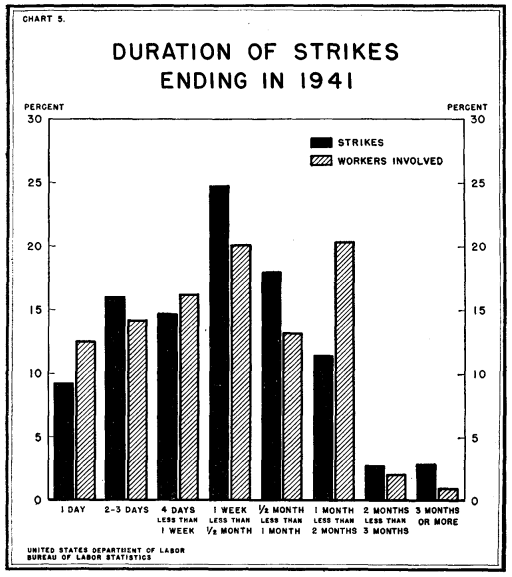 United States Dept. of Labor, 1941
Strikes like these continue to this day. But more on that later.
"This trend reflects the attempt of workers to keep their wages in line with the rising cost of living and to obtain their share of increasing profits from the rapidly expanding defense program," a Department of Labor report concluded.
After the vote, the unionized ironworkers at Erie Steel Construction immediately commenced negotiations with the company for a 10-cents-an-hour raise. A month passed with little progress, so the 65 employees voted to strike, led by their union president Alex Bolash and union representative William McCool. A stalemate continued throughout the following week. A federal labor conciliator from Cleveland was soon brought in. It took another week, but by Aug. 15, the workers and company officials reached an agreement and the strike ended.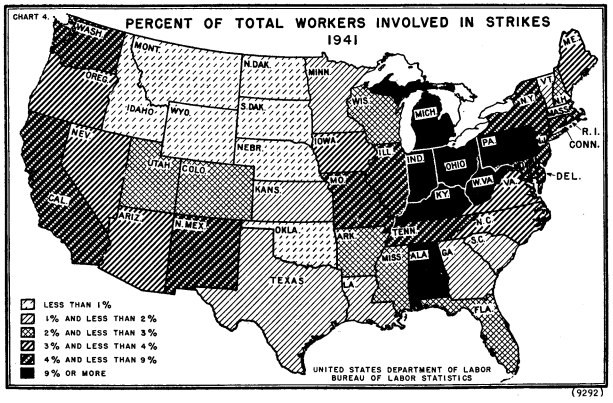 United States Dept. of Labor, 1941
Over the next decade, the laborers of Erie Steel Construction would continuously demonstrate their unified strength. In March of 1946 during the massive postwar strike wave (these were the largest labor strikes in U.S. history), 75 ironworkers went on strike again. Union president Cyril Bauer told the Erie Daily Times that their contract had expired the previous August and the two sides couldn't agree on new terms. Workers requested an 18-and-a-half cents per hour raise, a five-day 40-hour work week, and time-and-a-half pay for overtime and Saturdays as well as double-time for Sundays and holidays. The company counter-offered with a 10-cent-an-hour raise. This was quickly rejected. After two more days of intense negotiations, an agreement was settled upon: 18-cents-an-hour, a 40-hour workweek, and overtime pay for Saturdays.
This strike wave led to the passage of the Taft-Hartley Act by Congress in 1947, overriding President Harry Truman's veto. This law, advocated for by business lobbies, weakened labor union power and amended much of the New Deal's pro-worker, pro-union National Labor Relations Act of 1935, which had increased unionization of the workforce from 10 to 25 percent.
This did not deter the workers of Erie Steel Construction though. On Feb. 22, 1950, they once again voted for a strike, having worked without a contract since the previous July.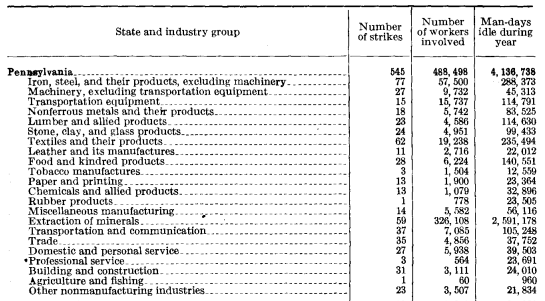 United States Dept. of Labor, 1941
"The strike has been a long time in coming but now we are going to make sure it's a good strike," Cyril Bauer told the Erie Daily Times, as he and the workers, who had "picked one of the winter's worst days," were "huddled around a huge fire" on their picket line. The newspaper described this as another "bitter chapter to the turbulent labor relations in the plant." Soon, other Erie labor unions began contributing money to their strike fund, encouraging the strikers to not accept an unacceptable contract.
The company at this point was being supervised by Hamilton Strayer, the son of G.H. Strayer who had founded the company in 1912. After five days of little headway between the opposing sides, a state mediator was brought in. The primary conflicts were over paid holidays, insurance and retirement plans, and a maintenance of membership clause, which required workers to remain in the union for the duration of the contract.
After a few more days passed with a stalemate, the union filed unfair practice charges with the National Labor Relations Board against the company. Hamilton Strayer responded by filing unfair practice charges against the union, stating the union did not provide government mediation bodies enough notice before striking as required by the Taft-Hartley Act. As the weeks passed, the rhetoric reported in the Erie Daily Times became uglier. Strayer accused the union of refusing to negotiate, while the newspaper noted that the two sides couldn't even agree on something as simple as meeting dates. One high-ranking union official referred to the strike as a "showdown" that would be "a real fight to the finish."
Two days later, during a nine-hour negotiation session that lasted through the night, the deadlock appeared resolved. Another two days passed before the strike officially ended following a rollercoaster seven-hour session during which the two sides "reached complete agreement, then complete disagreement, and finally signed a new contract." The workers received six paid holidays, an agreed-upon insurance policy for sick time and hospitalization, and a revised maintenance of membership agreement that provided an escape clause after one year. The workers unanimously agreed upon the contract which they believed "had some teeth" Strayer stated he was glad it was over and he was also "satisfied with the terms."
The workers found themselves at another impasse with the company two years later though. On April 25, 1952, they again authorized a strike, demanding improved working conditions along with a wage hike of 18 cents per hour, better benefits, and more vacation time. This strike would last over two months and require a federal mediator out of Pittsburgh before ending on July 8.
The company changed its name from Erie Steel Construction to Erie Strayer Company in 1954. The change was due to shifting production away from steel fabrication and towards manufacturing concrete batching equipment. The following decades weren't without struggle and turmoil at Erie Strayer (one strike in the early '70s lasted four months), but due to a generation of workers at the plant who had organized and sacrificed, the company could now truthfully advertise positions in the newspaper as having "good pay, hospitalization, [and a] vacation plan."
From Then to Now
In the decades since these labor struggles, union membership across the United States has declined significantly as labor's power has been chipped away. The Taft-Hartley Act still remains in effect. Yet, labor strikes are back on the rise this year as unified workers see leverage in a rebounding economy that is concurrently experiencing a labor shortage from workers exiting their private-sector jobs. Cornell's Labor Action Tracker has identified over 300 strikes across the United States this year along with hundreds more labor-oriented protests.
In Erie, the workers at Erie Strayer remain unionized and undeterred. In April 2021, their five-year labor contract expired. On October 4, these current members of the Ironworkers Local 851 went on strike once again in protest over what they describe as "insulting company proposals that seemed aimed at derailing negotiations." It is especially insulting, they feel, considering they worked through the entire pandemic seven-days-a-week without a single shutdown.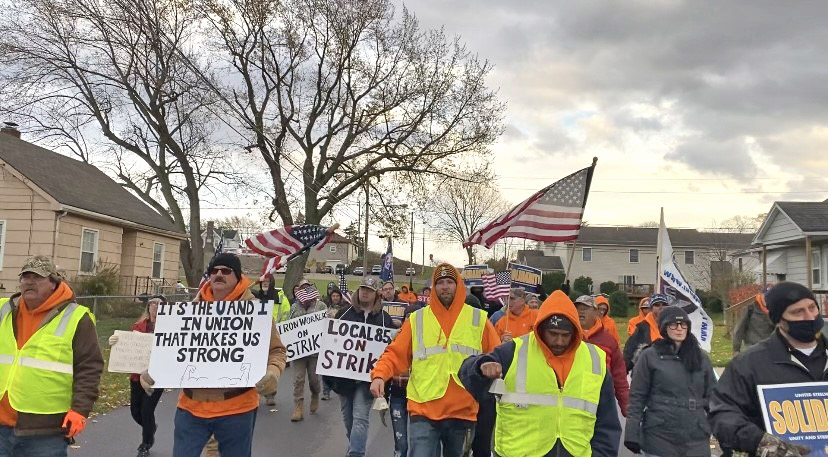 The union proposed a three-year contract that would raise wages by 60 cents an hour for the first year and then 50 cents per hour in the following two years as well as retroactive pay from when the contract expired, a signing bonus, a fair attendance policy, and dental insurance. Erie Strayer responded with a five-year contract offering 5 to 15 cent raises each year — less than the 18 cents achieved in 1946.
The Erie community as well as other local unions have stepped up in their support of the strikers, providing meals and care packages, helping cover healthcare costs, spreading awareness, and attending a march along West 26th Street.
"This is what it's about, this is a family, this is a community," Terry Baker, an electrician with IBEW Local Union 56, told YourErie during the march. "We should be here together and we should be helping our community stick together and do what we can for them."
The strike at Erie Strayer even captured the attention of Tom Morello of Rage Against the Machine and Audioslave fame, who featured it in a list of current strikes in his music video for his pro-labor song "Hold the Line" and which he and singer Grandson recently performed on The Tonight Show.
"Nobody said it would be easy. Nobody said that it would all be fine," Grandson sings on the track. "But to get where we're going, brother, you've gotta hold the line."
Negotiations between the union and Erie Strayer continue into December. In the meantime, the workers plan to hold the line.
You can learn more about what Erie Strayer's workers are asking for at www.eriestrayerstrike.com.
To contribute to the Erie Strayer workers, visit gofundme.com/f/support-erie-ironworkers.