ErieMade Business Academy Graduates First Cohort
Stakeholders are optimistic it will not be the last
September 27, 2022 at 3:00 PM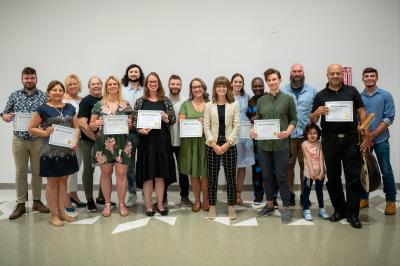 The ErieMade Business Academy has officially graduated its first class — 15 local businesses with artists, crafters, designers, micro-manufacturers, and other creatives at their helms — and is optimistic about welcoming a second in the near future.
The free six-month entrepreneurial mentorship program was funded by Bridgeway Capital's Creative Business Accelerator (CBA) and hosted by the Erie Center for Arts and Technology (ECAT), which tabbed local business owner Kristen Santiago (Gone Local, Ivy + Atlas) to spearhead guidance and instruction. Santiago is a 2021 honoree of Erie's 40 Under 40, and advised three of this year's honorees — Doug Baker of North Edge Craft Coffee and Sarah MK Moody and Rick Bowser of The 10/20 Collective. 
"Working for this program appealed to me because it's an opportunity I would have wanted when I first became  an entrepreneur," Santiago said. "Everyone in this program found business assistance, accountability, and connection with other like-minded creatives. We're excited to see the progress they will make as they continue building their businesses. There's never been a better time to be an entrepreneur in Erie." 
Cohort members both met with Santiago individually and gathered for monthly instructional sessions, in-person and virtually. During their time at ErieMade, they formed business plans, applied for grants, launched websites, gained loan approval, outlined financial projections, and forged professional relationships. The curriculum was customized to each participant's strengths and weaknesses based on the CBA's specially-designed assessment, the Creative Business Ladder.
If all goes according to plan, more cohorts will be ascending that ladder in years to come. Katie Johnson, director of the CBA at Bridgeway Capital, is encouraged: "We are thrilled for the emerging and established entrepreneurs, businesses owners and makers who have graduated from the first cohort of the ErieMade Business Academy. We believe this program has provided each creative business with a  road map toward success, and we are looking forward to supporting these businesses now and in the future with the capital and resources they need to make an impact in the Erie community." 
For more information on the ErieMade Business Academy and Creative Business Accelerator, read our article from April's Industry, Innovation, and Entrepreneurship (I2E) issue or visit bridgewaycapital.org