Erie's 2014 40 Under 40
In your face, Brain Drain! 
April 16, 2014 at 6:00 AM
Some are doctors and lawyers — others are entrepreneurs, artists, and musicians. One writes songs with her cat, while another is creating awareness in Erie's canine community. One built his first website before his tenth birthday, while another now runs and owns an award-winning bakery she worked at as a freshman in college. Of two engineers, one is a three-time  Jeopardy! winner, the other shifted gears to start his own T-shirt company.  
Some hold advanced degrees, while one is a self-proclaimed graduate of "YouTube University." Some were born and raised here, never drifting from the shores of Lake Erie. Others left only to be beckoned back from elsewhere. Some are transplants, hailing from neighboring cities like Pittsburgh, others made a longer trip, coming from cities on other continents, like Johannesburg. 
Regardless of their differences, they are all under the age of forty, are all first-timers on the  Erie Reader "40 Under 40" list, and are all making Erie a better place in which we all live, work, and play. 
They're accomplished, they're dreamers, and they show no signs of slowing down. An eclectic and dynamic list of young entrepreneurs and innovators, these stars shine brightly in the Gem City with even brighter futures for themselves and for this region. In this issue, we'd like to introduce you to the Class of 2014 — the people who give us reason to celebrate the present, and give us hope for our future.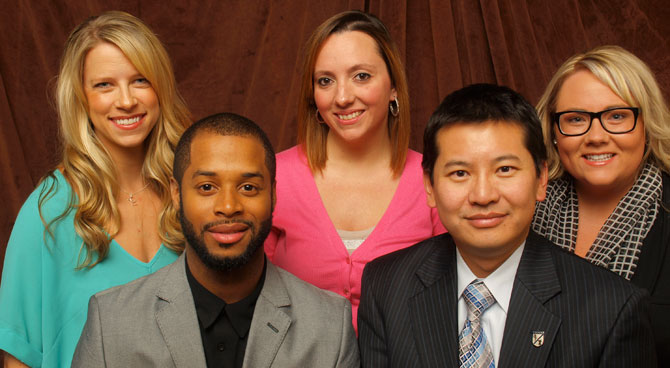 Above, from left: Amy Griffith, Corey Cook, Lea O'Connell, James Lin, and Lesley Ridge. 
Dr. Danielle Hansen, 36
physician / educator
Danielle grew up in Hartford, Wis., but is currently an Internal and Geriatric Medicine Specialist, the Vice-President of Acute Care Services at Millcreek Community Hospital, the Associate Director of the LECOM Institute for Successful Aging, and an Assistant Professor of Internal Medicine at LECOM – where she also received her medical degree and fellowship in geriatric medicine. Medicine has also had an impact in her love life. "While I was serving as a nurse's aide one summer, I met my (now) husband. I broke my leg on an ambulance call – and he took care of me," she says. Danielle believes the continuum of care that LECOM offers, "helps provide the best geriatric care in the community. Through the many facets – the LECOM Institute of Successful Aging, Millcreek Community Hospital, the rehabilitation and transitional care unit alongside the LECOM wound clinic and the Millcreek Manor – we can be a continual part of the patient's treatment – which affords them the best possible care."
Shaun Rajewski, 25
tech entrepreneur
This General McLane High School / Edinboro University of Pennsylvania alum put his bachelor's in Computer Science to work before he even got it; he co-founded Epic Web Studios with David Hunter as a college sophomore while still holding down a full course load each semester thereafter. Today, Shaun oversees every project that comes into and goes out of Epic, utilizing his now 17 years of experience. That's right, math nerds – he designed his first website at the age of 8 (centered around roller coaster enthusiasts). "Erie is overflowing with creativity, talent, knowledge, and ambition, and we as young people hold the keys to helping the city reach its full potential, in every area," Shaun says. "There is much more to Erie than what is seen on the surface."
Wendy Elliott, 38 
farmer / entrepreneur 
Born and raised in North East, Wendy attended Calvin College, where she majored in elementary education with an emphasis in science and geography. She is currently the owner/operator of Earth and Vine Farm, a community-supported agriculture program. "I grow over 150 different varieties of fruit, vegetables, and herbs, and supply specialty items to locally-owned restaurants," she says. Ever the teacher, Wendy conducts cooking classes at Frankie and May Fresh Grocer and also speaks about sustainable growing and eating. "Erie is known to be a great place to raise families; these families are increasingly nervous about their quality of food. People take a great deal of comfort in knowing the produce was grown using organic and sustainable methods," she says. "Plus, it tastes wonderful! We live in a rich agricultural area; I want to showcase that, and celebrate it with every bite."
Corey Cook, 30 
musician / entrepreneur 
This East High-grad jokes that he's a student of "YouTube University," but it's his teaching that is having a lasting impact in Erie. "LifeThruMusic has mentored and inspired Erie youth for today's always changing music industry," says the dispatch supervisor for UPS, Inc. "I have been able to show it does not matter where you come from or what you look like, you can do anything you put your mind to if you have the discipline to work hard at it." Corey credits his success to his faith in God, hard work, dedication, and the fact that he's chosen to surround himself with positive, like-minded people. "Young people make Erie special because they will become our future leaders, business owners, politicians, home owners, and taxpayers. The seeds we plant and how we invest in them now will determine the future of Erie."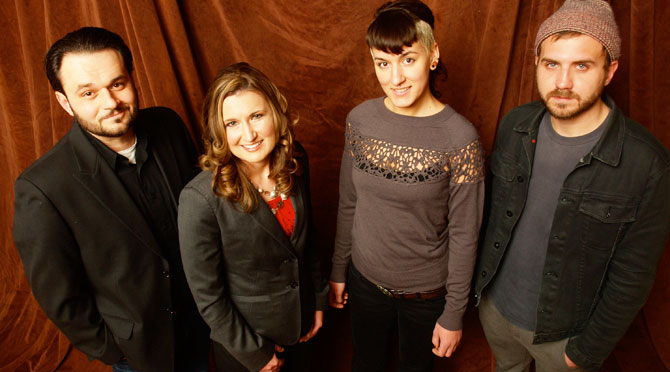 Above, from left: Kris Risto, Denise Kolivoski, Amanda Kleckner, and Brad Triana.
Denise Kolivoski, 35 
executive director, NAMI
If you attended an Erie SeaWolves game during their inaugural season, chances are Denise served you hotdogs, popcorn, or nachos. Working her way through school, she earned two degrees from Gannon University and has been involved with nonprofits for nearly ten years. She started as a board member at the National Alliance on Mental Illness (NAMI) of Erie County in 2008, and later became the Executive Director; she's excited to bring NAMI into its 30th year by announcing a new partnership with the United Way, receiving accolades from the Nonprofit Partnership and Young Erie Professionals. "I'm proud to represent Erie's young leaders and have a hand in shaping our community with new ideas, energy, and enthusiasm," she says. And the next time you're at a SeaWolves game, chances are you may see her in the stands enjoying the game – as well as the refreshments she once served.
Jay Breneman, 31 
county councilman / social worker/ 
Jay makes "killer beer-battered onion rings," but you probably know him better as the newcomer who stunned Erie's political establishment by walloping an incumbent county councilman last fall. Originally from Montana, he served in the United States Army before earning a Bachelor of Arts in Social Work from Mercyhurst University and a Master of Science in Social Administration from Case Western Reserve University. In addition to serving on County Council, he currently works at Edinboro University as a Licensed Social Worker and Coordinator of the Veterans Success Center. "Simply put: it is my job to make sure our veterans have all the tools they need to be successful in their academic career," he says.
Brooke Surgener, 22 
musician
Erie-native Brooke has been playing music since she was 10 years old, spending most of her time writing songs in her bedroom with her cat. Over the years, she's expanded her musical abilities by teaching herself to play any instrument she could get her hands on. While the Seneca High School-grad currently works two jobs to support her dream; her hard work has resulted in two music videos, two EPs, and her first full-length album, which earned her a RockErie Music Award nomination and won her a Blue Pike Award for Best Solo Artist. Brooke admits that she's a "total nerd" and that her passion for anything involving fantasy, Disney, video games, or anime provides an escape from reality. "Know who you are, know what you want, and don't let anyone tell you different," Brooke advises.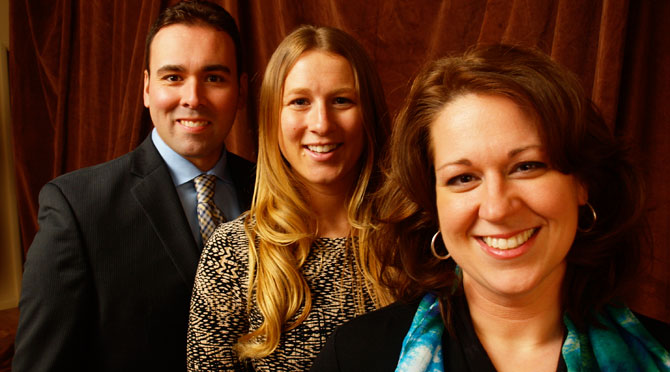 Above, from left: Dr. Josh Tuck, Courtney Steding, and Lucia Conti.
Sarah Gudgeon, 27
public relations, Veterans Affairs
Sarah studied advertising communications at Gannon University where she graduated magna cum laude. During her senior year, she held an internship as the editorial assistant at the U.S. Department of Veterans Affairs Medical Center in Erie, which, upon graduation, turned into a full-time Public Affairs position. "Our community is unbelievably supportive of local veterans, and it has been an honor seeing more and more community partners team up with us to help support veterans," she says. Sarah also admits she wasn't planning on staying in Erie, "but then a strange thing happened. I started to fall for Erie... and I'm confident enough to say in print that I love Erie, and not only do I see myself settling down here, I see myself loving it."
Kevin McCormick, 38 
sales manager, Erie Beer
If you've been to the Downtown Partnership's Thursday night Block Parties, RockErie Music Awards, the Battle of the Bands, or Roar on the Shore – just to name a few – then you've been to one of the many events this Cathedral Prep-grad has had a hand in planning. "These efforts have helped return excitement and entertainment to Erie – where it belongs," says the marketing major who studied at West Virginia University. From developing, implementing, and executing all Anheuser-Busch sales and marketing programs to working with special events and community activities, Kevin's mission while working at Erie Beer, the largest beer wholesaler in Northwest Pennsylvania has been to "emphasize the importance of Erie and to honor those who help make Erie great." Kevin adds that, "Erie has proven time and time again that it will support a great product. We've been fortunate to work with great partners and come up with events and shows that really resonate with the people."
Christine Olivier, 26
director of programming, MIAC
A self-professed beach bum and reality TV fanatic from Mystic, Conn., Christine attended Ithaca College and graduated with a bachelor's with Departmental Distinction in Theatre Arts Management. Currently, she serves as the Director of Programming at Mercyhurst University's Institute for Arts & Culture, but her experience includes stints at such well-known arts organizations as the Spoleto Festival and the Steppenwolf Theatre. "Being from a small town myself, I know how easy it is to turn your back on the place you grew up. The true value in Erie's young population can be found in not only their hope for the future, but their confidence in it!" she says. "Plus, how can you go wrong in a town where the beer is good, the locals are friendly, and the sunsets are the best in the region?"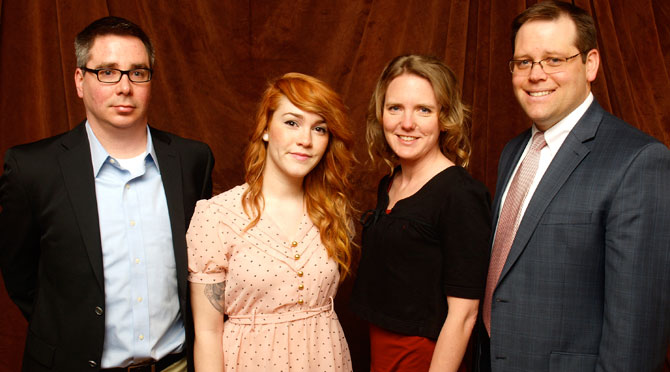 Above, from left: Kevin McCormick, Brooke Surgener, Wendy Elliott, and Tim Wachter.  
Greg Coleman, 39
general manager, Erie SeaWolves
After growing up in Hamilton, N.J., Greg made his way to Erie as the president of the Erie SeaWolves, leading the business operations for the official AA affiliate of the Detroit Tigers. He's worked in professional baseball for 17 seasons, having spent time with the Daytona Cubs, Orlando Rays, Modesto A's, Trenton Thunder, and the Bowling Green Hot Rods before joining the SeaWolves, and even has the ability to boast that he signed Hall of Fame outfielder Rickey Henderson to a playing contract for the San Diego Surf Dawgs when he was the Chief Operating Officer of the independent Golden Baseball League. While he helps raise awareness for organizations like the Autism Society and United Way, he's also happy that others also have a passion to contribute to the community. "Erie has talented young leaders that are involved and give back," he says. "They want to see the quality of life in our community continue to improve, and they'll work to make it a reality."
Katrina Smith, 33
senior vice president, DevelopErie
Born in Titusville but raised in Franklin, Katrina plays an incredibly important role in shaping Erie's future. "I currently serve as the Senior Vice President of DevelopErie and its seven affiliated organizations," says Katrina. "In my current capacity, my primary responsibilities include prospect development, oversight of all real estate and development activities including brownfield remediation, greenfield development, leasing of over 1 million square feet of industrial and office space in addition to marketing and development of over 750 acres of land. I also work on business development opportunities and spearheading strategic opportunities to grow the region's economy including implementation of the Erie Inland Port Initiative." So how does this dynamo who earned her undergrad degree in political science at Messiah College unwind? "I have a Second Degree Black Belt in Tae Kwon Do," she said. "And yes, I am a female that hunts!"
Alex Harrilla, 38 
promoter / entrepreneur
Born near Pittsburgh, Alex earned a bachelor's degree in English from Edinboro University of Pennsylvania. "During college, I realized how wonderful Erie was, especially its powerful music scene. I have always been disabled with Muscular Dystrophy, but in early 2004, some complications occurred making my condition comparatively worse. I found myself with a lot of time on my hands," he says. These two factors led him to form a band booking and promotion agency called Gimp Guy Underground Promos, which focuses on the all-ages metal scene. "If we want to have creative original music in our bars in the future, then we need to get behind younger bands with support and encouragement. Along with that, if we can give younger people something productive to do, that's a bonus."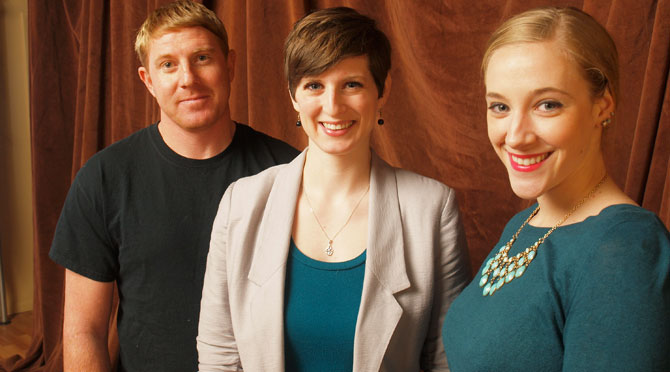 Above, from left: Nick Hutchinson, Hannah Kirby, and Christine Olivier.
Amanda Kleckner, 29
chef
This head cook and manager at Jekyll and Hyde's has been turning heads and tempting tastebuds with her beautifully-presented, unconventional, delicious cuisine for a few years now, which is appropriate – she took Food Service as a vocation and was also a member of SPAVA (School for the Performing and Visual Arts) at Erie Central High School. A lover of vegan and vegetarian cuisine, Amanda worked in a gourmet bakery and considered becoming a pastry chef before finding her place at J & H, where she serves up both veggie-friendly options and desserts made from scratch, as well as all manners of meaty madness. "Young people make our city special by continually bringing fresh perspectives, talent, and enthusiasm to our scene," she says. "Erie has been good to me, and I want to do whatever I can to be good to Erie. I hope I've made Erie a better place to eat by making fresh and interesting choices more convenient and accessible."
Mark Biletnikoff, 39 
clothing entrepreneur
Although he is the owner of First Amendment Tees, Mark actually spent most of his career in manufacturing after graduating from Penn State Behrend with a degree in mechanical engineering technology. However, he had always wanted to work for himself, so when he learned that he was going to be laid off from GE, he decided it was time to take control of his own destiny. After looking around for other career choices, he woke up one morning and said, "I'm going to make T-Shirts!" Despite the doubts of those that knew him, Mark now provides downtown Erie and his customers around the world with high-quality, affordable, environmentally friendly apparel options. "In Erie, we all need to be people that are resourceful, obsessed with quality, and passionate, but we need to add our own personal touch," he says. "If we do that we will all be successful as a culture."
Kate Neubert-Lechner, 34, 
wish coordinator, Make-a-Wish / actress
Born and raised in Erie, Kate now helps inspire other fellow Erieites through her work with both Make-A-Wish and The Erie Playhouse. She has seen first-hand the impact a wish can have on a child's life – bringing joy to a child and a family at the time that they need it – as well as inspiring others through her work directing The Great Gatsby on the Playhouse mainstage and appearing as Mary Poppins in a recent production. "The young people are the future and present of Erie," she says. "We bring knowledge and new ideas to continue to keep the Erie community thriving and alive. The people who live here and work here have a fierce loyalty to this community and we all want to work to make it better on a daily basis."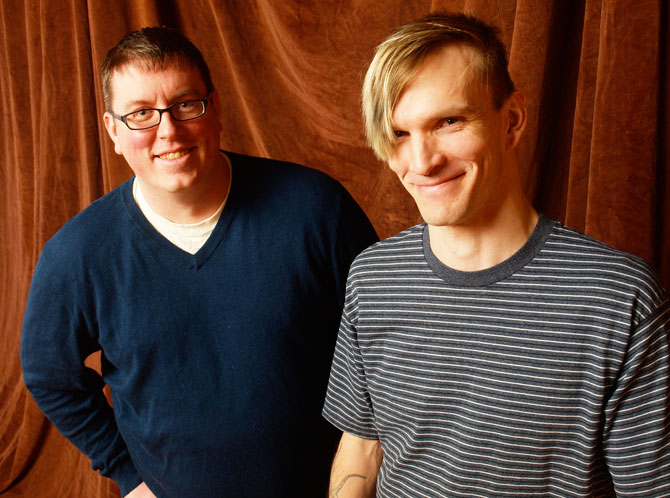 Above, from left: Adam Holquist and Bob Jensen.
Anthony Pribonic, 25 
fitness entrepreneur
Born and raised in Erie, Anthony attended both McDowell High School and Gannon University, but he didn't wait to finish school before starting his own business. Halfway through his senior year at Gannon, Anthony created and opened iRock Fitness, which is in its fourth year and still growing. Anthony achieved success through extra effort and a lack of procrastination, and he looks to add more amenities for members and to increase the overall space of iRock in the coming years, in addition to hosting their fifth charity 5K and giving presentations on eating disorders to local high schoolers. "Young professionals preserve the hardworking, integrity-driven character set by those before and among us," he says. "We drive a positive, determined vision for the future of our community and local economy."
Darin Masri, 35 
chef / entrepreneur
Born in Damascus, Syria, Darin's family immigrated in 1990 to the U.S., where she graduated from McDowell High School before studying biology at Middle Tennessee State University and psychology at Penn State Behrend. She opened the Casablanca Grill on West Eighth Street in 2007, and opened both Casablanca Hookah Lounge and the Casablanca Sandwich Express on West Fifth Street a few years later, providing exciting cuisine options and authentic dining and entertainment experiences for Erie residents. One of her many secrets is that she actually does love to cook and to have great people around her, which drives her to provide the best overall experience that she can. "Work isn't really work for me," she says. "It's love!" Her advice to the young people of this city is to never be satisfied to be a follower and strive to be a trendsetter.
Brad Triana, 27 
educator / artist / musician
After growing up in a three-traffic light town he calls "grape country," Brad earned degrees in both teaching and woodworking from Edinboro University of Pennsylvania, studied black and white photography while living in Prague, went on to complete his graduate research at Indiana University of Pennsylvania, and recently taught woodworking and furniture design courses at Edinboro – but you probably know him best as the drummer for Falling Hollywood. "My mission is to give Erie something cool to listen to, and to show the public that the Erie music scene has more to offer than just cover bands," says the youngest member of the Northwestern Pennsylvania Artist Association. His secret? "Due to archaic small-town borough regulations, I once was forced to open a joint checking account with my future best man in order to legally live together," he says.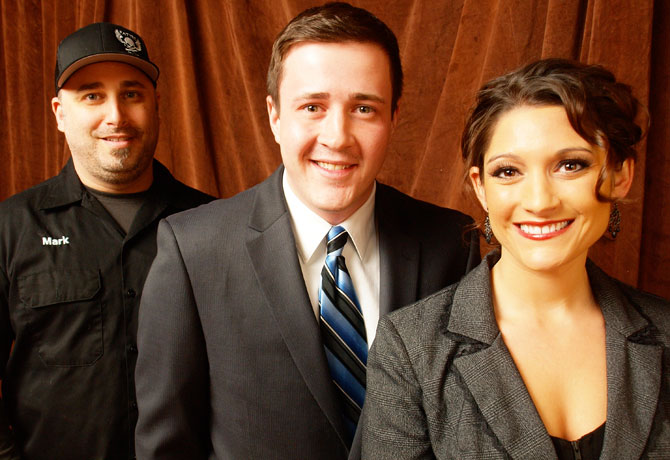 Above, from left: Mark Biletnikoff, Shaun Rajewski,  and Kayti Stadler.
Kayti Stadler, 28 
musician / advertising executive
Growing up in Wausau, Wis., Kayti says she didn't know what to expect when moving to Erie to attend Mercyhurst University to study communications and marketing. Ten years later, she says she now feels complete here. Although she loves to sing – taking lessons beginning at the age of 9 – she knew that she wanted a business career. "I truly believe that we are all put on this Earth to make a difference," she says. "Through volunteering with the American Cancer Society, being on the Erie Ad Club board, being the 'Downtown Diva,' and working as an advertising executive at the Erie Times-News, I feel like I am accomplishing this." A woman who just started her own singing telegram business, Kayti says  the "best part of being involved in all of these things is that I am constantly meeting new and incredible people." Together, she says, "we choose Erie, we embrace Erie, we all want to make Erie a better place."
Lucia Conti, 36
media relations, UPMC Hamot
Raised in Lawrence Park, Lucia attended Iroquois High School before graduating magna cum laude from Allegheny College in 2000 with a bachelor's degree in mass communications. She's been an employee of UPMC Hamot since 2006, starting in Marketing as the Manager of Media Relations. Currently, she is the Director of Operations for UPMC Hamot's Community Education and Outreach programs, which include the UPMC Hamot Health Connection, Diabetes Institute, Outpatient Lactation Program, and Stork Support Program. Some people may not know that Lucia and her husband met while she was studying abroad through Boston University, that they knew each other for only 10 months before they got married, and they were on the same continent for only four of them. They will celebrate their fourteenth wedding anniversary in July.
Michael Hinman, 28
artist / educator
Michael was born and raised in Erie and attended Harbor Creek High School before graduating from Temple University's Tyler School of Art in 2010. Today, he's enrolled in the Educational Leadership program at Edinboro University while also teaching art in the North East School District. But it was not until recently that Michael stopped considering himself primarily a musician who also likes to make art, as he was chosen to design and paint an Oliver Hazard Perry mural on the Erie Community Credit Union's wall on 11th and State streets. "It seems there are a growing number of young people that feel the need to leave Erie to do something meaningful," says Michael. "I am glad to see dedicated professionals who are willing to work to make this place what it should be – a hub for art and culture in our region."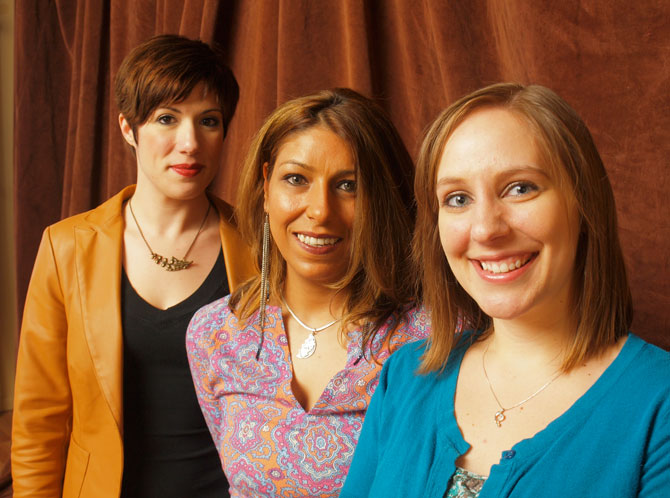 Above, from left: Kate Neubert-Lechner, Darin Masri, and Sarah Gudgeon.
Courtney Steding, 29 
counselor / advocate
Born in Erie and raised in Pittsburgh, Courtney currently serves as the Employer Relations Coordinator and Internship Counselor at Penn State Behrend. Prior to her position, this Allegheny College graduate received a Master's in Counseling from Edinboro University. Her entrepreneurial skills also recently came into play as she co-founded a group called ACT (ATHENA Circle of Trust) – a cohort which focuses on emerging female leaders who empower each other to develop leadership skills and advocate for one another across the Erie community. Her passion extends to others in the community as a youth basketball coach, and she is also a bit of a daredevil – she's been skydiving twice and also rode in a hot air balloon; her next feat will be bungee jumping. "I'm incredibly lucky to be surrounded by amazing mentors and remarkable young female leaders, and my goal is to one day serve as a mentor to young Erie residents," she says.
Dr. James Lin, 37
physician / entrepreneur / educator
James is the director of the LECOM Institute for Successful Aging, a geriatric medicine specialist, and a professor of geriatric medicine at LECOM – where he also received his medical degree. While his fellowship training happened at the University of Medicine and Dentistry of New Jersey, he came back to Erie to be part of LECOM – the place where his medical career and training first began. "I am proud of the center of excellence LECOM has created and believe we offer the best geriatric care in the community," says James. Additionally, he serves as the President of Oasis Footwear, a company that sells diabetic footwear that is both stylish and affordable. "My father was an entrepreneur and when he fell ill, I ended up running the business during my internship," an experience that helped tie into the development of his current role. "I got to appreciate the other side of business," he says. "Erie affords a lot of opportunities for young individuals. It's a great place to get involved and make an impact."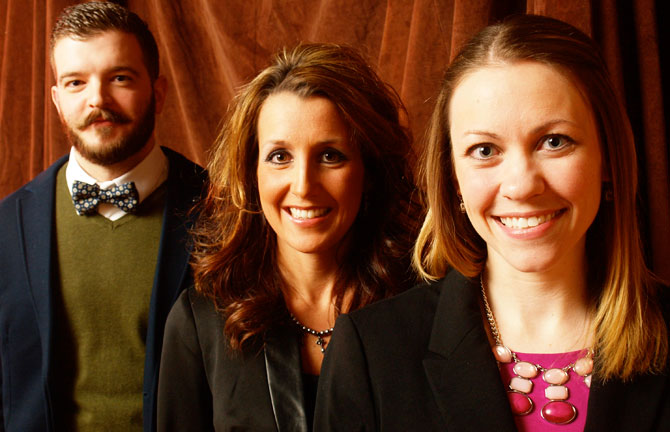 Above, from left: Michael Hinman, Katrina Smith, and Elena Arnold. 
Belinda Rogers, 33 
attorney
Belinda grew up in a New Jersey suburb outside of New York City and attended Brandeis University, majoring in psychology and anthropology. She then attended Rutgers School of Law where she graduated with a JD. After practicing law in New York and New Jersey, she moved to Erie and currently serves as Counsel for Erie Insurance in the Employment and Privacy Department of the Law Division. Additionally, she serves on the board of the Erie County Historical Society and admits that Erie has exceeded her expectations. "The opportunities that Erie presents to young, dedicated individuals are limitless," she says. "Most young professionals would not have the opportunity to serve on nonprofit boards and get involved in the community as directly as they are here in Erie. I hope to continue in that spirit as a newer member of the Erie community."
Nick Hutchinson, 32 
entrepreneur
Born in Johannesburg, South Africa, Nick was a professional mountain bike racer sponsored by Lenz Sport, but is currently President and Owner of Concrete Craft, which specializes in innovative concrete design featuring handcrafted concrete countertops, tables, showers, bathroom vanities, sinks, fireplace surrounds, and just about anything that can be made with concrete. He believes in producing functional artwork that is truly  a reflection of one's own personal style. In addition to his racing background, Nick is also a direct descendant of Thomas Hutchinson, the governor of Massachusetts during the Boston Tea Party. An avid community supporter, Nick believes that "Erie's affordability helps young entrepreneurs create an opportunity for new ideas and innovation — something that ultimately makes the Erie community a more vibrant and exciting place to live."
Hannah Kirby, 26
engineer / advocate
Hannah came to Erie from Waynesburg, Pa., to attend Gannon University, but says she stayed because she loved the area so much that she just couldn't bring herself to leave. After completing a bachelor's degree in mechanical engineering and an MBA, Hannah began working at LORD Corporation as a senior quality engineer for aerospace production and now sees it as her mission to advocate for programs aimed at gearing young girls towards careers in science, technology, engineering, and math to encourage them to explore leadership possibilities in those fields. The 2014 Hannah Penn Rising Star and recipient of the 2009 ATHENA Young Professional Award spends time with her two rescue pitbulls – Tesla and Edison – and is an active member of Erie's canine community. Hannah says she "believes Erie really is a special place that holds huge potential to be a really interesting city – not only for tourists, but also for those that live and work here. It's going to be our generation to pull that potential out and make Erie great."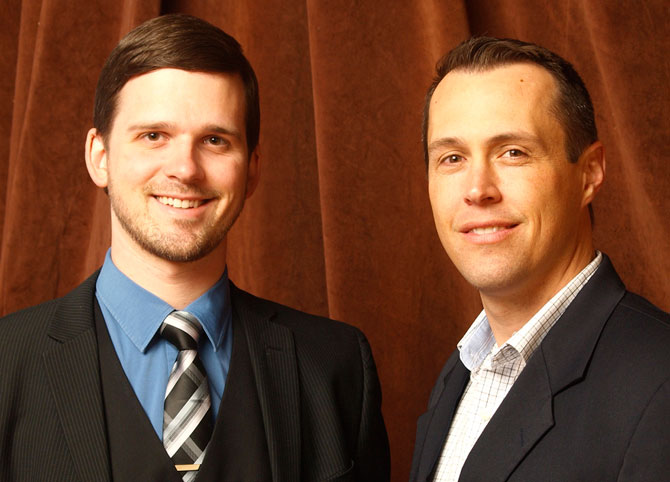 Above, from left: Jay Breneman and Greg Coleman.
Jeffrey Collier, 33
executive director, Erie Philharmonic
After receiving an MBA from the University of Wisconsin-Madison, specializing in arts administration, Jeffrey held various administrative roles at several renowned arts organizations – The Juilliard School and the John F. Kennedy Center for the Performing Arts, just to name a few. Now, he serves as Executive Director of the Erie Philharmonic. Working with Maestro Daniel Meyer, a team of dedicated staff, a committed board, extraordinary orchestral musicians, enthusiastic volunteers, and countless others, Jeffrey believes it to be "a great privilege to be a small part of one of the community's great cultural gems." A graduate of Louisiana State University, his passion for the school remains today – he loves LSU football and even has a cat named after their mascot, Mike. He believes that that Erie offers "a great range of cultural and recreational offerings," and "by sharing these experiences together, we truly harness the power of community."
Lesley Ridge, 28 
social media entrepreneur
Originally from Erie, Lesley earned her bachelor's and master's degrees in professional writing and information architecture from Carnegie Mellon University. She is the owner of Socialution Media, a social media and digital marketing agency, and serves on local boards for Big Brothers Big Sisters of Family Services of Northwestern Pennsylvania, The Women's Roundtable, Meals on Wheels of Metro Erie, and the Pennsylvania Breast Cancer Coalition. "Erie's up-and-comers are a tenacious bunch that recognize our community's potential and our long overdue need to start capitalizing on that potential," she says. "Millennials may have a bad rap to some older generations, but I think when you dig deeper, our generation is one that's incredibly motivated by doing good in our communities." A fan of '90s music, Lesley acknowledged that she does a mean rendition of Biz Markie's "Just a Friend" and Sir Mix-A-Lot's "Baby Got Back."
Matthew Cummings, 35 
director of communications, Erie School District
A graduate of Edinboro University of Pennsylvania, Matthew went on to receive a master's degree from West Virginia University, where he currently serves as an instructor, while also serving as the director of communications for the Erie School District. He is vice president of the Newspapers in Education (NIE) board, and serves on the Erie County Library Foundation Board. He finds it an honor to have an opportunity to build awareness of the challenges and successes of public education, but to also help grow community understanding of all the positive things happening in Erie City schools. In his prior life, Matthew worked in on-air broadcasting at CBS as a Dick Clark Fellow. "Erie is large enough to have a wealth of community assets," he says, "but also small enough that young people can have a seat at the table, be part of the decision-making process, and build relationships."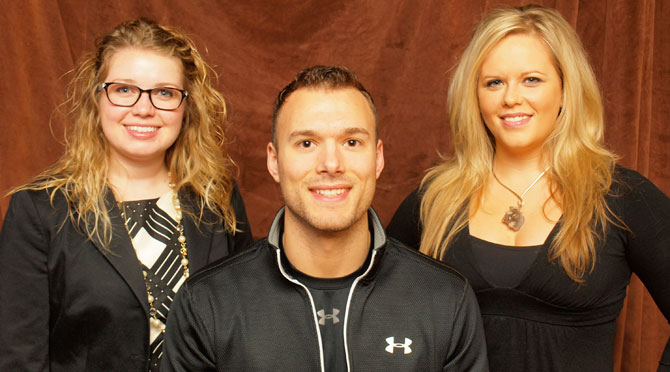 Above, from left: Kaitlyn Slomski, Anthony Pribonic, and Jill Fosco.
Jill Fosco, 29
entrepreneur
From managing photo shoots and artistic events in New York City to starting her own businesses, Jill has merged her experience in the fashion industry and entrepreneurialism to create a unique brand of transformative life and business techniques called Soul Based Strategies. She currently serves as the President of Jill Fosco Global LLC, a lifestyle company and start-up business incubator that facilitates the transformation of ideas into well-structured ventures. In addition to serving clients, she loves raising money for great causes; she recently founded The Make Up Something Network, a virtual community that holds live Speed Networking Events that also raise money for local charities. In her words, "We are the up-and-coming generation that has the power to change Erie – and quite frankly – change the world, starting in our own backyard."
Dr. Josh Tuck, 36
physician
After graduating from the University of Notre Dame, Josh went on to earn a medical degree from the University of New England. Shortly thereafter, he accepted a commission in the U.S. Navy and was selected for flight surgery training. After earning his wings, he was assigned to duty as the medical officer for the "Fighting Tigers" of Patrol Squadron Eight, and completed four years of active duty in the Navy, including a six-month deployment to the Middle East. He was selected to the NASA Shuttle Medical Support Team, served as a flight surgeon for the space shuttle Endeavour, and later worked with the Boston Red Sox organization, through direct care of their minor league affiliates. Currently, Tuck serves an orthopedic surgeon with the LECOM Sports and Orthopedic Medicine group. He returned here because he wanted to provide "cutting-edge orthopedic care to the community, so that they could benefit from all of the latest advancements in medicine without having to travel elsewhere."
Elena Arnold, 33
educator
Elena started out as a kindergarten teacher but has spent the last five years teaching third grade at McKinley Elementary School. A graduate of Penn State Behrend, she went on to receive her master's degree from Edinboro University of Pennsylvania and believes that you can be successful with children simply by being interested in what they have to say and treating them with respect. "I sincerely want every child in my classroom to become a valuable member of our community," she said. She can be found most days after school de-stressing at the LECOM Wellness Center, and, in the spirit of Erie, believes that we should "support the community and be a positive influence for the next generation. If you surround yourself with good people — my favorite being my husband, Mike —  and participate in the great events that are offered here, you will see what a great place Erie is to live!"
Kris Risto, 38 
artist / entrepreneur
As a guy who constantly finds himself in a state of wonder, Kris says he "observes life in visual symbols, a mash-up of imagery and consciousness" and that he "derives meaning by visually interpreting reality." An Erie-native, the Mercyhurst Prep grad headed to Edinboro University to pursue a Bachelor of Fine Arts degree. Since then, he's been working to "address the big questions in life, like the origins of dreams, faith, and the enigma of our place in the universe." As a member of the Northwestern Pennsylvania Artists Association, he endeavors to "enrich the cultural community of Erie by helping create large-scale, salon-style public art exhibitions to provide the necessary exposure for local artists." "Young people are more in tune with the dream state of mind," Kris imparts. "They see the world not as it is, but rather, how it could be. That is their power – that is where change comes from."
Lea O'Connell, 28 
baker / entrepreneur
A couple of days before heading to Penn State Behrend to study communications and marketing, Lea started working at a little bakery on State Street. Four years, a college degree, an internship with an ad agency, and a temp job at a radio station later, baking and business were still on Lea's mind. After her father proposed that she make an offer to buy Ye Ole Sweet Shoppe, the rest – as they say – is history. Several years later, the Mercyhurst Prep grad's business has been named Erie's Choice Dessert (2012) and Erie's Best Bakery (2013) and was also featured on a national advertisement campaign for VistaPrint. About her hometown, Lea says, "There are opportunities all around us if you keep your eyes open, your focus clear, and your work ethic unstoppable. Young people are really making a splash in this town."
Tim Wachter, 36
attorney
In a move he now says was "quite brazen," this Erie-native drove to Harrisburg and sat in a waiting room for over half of a day until he was granted an interview after receiving a form letter telling him his résumé would simply be kept for future reference. He got the interview – and he got the job working at the Department of Community and Economic Development as an economic development analyst in Jan. 2000. During that time, he volunteered for the Bush-Cheney campaign, later becoming the Pennsylvania field director. This Cathedral Prep grad who married his high school sweetheart, Claire, went on to Pennsylvania State University's Dickinson School of Law and now serves as a member of the Practice and Public Finance Groups at Knox McLaughlin Gornall & Sennett. A Pennsylvania Super Lawyer Rising Star, Tim also serves on numerous boards in Erie, including the Erie Downtown Partnership, Erie Home for Children and Adults, and the Erie Neighborhood Growth Partnership. Most recently he began serving as a Trustee of the Council of Trustees for Edinboro University.
Amy Griffith, 34 
yogi/ entrepreneur
While this Strong Vincent grad admittedly used to record Janet Jackson videos to practice the dance moves in her childhood living room because she wanted to be one of Jackson's back-up dancers, eventually Amy did make it big in the NYC dance world, performing as a Radio City Rockette, dancing in 42nd Street, and touring with Spamalot. These days, the mother of two teaches yoga at yogaErie and is introducing the world to Exercising Balance, a DVD designed to offer the physical challenge of yoga safely modified for pregnant women. "I feel so incredibly lucky to be able to share a part of each woman's journey into motherhood," she says about being able to support the "incredible mothers of Erie." The University of the Arts graduate is now working on a national PR campaign for the instructional video. "The unique energy that young artists, entrepreneurs, and professionals have to offer is what keeps Erie growing and evolving," she says. "From new businesses, art exhibits, live concerts, and fresh ideas, we see Erie's cultural landscape become more colorful. I love the gems that this city has to offer."
Bob Jensen, 38 
promoter / musician / entrepreneur
Bob both grew up and went to school in Fairview and was quite the athlete, earning a skateboarding sponsorship while still in high school. However, in the 11th grade, his athletic gifts were taken from him when a group of students beat him up and broke his neck, leaving him partially paralyzed from the neck down. Despite being diagnosed as a quadriplegic, Bob learned to walk again and started Basement Transmissions as a DIY record label, promotional company, and all-ages venue while earning his bachelor's and master's degrees in fine arts from Edinboro University. This proud father of Xiola and Zamora considers it his job to improve the quality of the local art and music scenes, having released around 30 records and CDs for area artists and having put together almost 1,000 events in Erie. "When I was younger, I read something on the welfare wall that said, 'Every thousand mile journey begins with one step,'" says Bob. "Due to the nature of my disability, I have to drag my feet every step of my journey, and although I may wear out a lot of shoes before I get to my final destination, I know I will get there, and if you are determined, you will get where you are going too!"
Kaitlyn Slomski, 27 
creative director, Niche Team
"Young people are crucial to the development of Erie as a community," says the Fairview-native. Kaitlyn studied marketing and advertising at Mercyhurst University, obtained an MBA from Gannon University, and serves as the creative director for Niche Team. Aside from her work in the business world, the secretary of Vestry at St. Stephen's Episcopal Church and Brownie Troop Leader founded The Epilepsy Project in 2012 with the mission to create a network of people in the Erie-area who are affected by epilepsy. She says her hope "is that patients and caregivers know that they have a support group within the region of people who truly know what living with epilepsy is like on a daily basis so that no one feels alone." And as someone who's been seizure-free for ten years but is terrified of public speaking, Kaitlyn and her "If I can, I should" attitude is helping create that awareness.
Adam Holquist, 34 
engineer / musician /  Jeopardy! champion
In his day job, the Titusville-native says he helps keep Erie and the surrounding twelve counties breathing a bit cleaner and easier, but everyone mostly either knows him as onewayness or that Jeopardy! guy. For the Department of Environmental Protection, Adam – who attended the University of Pittsburgh to study chemical and petroleum engineering – reviews applications, writes permits, and inspects facilities to ensure they're complying with state and federal regulation; for onewayness, he creates ethereal soundscapes – and he just so happened to have been a three-time Jeopardy! winner. The McDowell High School-grad says what he's proudest of from a community standpoint is working with Erie's supportive venues, like Basement Transmissions and PACA, to cultivate a home for experimental music through the electroFLUX Music Series, which supports local artists while also drawing regional and touring artists – some from as far as France. "I'm constantly amazed by the level of talent coming from young people in Erie. And I mean young," Adam says. "To me, some of the most exciting musicians, artists, and filmmakers in town aren't just under 40 – they're under 20. Which hopefully means that Erie's in good hands for many years to come."
—
Indeed it is, Adam. Indeed it is.
The Erie Reader can be contacted at Contact@ErieReader.com, and you can follow us on Twitter @ErieReader. All photos by Jeff Urraro