Erie's 40 under 40
Young innovators, entrepreneurs, and leaders shaping the future of Erie, PA.
Our mission to serve as the city's independent, alternative source for news, culture, and entertainment has also allowed us to function as both a conduit for conversation as well as a platform to promote all that is good in this fishbowl we call Erie. And as a consequence of our travels and travails throughout the various overlapping circles in our community, we – your Erie Reader writers and editors – have had the great fortune of meeting people from all walks of life who make Erie what it is today: a gregarious, generous, gifted community of good people doing good things.
Of those people, we soon learned that an awful lot of them are right around our age; shortly after that, we learned why: of Erie County's estimated 280,000 residents, more than 150,000 of them are under the age of 40.
Accordingly, we set about compiling a list of those under 40 that we think are worthy of recognition, because of their personal story, their professional accomplishments, or their impact on our community. After considering all 150,000 of our young denizens, we narrowed it down to 149,996, and then 18,469, and then 420, and then, finally, just 40.
As we compiled that list, we quickly learned there is no shortage of young talent in our area. Therefore, congratulations are in order for those who made it; in the future, we expect even greater things from these 40 fine folks than they've already accomplished. For those who did not make the list – the other 149,960 – no offense is intended; just keep on grindin', because there's always next time.
So, without further ado, we proudly present the Erie Reader's "40 under 40," class of 2013.
In your face, brain drain.

Eric Brewer, 28, musician
A graduate of Fairview High School – where his specialty was "cutting class to go home and practice guitar" – Eric still graduated with honors before earning a scholarship to Duquesne University's School of Music. And although his day job is teaching guitar and bass at World of Music and the Fleming School of the Arts, his real passion lies in performing live, both locally and regionally. "Being a teacher is very rewarding, and it is a truly amazing feeling to play music for people. Hopefully it lifts their spirits and inspires them in some way," he said. "Erie is an incredible community, brimming with many interesting and talented people. As long as we all work together, this city will continue to be a truly inspiring place to be."
Amanda Sissem, 36, executive director
The new executive director of ArtsErie, Amanda is an Erie native who attended the University of Georgia and graduated with bachelor's degree in social work and obtained a master's degree in nonprofit management from Regis University. Amanda, whose first job was at Whippy Dip, works to connect people with the resources needed to create positive change. "I'm proud to work with a variety of partners to seize the power of the arts to inspire, educate, heal, fuel innovation and drive economic growth, she said. "I challenge young leaders to make a commitment to lead here and to lead now. Stop waiting for an invitation to join the conversation. Our time is now. Our community needs us." She swears that to this day, she can still make a perfect 4-ounce orange-vanilla twist.
Bob Merski, 37, government
Born and raised in Erie, Bob once seriously considered becoming a priest. While obtaining a bachelor's degree in elementary education and a minor in religious studies at Mercyhurst University, he took the psychological test and went through the interview process to enter the seminary. This, Bob said, is what made him recognize the call to serve to others, a call he answers as an Erie City Council member. Bob also works for the Erie School District as a special-education teacher at East High School and has 17 years teaching experience. "It's an exciting time to be a young person in Erie," he said. "Our young people have a passion for Erie that makes me believe that we are on the cusp of something great. Now more than ever, young people in Erie have a chance to make an impact on the community.  The old conventions and 'dyed in the wool' attitudes are changing, making way for a renaissance in the City of Erie led by our young people."
Ferki Ferati, 29, executive director
Born in Mitrovica, Kosovo, Ferki and his family moved to the United States when he was 16 years old. After completing his bachelor's degree in intelligence studies at Mercyhurst University, Ferki began working at the Jefferson Educational Society, and now serves as executive director. He's brought the likes of E.J. Dionne, Paul Kennedy, Gen. Michael Hayden, Francis Fukuyama, David Brooks, Karl Rove, and Norman Ornstein to Erie through the four Global Summits held at the JES to date. Most recently, this lover of Roman history who's visited over 30 countries on five continents completed his master's degree in public administration at Gannon University and helped raise over $1.8 million for the Perry 200 Commemoration. Ferki also played a vital role in securing $1.8 million HUD grant for Destination Erie: A Regional Plan, and is a man who firmly believes in the Horace Mann quote: "Be ashamed to die until you have won some victory for humanity."
We – your Erie Reader writers and editors – have had the great fortune of meeting people from all walks of life who make Erie what it is today: a gregarious, generous, gifted community of good people doing things.
Ashley Sornberger, 32, entrepreneur
After attending Edinboro University of Pennsylvania to major in elementary education, Ashley spent 11 years working at Bayside Ob-Gyn. The Erie native left that position two years ago to concentrate on her husband, Don, and their business: Mid-Town Tattoo, which they own together in addition to Gem City Gallery apparel store. "The most important thing about us and our business is that there is no 'stereotype of people,'" she said. "I have a son and two stepdaughters that obviously know about our business – I hope that we have taught them and others that you cannot judge a book by its cover." Not being an artist herself allows her to focus on her business, which employs eight tattoo artists and one piercer, among others. "I've learned a lot being in our business five years and hope to continue for many more."
Patrick Kelley, 33, attorney
Patrick is a 1998 grad of Villa Maria Academy who then earned a BS in industrial labor relations at Penn State University. He then attended law school at Cleveland State, where he graduated in 2006 with a JD/MBA.  "Currently I am the managing attorney at SafeNet, where I represent victims of domestic violence in connection with domestic relations matters," he said. "Most people are surprised to learn how big of a problem domestic violence is in Erie County, and it is gratifying to know that I can assist victims at crucial times in their lives." He also said that he would be remiss if he failed to mention his love of music – particularly live music – specifically, the Grateful Dead.
Burim Loshaj, 24, artist
An Albanian refugee from Kosovo, Burim has called the United States home for the last 13 years. A Mercyhurst University graduate with a bachelor's degree in graphic design and a minor in web production, Burim works as a part-time graphic designer at Jamestown Community College and also freelances for various organizations in the Erie area, including the Erie Reader. "Young people are the lifeblood of Erie and keep its energy and spirit alive," he said. The young designer, who looks to make Erie a more beautiful place through his work, is planning to release his own font design in the next few weeks.
Heidi Euliano, 36, entrepreneur
Heidi grew up in Erie, graduated from McDowell High School, and continued her education at Syracuse University where she majored in psychology with a concentration in health and exercise science. "I moved to Los Angeles upon graduation to find that Erie has much opportunity for college graduates who want to pursue many career avenues with a lower cost of living and a simpler life than that of a large city," she said. "I found myself enveloped in traffic and endless jobs that weren't for me, so I returned to Erie to start my career as a commercial real estate professional." Given an opportunity to start a business with her uncle and father (of Baldwin Brothers, Inc.), she jumped at the chance and is currently an owner and operator of nine Niagara Car Wash locations.  "Opportunity, hard work, and honesty make for a fulfilling journey," she said.
C. Brown, 25, musician
Born and raised in Erie, C. Brown works to show people that hip-hop is actually more about unity and celebrating life than anything else. A graduate of East High School, C. Brown, in addition to being one of Erie's most prolific and talented rappers, has worked as a janitor for Peterson's Property Maintenance for four years, and jokingly admits to having lied about losing his virginity to fake girl named "Mary" in middle school. "Since we are the future, we have started to create a better future with our music, illustrations, fashion, etc., to inspire others as well as bring people together."
David Hunter, 29, entrepreneur
Born in Erie to Dave and Sue Hunter, David graduated from McDowell High School before attending Fordham University and then Mercyhurst University. He started working for Merrill Lynch just after college, and was "about the worst financial advisor ever… That's when I decided to pursue my true calling as a self-employed business owner with a tech startup." After meeting Shaun Rajewski, they founded Epic Web Studios. "Every time we launch a new website for a local organization, we are helping to keep the perception strong that Erie is a wonderful place. Young people are transforming the landscape of Erie. We've moved beyond the image of 'another manufacturing town' and into a growing center for education, tourism, healthcare, and – if I have anything to say about it – technology. From my standpoint, the future of Erie is bright, gleaming with optimism, and I am elated to be a part of it."
Carolyn Eller, 27, public relations
For the last three years, Carolyn has served as the director of marketing and public relations at the Erie Art Museum, where she oversees audience development strategies, publicity, and marketing for the museum's programming, which she sees as the "most rad job in Erie." She said that "young people make Erie special because we have the opportunity to influence the future of our community by what we're doing now, a role that I do not take lightly." This Calvin College graduate who obtained a degree in mass media studies also produces major events and exhibit openings as well as the annual Erie Art Museum Blues & Jazz Festival. "I'm passionate about communicating how the museum plays a critical role in developing [art in the Erie community]. I have the privilege of raising up the next generation of art lovers and supporters to maintain the vibrancy of the arts and culture scene in Erie."
Jason Lavery, 31, entrepreneur
In August 2009, Jason, along with wife Nicole, founded Lavery Brewing Company. Currently serving as the brewery's president, Jason, an Albion native, graduated from Edinboro University of Pennsylvania with a bachelor's degree in humanities and a master's degree in communications. Together with his wife/business partner and fellow brewer Jason Lynch, he's on track to brew 31,000 gallons of beer in 2013. Helping to make Erie a craft beer destination, Lavery's innovative and creative brews can also be found throughout Pennsylvania, New Jersey, and Delaware and soon in Michigan. As someone who never stops moving, stating that he's never sitting on his "haunches watching for something to fall into his lap," Jason has plans to launch a pub attached to his brewery in August.  "Ambition, creativity, optimism, and drive are the main attributes of Erie's next generation of movers and shakers," he said.
Zach Flock, 29, artistic director
Assistant director of eMarkeing in the Office of Admissions at Gannon University by day, artistic director of Dramashop by night, Zach manages online marketing and recruitment initiatives for Gannon and helped found the up-and-coming theater company. "Young people bring an optimism to Erie that many older residents have lost," he said. "When we see an empty storefront in Downtown Erie, we don't think about what used to be there and closed – we think about the potential for something new." A Gannon graduate with a bachelor's degree in theatre and communication arts, the New Stanton, Pa. native is currently working on his master's degree in public administration at Gannon, and is a self-proclaimed "political junkie." "Erie is undergoing a renaissance, and in many ways, young people are leading the charge," he added.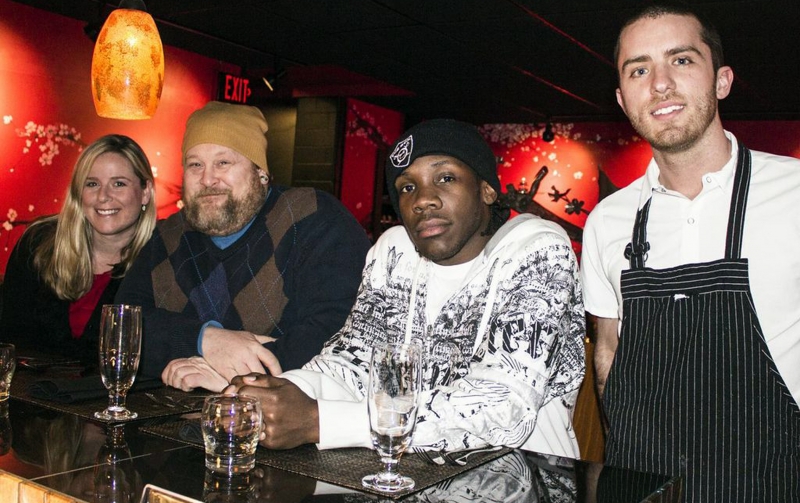 Katie Keenan, 32, assignment editor
Originally hailing from Saegertown, Pa., Katie attended Westminster College, where she graduated with a bachelor's degree in broadcast communications and visual arts technology, and currently serves as the assistant director and assignment editor at Lilly Broadcasting; she also keeps anything coworkers might ever need in her desk, ranging from office and cleaning supplies to cold and flu supplies. "We, the under 40s, have been told while growing up 'we are the future.' Well, the future has arrived. Hopefully we can continue our positive influences and we'll continue to make Erie a reenergized, refocused, and revitalized community for generations to come."
Chip Wachter, 36, architect
Born in Erie to a large family, Mercyhurst Prep alum Chip Wachter graduated from Syracuse University with a bachelor's of architecture degree, which included spending a year in Florence, Italy; his work has also brought him to Boston, Paris, Nantucket, Brooklyn, and Hell's Kitchen in New York City. Currently, he is a partner at Kidder Wachter Architecture and Design. "Much of our work is with helping local businesses grow and evolve," he said. "We have the opportunity to make Erie a better place to live one client, one building, one neighborhood at a time."
Chris Sirianni, 35, entrepreneur
Born and raised in Erie, Chris serves as the president and general manager of The Brewerie at Union Station. A graduate of Indiana University of Pennsylvania with a bachelor's degree in business management, Chris – a cancer survivor, concert junkie, and closet historian – has committed himself to creating an environment where aspiring artists, musicians, and brewers have a venue and platform to be recognized, and has helped local non-profits raise over $100,000 annually. "I am Erie's biggest fan – for the talent and generosity of our people and for the assets and resources," he said. "It's up to our generation to help Erie see its full potential."
Shawnta' Pulliam, 33, entrepreneur
Although Shawnta' wears multiple hats in the Erie community, she believes that "we all have a destiny and purpose in life." She founded Nurturing Hearts, a self-esteem and self-development nonprofit organization for at-risk girls to help instill in them a sense of purpose and self-worth; she also owns Shawnta' Pulliam Arise LLC, a motivational speaking, community program development and consulting agency, where she has taken on a new role at UPMC Hamot as a part-time facilitator for women from all facets of life – all while working full-time at General Electric. "We hold the keys of vision towards a higher level of change," she said. Born and raised in Erie, this poetry-writing belly dancer attended Gannon University, where she studied psychology and criminal justice.
Dan Kern, 28, chef
Chef and owner of 1201 Kitchen, Dan creates and cooks food "in the pursuit of deliciousness" and provides people "a place to enjoy each other's company." Dan attended Johnson and Wales University in Denver and graduated with an associate's degree in culinary arts and a bachelor's degree in food service management. "Youth provides us with unbridled enthusiasm and energy to push forward in the pursuit of creating a better place to live," he said. As someone who confesses he still believes in Santa Claus, Dan works through 1201 to prove that "if you're true to yourself and what you love, people can relate to that, and in turn, show support." He hopes that that spirit will "encourage others to pursue their craft in a city as great as Erie instead of moving their talents elsewhere."
Marshall Blount, 20, entrepreneur
Home-schooled from an early age and a survivor of meningitis, Marshall grew up loving to travel, which led him to realize how special Erie really is. Recently, he started a Facebook page called Erieite Pride, which has the mission of ensuring that Erie is represented in a positive way. "The reason I started Erieite Pride was to make people who haven't taken a good look at their city in a while to stop for a moment and say, 'Wow, I remember this!'" A few weeks ago, Marshall received a certificate of achievement from the Erie City Council for his efforts. "It was an honor, and I'm truly grateful for that," he said. Of Erie, Marshall quotes the bard himself, William Shakespeare: "It is not in the stars to hold our destiny, but in ourselves."
Heather McBrier, 36, entrepreneur
Heather grew up in Albuquerque, N.M. and was a marketing and finance major at the University of Denver. Six years ago, she started McBrier Events, an event planning company; two months ago, she co-founded Ink Design House, an advertising agency specializing in graphic design, marketing, and printed materials. "I always try to give the audience something they haven't seen before," she said. "I think that the young people of Erie make it special and better because they choose to live here instead of a major metropolis. There is the forever problem of brain drain and young folk leaving Erie; I think those of us that choose to stay and make a life here are special because we know that we can make a big impact on a mid-sized town and have a great quality of life."
I am Erie's biggest fan – for the talent and generosity of our people and for the assets and resources. It's up to our generation to help Erie see its full potential.
Ryan Bizzarro, 27, government
A McDowell High School Grad, Ryan double-majored in criminal justice and political science at Edinboro University of Pennsylvania and received his master's degree in public administration from Gannon University; he's currently the youngest state representative ever to be elected from this area. "Being a state representative gives me the opportunity to make Erie and the Commonwealth a better place every day. Whether it's meeting with residents in our district to hear their ideas and concerns or voting on legislation in Harrisburg, I was elected to positively impact the community in any way that I can, and plan to do so as effectively and efficiently as possible," he said. "It's our job as leaders to inspire others to get involved in our community." Ryan said the next big step in his life is to settle down and start a family of his own.
Marty Schwab, 39, entrepreneur
As the proprietor of popular State Street music venue the crooked i, Marty Schwab does a little bit of everything, from mopping floors to booking bands. Originally from Falconer, N.Y., Marty earned his BA from Mercyhurst University in business administration and an MBA from the University of Alabama. "I think Tracy [Evans, his partner in crime], my staff, and I have given Erie a place where original music, original art, and independent thought can blossom and flourish, regardless of genre or stereotypes. There is such an extreme concentration of talented musicians and artists in Erie," he said. "Stereotypes and pettiness have no place in a healthy scene." Despite his education and commercial success, Marty's secret to mental clarity a bit more youthful: "I have crayons and a coloring book on my desk… coloring helps me with my thoughts."
John Elliott, 38, CEO
A licensed professional engineer with a bachelor's degree in engineering and geology from Calvin College and master's degree in civil engineering from Michigan State, John currently serves as the president and CEO of the Economic Development Corporation of Erie County. This husband and father of three heads the county's lead economic development agency and is responsible for infrastructure projects, business park and port developments, financing, and business assistance programs, and has raised capital for dozens of local companies while initiating a comprehensive plan to use local ports and railroads to attract new industry to Erie. "Only the young in spirit can have the successes that requires us to move from failure to failure with no loss of enthusiasm," said John, who finds balance in life singing with his kids, painting, collecting vintage apple trees, inventing cocktails for his friends, and structuring multi-million dollar deals bridging the public and private sectors.
Kim Thomas-Plyler, 30, government
A native Virginian, Kim earned her BA in broadcast journalism from Edinboro University of Pennsylvania. "The most rewarding part of being a journalist was the impact I hopefully had on people's lives," she said. "Viewers trusted me to let them know exactly what was going on in their community, and how it would affect them." After spending almost seven years as a reporter and anchor for WJET-TV news, she recently joined the office of State Senator Sean Wiley as the director of communications and public relations. "Young people are the lifeblood of any community. We are the future leaders, the entrepreneurs, the parents, the mentors, and the educators of Erie. We must continue to work hard to ensure future generations can thrive and live the lives they've always dreamed about in a place they are proud to call home." Last August, Kim married Jordan Plyler.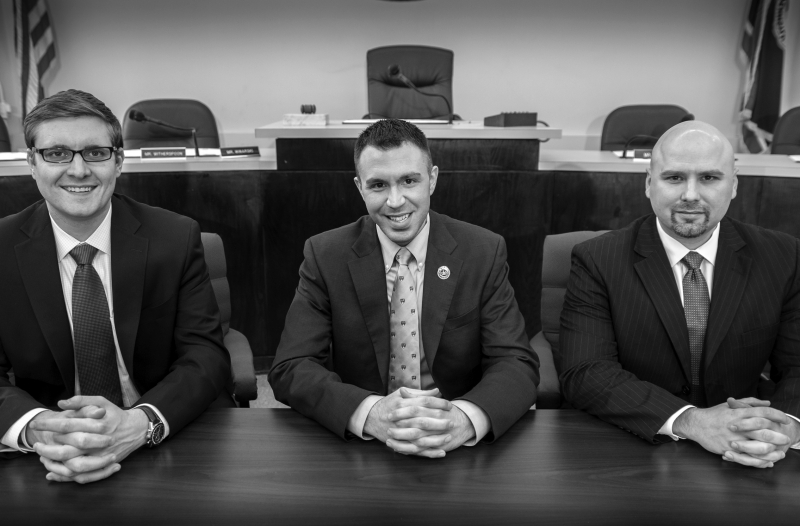 Adam Calfee, 28, animator
Born in Akron, Ohio, Adam attended Edinboro University of Pennsylvania, where he studied animation, befriended Jordan Held and Gus Trauth, and formed MoreFrames Animation. As a partner and creative lead, Adam directs and produces commercials, motion comics, short films, and music videos, and handles all aspects of production. "There's a growing number of young Erieities bent on seeing an era of creative revitalization," he said. "If we don't give up on her, we can see Erie to her full potential." Active within Erie's arts and culture scenes, this husband of over nine years has helped establish an internship program with EUP to provide students with real-world experience, and has instructed animation classes at Penn State Erie, The Behrend College.
Shirani Straker, 38, entrepreneur
Born and raised in Erie, Shirani attended high school in Massachusetts before matriculating at Antioch College in Ohio, where she majored in primary and elementary education. In 2004 Shirani and her mother opened Cultured Purl, a yarn store located at 3141 W. 26th St., where she also started a group called Knitters For a Cure, which raises money for cancer research. "I have noticed a city pride that many young people in Erie share. That pride manifests itself as a way to make Erie an even better place to live, whether it be opening a restaurant that will enhance Erie's appeal, starting a weekly paper that highlights Erie, or helping others in the community – that pride is what moves this city forward."
Perry Wood, 34, executive director
"Young professionals in Erie are tenacious, bull-headed, and masochistic; we have to be, or we would've left a long time ago," said Perry Wood, a native of Franklin who came to Erie in 1997 to attend Mercyhurst University where he majored in political science and then completed the master's degree program in organizational leadership. In April 2011, Perry was appointed executive director of the Erie County Gaming Revenue Authority, where he oversees an annual endowment of $6 million. Under his tenure, ECGRA has invested over $22 million in Erie County through more than 100 nonprofit entities in the areas of local government, heritage, arts, culture, public safety, human services, neighborhoods and revolving loan funds for small businesses.
John C. Lyons, 35, filmmaker
This Albion native spends his days working at Edinboro University of Pennsylvania in the technology and communications department, but as a small-business co-owner, the Edinboro graduate with a bachelor's degree in computer science created Lyons Den Productions LLC in 2004 with his wife Dorota Swies. Director of the Edinboro Film Series, executive director of the Film Society of Northwestern Pennsylvania, and curator of the FILM at the Erie Art Museum Film Series, John has worked on four movies in the Erie area, including "There Are No Goodbyes" and "Schism," and is endeavoring to make Erie a hub for film in the country through a major impact on the city's economic development. "Young people have to make their own opportunities in Erie and ignore the noise," he said. "It's our time to shape our city's future. No more living in the shadows of other people."
Katie Hanlin-Stachewicz, 31, entrepreneur
A genuine "Erieite," Katie attended Villa Maria Academy, Penn State University, and then Edinboro University of Pennsylvania where she received her degree in graphic design. After a string of jobs including Molly Brannigans – where she would meet future husband Russ – she partnered with him to open U Pick 6 Beer Store in May 2008. "We make a great team, and we both believe strongly in providing our customers and clients with the best quality and service," she said. Shortly thereafter, she opened advertising and marketing firm Creative Affairs before opening the U Pick 6 Tap House on the corner of Fourth and State streets. "Erie is a great place to let young people strive and achieve goals. I know that's why I stayed."
There is such a diversity of passions and interests in Erie. I am constantly impressed by how people can combine professional aspirations with social welfare, all while considering the future of our great town and the direction we would like it to head. Erie is in good hands.
Ben Pratt, 26, researcher
A Pittsburgh native, Ben attended Mercyhurst University and graduated with a bachelor's degree in international business and a minor in Spanish. Ben, the director of research at the Erie Regional Chamber and Growth Partnership and project coordinator for Destination Erie: A Regional Vision, credits strong support from family and friends for his accomplishments to date. "I am simply a member of a team of great mentors that want to see more great things come to Erie. The world is what you make it. I'd like to make a world that makes it easier for people to choose to be happy in Erie," he said, referencing the Abraham Lincoln quote, "Happiness is a decision we make every day."
Jason Porreco, 27, entrepreneur
After starting his automotive sales career at his father's Mazda dealership before he was even old enough to drive, Jason attended the National Automotive Dealer Academy in Washington D.C., where he finished at the top of his class and is still the youngest to ever graduate; he's also proud of his native American heritage, being a full-blooded Mattaponi Indian. "My mother modeled with Vanessa Williams in the Disney movie Pocahontas," he said. Originally from West Palm Beach, Fla., where he attended high school at the Kings Academy, he is now the general manager at Bianchi Honda, the largest volume Honda dealership in Pennsylvania. Of his accomplishments, Jason said, "You will succeed with hard work and continuous dedication to your career and the community."
Zack Orr, 37, musician
Originally from Decatur, Ga., Zack attended high school in North East before earning a BA in broadcast communications from Westminster College in New Wilmington and then attending the prestigious Berklee College of Music in Boston, where he earned a two-year professional music certificate in guitar performance and music business. Zack is an internationally-recognized independent singer/songwriter and owner of Space Lounge Productions, an AV production shop specializing in high-end web content for artists and the business sector; he also has production experience with the South by Southwest Music Festival and in the television industry. Said Orr, "The truly successful young professionals in this city are the ones creating their own scene, rather than grinding against the often change-resistant status quo." Zack is married to fellow "40 under 40" honoree Stacy Orr.
Stacy Orr, 35, entrepreneur
From Newbury Park – a suburb of Los Angeles – Orr earned a master's degree in social work from UCLA after earning an undergraduate degree in social work from Kansas University. Currently a yoga instructor at yogaErie and co-director of the Satya School of Yoga, Stacy owns Stinky Yogi LLC, an essential oil product line sold both online and at yogaErie. She also sings a mean karaoke rendition of "Sweet Child O' Mine" by Guns n' Roses. "Erie had me at my first sunset…Moving here was a very conscious choice. It has been a great place to establish my business and develop a sense of community that I could have never anticipated." Stacy is married to fellow "40 under 40" honoree Zack Orr.
Adam Williams, 30, attorney
An Erie native, Adam earned his bachelor's degree in management from Penn State Erie, The Behrend College and went on to complete his JD and MBA from the University of Pittsburgh. Self-employed with Erie Business Law, Adam also practices with Shapira, Hutzelman, Berlin, Ely, Smith & Walsh, primarily focusing on small businesses. "My goal has been to become the 'startup' lawyer in Erie," he said. "In the two years since I hung my shingle, I have helped hundreds of people jump through the legal hurdles to start and grow businesses, to create jobs, to feed their families, and to make Erie a better place in their own way." Adam added that his wife deserves to be on this list more than he does, and that she could not be more supportive of his work. "There is such a diversity of passions and interests in Erie. I am constantly impressed by how people can combine professional aspirations with social welfare, all while considering the future of our great town and the direction we would like it to head. Erie is in good hands."
Meredith Estrich, 30, veterinarian
Hailing from Titusville, Meredith did her undergraduate work at Allegheny College and earned her veterinary degree at Cornell University; accordingly, she serves as a veterinarian at North East Animal Hospital. "I do a little of everything from well care to surgery, and I strive to help my clients understand veterinary medicine and make the best choices for their pets," she said.  Meredith is training for her first half-marathon, which she said helps her deal with stress and allows her to eat more cupcakes. According to Meredith, "Erie is becoming a more vibrant, diverse place as a direct result of young people choosing to make it their home rather than just the place they grew up.
Cal Pifer, 28, executive director
Originally from Erie, Cal is a graduate of the University of Texas who has also lived in Perth, Australia, Houston, and Newport, R.I. He currently serves as executive director of the Erie County Historical Society, where he is responsible for the leadership and growth of Erie's oldest cultural organization. "I returned to Erie three years ago to work with the Flagship Niagara League, and have tried to show through both organizations that Erie possesses truly world-class cultural assets. Erie is hungry for new leader with fresh ideas," he said. "Young people are critical as we make a systemic change."
Shannon Morton, 29, financial advisor
A former Warren Dragon, Shannon holds a BA in finance from Mercyhurst University and works for Evans Capital Management. "We are a small company, so we wear many hats in any one day, but my main focus is retirement planning," she said. "I enjoy helping people – whether it be helping to plan important aspects of their lives or getting them involved in their community." An avid runner who loves to use her creativeness baking up treats in the kitchen to share with others, she hopes that young people find success through inspiring others and use their creativity to bring a fresh perspective to all ages.
Curtis L. Jones, Jr., 37, government
The oldest of 14 children, Curtis graduated from Thiel College with a bachelor's degree in political science and a minor in theological studies. Currently he serves as the associate pastor of Abundant Life Ministries International and previously served as president of Erie City Council from 2008 to 2012. "My life is dedicated to helping shed enlightenment and the importance of self-knowledge and self-actualization to reaching one's highest potential," said the proud husband and father of four. "My greatest asset is the ability to be a brother to people in every area and demographic in our community, whether it is talking to a young person at their school, a young man in prison, a business professional in the boardroom, or the entire community as president of city council. This allows me to help us all realize that we are one community, and we are and can only be great because of each other. When we all think that way there will be no limit to our community's success."
Abby Lechner, 32, executive consultant
Villa Maria High School and Xavier University grad Abby Lechner was born and raised in Erie; after returning from Charleston, S.C., in 2009, she landed at Decision Associates, where she handles mid-level management recruiting for manufacturing and nonprofit clients in the Erie area. She also serves on the board of the Erie Art Museum, the Sisters of Saint Joseph Neighborhood Network, and the Inner-City Neighborhood Art House. "Erie's young people make our hometown special because of their generous spirit and strong desire to make a difference," she said. Abby and her husband Matt are expecting twins in May.
Jon Box, 34, entrepreneur
Born in the Philippines, Jon moved to Oakland, Calif., where he grew up street smart. He joined the US Army and served as an Infantryman, and later graduated with a bachelor's degree in graphic communications before moving to Erie to found The Box Street Couture. He also helps organize events like Drips & Beats that focus on social awareness, including toy drives, anti-bullying campaigns, and cancer awareness. "To be honest, I never really thought special of what we do," said the man who credits Erie with giving him a second lease on a life he thought was over. "We followed our dreams and we love hip-hop. Coming from a big city, I saw the potential of this city as for how much raw talent resides in it. It was just a matter of giving them the plateau to show the rest of the people their talents as artists." Jon lives by the motto "One Erie, One Love." 
And so should you.