Erie's Best Summer Night: With Steely Dan
Walter Becker and Donald Fagen bring their iconic blend of jazz and rock to the beaches of Presque Isle.
August 6, 2014 at 5:30 AM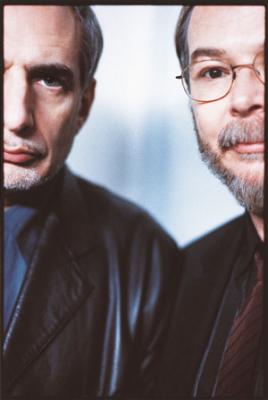 More than two years ago, on Saturday, June 23 2012, the Presque Isle Partnership shocked much of Erie by doing something that, up until that day, had never before been done – they constructed a colossal stage that rose from the shifting sands of Presque Isle State Park's Beach 11 like a mirage, where legendary folk rockers Crosby, Stills & Nash went on to provide a magical performance for a mesmerized audience all as the sun set behind the trees and cast a purplish glow on the waters of Lake Erie.
On Saturday Aug. 9, the Presque Isle Partnership will do it again – with the equally legendary Grammy Award winners and Rock and Roll Hall of Fame inductees Steely Dan.
"That 'buzz' is still there two years later," said Erie native and Cathedral Prep graduate Jon DeMarco, executive director of the Presque Isle Partnership. DeMarco's only been on the job since June, but his history with the organization dates back to 2010, when he interned with PIP as a sophomore at Penn State University Park, where he earned an accounting degree before taking his MBA from Gannon.
"People are still talking about it," he said of 2012's Best Summer Night, which was largely envisioned by the late Steve McDermott, longtime executive director of PIP and DeMarco's predecessor.
One group of people still talking about it is the majority of music lovers in Erie; the concert was unlike any other in Erie's history – a remarkably energetic performance in an unbelievably startling place. It also proved that, contrary to popular opinion, there are enough people in Erie willing to spend $100 or $150 to see a top-notch act in a completely unique setting.
Another group of people still talking about it are the majority of PI lovers in Erie. The proceeds from 2012's event – around $125,000 – were, as promised, used to make some noteworthy improvements to an important area of the park.
"The Perry monument area has great significance, and it was a site in dire need of restoration and renovation, particularly the lighting," said DeMarco of the obelisk near the eastern edge of Presque Isle State Park. "And if you go out there now and see what we've done, it's an upgrade. It's solar LED lighting, which can project any color of the spectrum – it's certain colors for certain times of the year, and it's all computerized."
DeMarco went on to add that PIP also purchased 25 recycled aluminum picnic tables, and erected a new pavilion. "This summer is the first summer the pavilion's been open, and we see people using it all the time," he said.
Thankfully, both groups – music lovers and PI lovers – have something good to look forward to this year.
Steely Dan is an internationally respected, loosely collaborative group of jazz and rock musicians, anchored since the late 1960s by Walter Becker and Donald Fagen. These guys are serious perfectionists, skilled composers, and proficient instrumentalists of the highest order who've woven a soft, mellow, melodic tapestry of tunes through many of our lives, and procuring them for such a small market is a remarkable feat.
DeMarco said that the planning of this event started before Christmas, adding, "We met with Casey Wells [executive director] of the Erie County Convention Center Authority because the first time around, he was such a huge help." DeMarco opined that Wells' expertise, in addition to the ECCCA's assistance with ticketing and labor made him an essential partner.
"So we met with Casey first, went though our options, and we all thought that Steely Dan really fit the demographic. They were available, we made them an offer, they accepted, and I don't think they realized that they were going to be out above the sand, on the beach. I think they'll be blown away, just as Crosby, Stills & Nash were."
And indeed they were – one of the first lines uttered from the stage that night was, "Where are we?!"
The crowd answered, in unison, "Why, Presque Isle State Park, of course! Where the proceeds from your appearance tonight will help enhance the visitor experience for millions of people for generations to come!"
Okay, so the crowd didn't all say that, in unison, but in anticipation of someone in Steely Dan asking the same question, please memorize the following quote supplied by DeMarco:
"Proceeds from this event will go toward restoration of the Presque Isle Lighthouse."
The Presque Isle Lighthouse - more than 140 years old - is iconic in a weird sort of way because although it's served as one of Erie's most enduring symbols for locals and visitors alike, very few people have ever been inside of it. And that's about to change.
"It will eventually open to the public once the restoration is complete," DeMarco said. "It's going to be restored to 1890s vintage; there were additions that were made in the 1980s, and those are going to be torn down. It's going to be a huge project, and in the end, it's going to be museum-quality."
Despite the double-benefit of Presque Isle Partnership's Best Summer Night series, DeMarco doesn't think it will ever become a yearly occurrence.
"As a primarily volunteer organization, it's a lot of work, and it's a lot of risk. And you have to give people some time to recuperate – not only the volunteers, but also the organizations that are putting up the money."
This year, the total cost of the production is nearly half a million dollars, with Steely Dan accounting for almost half of that. So, with people still "buzzing" over 2012's event, will 2014's Best Summer Night be worth all the work, and the risk?
"This goes back to our mission, which is to enhance the visitor's experience at Presque Isle State Park while protecting the natural environment," said DeMarco. "We certainly enhance the visitor's experience by being able to provide these one-of-a-kind concerts every two years, because it showcases the beauty of the park, and it also brings a lot of people into town, which should be the mission of every organization. I think this event, in particular is sort of our shining star."
For more information on Best Summer Night, visit www.DiscoverPI.com. As of press time, a limited amount of tickets remained; visit www.ErieEvents.com or call (814) 452.4857 to purchase yours.
Cory Vaillancourt can be contacted at cVaillancourt@ErieReader.com, and you can follow him on Twitter @VLNCRT.