Erie's East Bayfront: A Most Defensible Space
Bayfront East Side Taskforce breathes new life into a once-fading neighborhood.
September 30, 2015 at 12:00 PM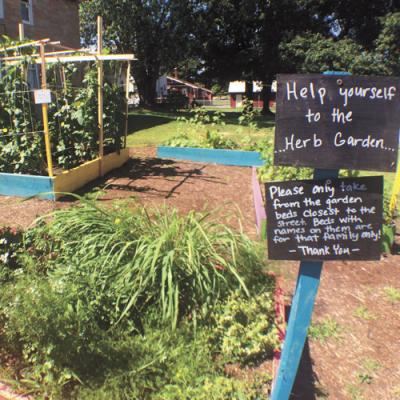 Jeremy Bloeser stands inside his office on lower Parade Street tending to the affairs of the East Bayfront neighborhood. The office is small, contained within a single-story cottage-style home. The living room is an office with monitors for the organization's security cameras and a desk space that's full of paperwork and impending projects. The dining room is purposefully cluttered with tools, maps, and implements of progress. The building is owned by Erie Insurance, a corporate sponsor of the Bayfront East Side Taskforce (BEST), the organization Bloeser serves as executive director. BEST is responsible for the building's upkeep and ongoing maintenance.
Outside of his office, houses and properties are well maintained, streets are clean, and the neighborhood – compared to its adjacent communities – is safe. The relative safety and security of the East Bayfront neighborhood is due, in large part, to Bloeser and BEST.
The nonprofit oversees revitalization and ongoing maintenance of a 25-block neighborhood extending from Holland to Wayne Streets and East Sixth Street to Front Street, along the east side bluff that overlooks Presque Isle Bay.
Two decades ago the neighborhood looked quite different. Blight was spreading, crime was on the rise, and there seemed to be little hope for long-term security. The East Bayfront Neighborhood Watch took on the issues facing the community, but efforts to hold the neighborhood's decline at bay were inconsistent, a reality faced by many volunteer organizations.
So the community's local businesses and corporate neighbors, including UPMC Hamot and Erie Insurance, banded together to fund BEST with the primary mission of revitalizing and care-taking the East Bayfront Neighborhood.
"This is our home. We've been here for 90 years," says Karen Kraus Phillips, vice president of corporate communications at Erie Insurance and secretary of the BEST board of directors. "The vibrancy of Erie is very important to us. It's where our employees live and work, and where our customers live and work, and we really are committed to Erie. It's our namesake, and so it's important for us to have a safe and vibrant downtown."
BEST has purchased blighted homes and rental properties, and repaired or razed those structures depending on each building's condition. It's demolished 45 blighted properties during the past 14 years. Where homes could not be salvaged, green spaces and community gardens have taken their place. Where there was hopelessness, the residents of East Bayfront now see hope.
"There were really crummy two-story rentals and there were landlords who were tired of being landlords," Bloeser remembers. But that was before the expansion of Erie Insurance across the lower East side. That was before BEST.
BEST has embraced the idea that the physical characteristics of a home or neighborhood can change people's behavior, reduce crime, and create more livable communities. It's a philosophy that's often the center of political rhetoric, but rarely the expression of political will.
"We'd like to attract people who want to live downtown, who want to live near the lake, and we feel like this is a safe, comfortable place to live and economically it is very feasible," Bloeser says.
It's feasible because, where necessary, BEST has modeled what it means to be a good citizen: to care for one's neighbors and to stand up for those who struggle to defend themselves. BEST owns and manages 13 rental properties and is in the process of purchasing two more. Bloeser visits sheriff's sales and, when possible, negotiates with banks to purchase foreclosed homes. But that's a last resort, not a starting point.
In many ways BEST operates within the legacy of famed city planner Oscar Newman, whose work was motivated by the belief that crime, in all of its manifestations, was caused by a sense of loathing in communities where residents felt no genuine responsibility for their homes or their surroundings because of the density of the population and the quality of their housing. Basically, the more decrepit the homes and apartments, and the more crowded the buildings, the greater the risk of crime and violence.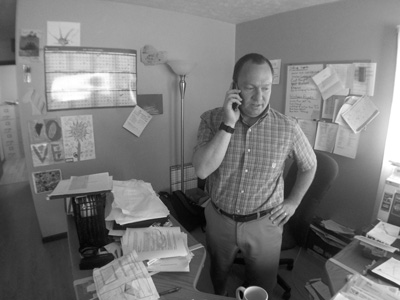 Newman's solution was simple: establish housing and communities that the residents could and would treat as their own. People would create and "preserve those areas in which they [could] realize their commonly held values and lifestyles," Newman wrote. In short, they would defend their space.
More than forty years after the publication of Newman's landmark study, Defensible Space, you can drive across the City of Erie and observe firsthand the very conditions that inspired his work. Gross concentrations of poverty compounded by blight and hopelessness create ideal conditions in which crime and violence thrive. Overgrown lawns, broken windows, and shuttered homes remind us that people who feel they have been abandoned also, at some point, abandon themselves.
But on the north end of Parade Street and across the East Bayfront Neighborhood things look different.
As you cross Sixth Street, the old National Guard armory is bustling once again, filled with Erie Insurance employees, and ten lots previously populated with blighted homes on the southeast corner have become green space that look more like a city park than a plot waiting to be developed. More than 150 Erie Insurance employees from its information technology, customer experience, and strategic marketing departments moved into the armory, which has been redesigned to meet historical preservation standards.
"When the national guard had to move out of the armory and it sat vacant for a while," says Kraus Phillips, "it just seemed the right thing to do. We've always been east of State Street and the east side is part of our campus. The vibrancy of that community and the safety of that community has always been important to us."
The expansion of Erie Insurance extends north on Sixth Street where Victorian homes have been restored as professional offices, and rental units have been made anew. Open spaces between homes are often filled with garden boxes used to grow herbs and vegetables, some of which are native to the migrant and refugee families that make the East Bayfront their home.
"Our community gardens are adopted by individual families," Bloeser says. "They adopt the box and we give them everything they need to get started. After that, the family does it all."
Some beds yield produce for the neighborhood, some are exclusively for the families who tend them.
Like other nonprofits in the city, BEST is eligible for tax abatement or tax exemption on the land it's acquired during the past decade: its green space and residential properties. But Bloeser says that's not part of his or the BEST board of directors' plan.
"We pay all of our own property taxes. We do what we're supposed to do. We're paying for the police and we're paying for the firemen. We want to support them and we don't want to be a drag on our neighborhood by opting out. We have 35 lots and we pay taxes on all of them."
"We pay all of our own property taxes," Bloeser insists. "We do what we're supposed to do. We're paying for the police and we're paying for the firemen. We want to support them and we don't want to be a drag on our neighborhood by opting out. We have 35 lots and we pay taxes on all of them."
It's part of the culture of ownership and territoriality that's prevalent in that neighborhood. When a property is unkempt, BEST calls a zoning officer; When there's a criminal complaint, BEST liaises with police; When renters want to move into homeownership, BEST helps them find grants to make a downpayment. Its accomplishments are many, but its work is unfinished.
Bloeser contends that one of the biggest problems now facing the neighborhood is what he calls "zombie homes." These are properties that sit unoccupied, foreclosed on by banks, which in some cases are unwilling to negotiate a land sale with BEST or private parties. In many cases, the banks are out-of-town institutions: responsible for the upkeep of the property, but absentee nonetheless. That means the quality of the upkeep varies greatly from home to home.
Bloeser would prefer that homes and storefronts not sit empty in his neighborhood. It's a gateway for trouble ranging from looters and squatters to degradation and decreased property values. That's why BEST created the East Bayfront Eats and Arts this past summer at the northeast corner of Third and Parade Streets, which featured locally grown produce from area farms and a wide variety of arts, crafts, and wares. BEST saw this as an opportunity to capitalize on the tradition of corner stores that used to anchor local neighborhoods, while providing another amenity to its neighborhood.
Bloeser's energy and commitment to the East Bayfront Neighborhood is impressive. Standing behind his desk inside the BEST office – he gives the impression that sitting down at work is not really his style – he answers the phone. A neighbor on Parade Street worries that someone suspicious was hanging around his house the evening before and, although no crimes were committed, Bloeser assures the man that he'll check with nearby homes that have security cameras to see if anything was going on. These kinds of adjoining spaces become security mechanisms where cameras are effective and neighbors are watching out for one another. Two phone calls and a few minutes later, he's talking again to the concerned resident, whom he assures that he need not worry. The neighborhood was safe last night.
Jim Wertz can be reached at jWertz@ErieReader.com, and you can follow him on Twitter @jim_wertz.