Erie's Podcast Feed
The next episode for local ideas
February 26, 2020 at 12:15 PM
"Since 2014, approximately every 30 seconds a man cave gets converted into a podcast studio," stand-up comic Nate Fernald joked in 2017.
The tweet is play on an old viral Twitter joke ("A group of white guys is called a podcast"), but also is a reference to the overwhelmingly massive number of podcasts nowadays. According to Podcast Insights, the number of podcasts has eclipsed 850,000 as of January 2020 (up 50,000 from December's data) with over 30 million total episodes on iTunes.
In recent years, podcasts have gradually moved out of basements and garages as their popularity has grown while also increasingly becoming more diverse and reaching broader interests and audiences.
The Erie Times-News recently published a story by Heather Cass on the ever-increasing popularity of podcasts. "Whatever it is you are into, you will find a podcast about it," wrote Cass.
It's true. My podcast subscriptions (of which there are a staggering and maybe a bit embarrassing 114) cover everything from history, news, interviews, cultural issues, writing, literature, science, medicine, education, economics, politics, mythology, fictional serialized stories, and even some that defy categorization such as Ear Hustle, the first podcast produced completely in a prison by both former and current inmates.
Podcasts have been around for well over a decade, but with the mainstreaming of the medium (thanks to the accessibility provided by smartphones and seemingly every celebrity side-hustling one nowadays), there are now shows covering nearly every possible interest. Want to dive deep into the world of knitting? There's a podcast for that… or rather, there are over a dozen.
According to Edison Research, one out of three people have listened to a podcast in the past month. For those under 54 years old, that number is getting close to 50 percent with regular podcast consumers listening to an average of seven per week.
"Podcasts fit our busy lifestyles," says Christopher LaFuria, manager of communications at Edinboro University. "It's impossible to read a newspaper or watch a television news segment while driving … [but] podcasts can fix that."
This past year, LaFuria helped launch the Tartan Talks podcast to expand Edinboro University's outreach and as another method of sharing stories about students, faculty, and alumni.
"At Edinboro University, those stories come to us in multitudes," he adds. "Every person who steps foot on this campus has a unique perspective and a story to tell. My goal is to give them a platform to tell their story and share experiences with the world."
It's still in its first year of production, but episodes have already covered a wide range of topics and interviewees, including a student explaining her expertise with bagpipes, a discussion with a history professor on the Salem Witch trials, and LaFuria contextualizing a 1998 campus speech given by Mr. Rogers.
Podcasts like Tartan Talks have been produced in the Erie area for at least a decade. Pioneers in the Erie-podcast scene include Slaughter Film, which started as a horror film review series on YouTube in 2009 before evolving into a podcast a few years later (and was co-hosted by Forest Taylor, who would later go on to pen film reviews for the Erie Reader). In 2013 the Erie Reader launched The Erie Listener (which lasted only six episodes), while local baseball aficionados founded Tri-State at the Plate, covering regional baseball and interviewing the likes of SeaWolves manager Greg Coleman and New York Times bestselling sportswriter Jeff Pearlman.
Dr. Averill Earls is an Assistant Professor of History at Mercyhurst University. She also moonlights as the executive producer of Dig: A History Podcast, hosting the podcast with three other historians (all avid podcast consumers themselves) who went to graduate school together at the University of Buffalo. It was there that the idea for Dig originated.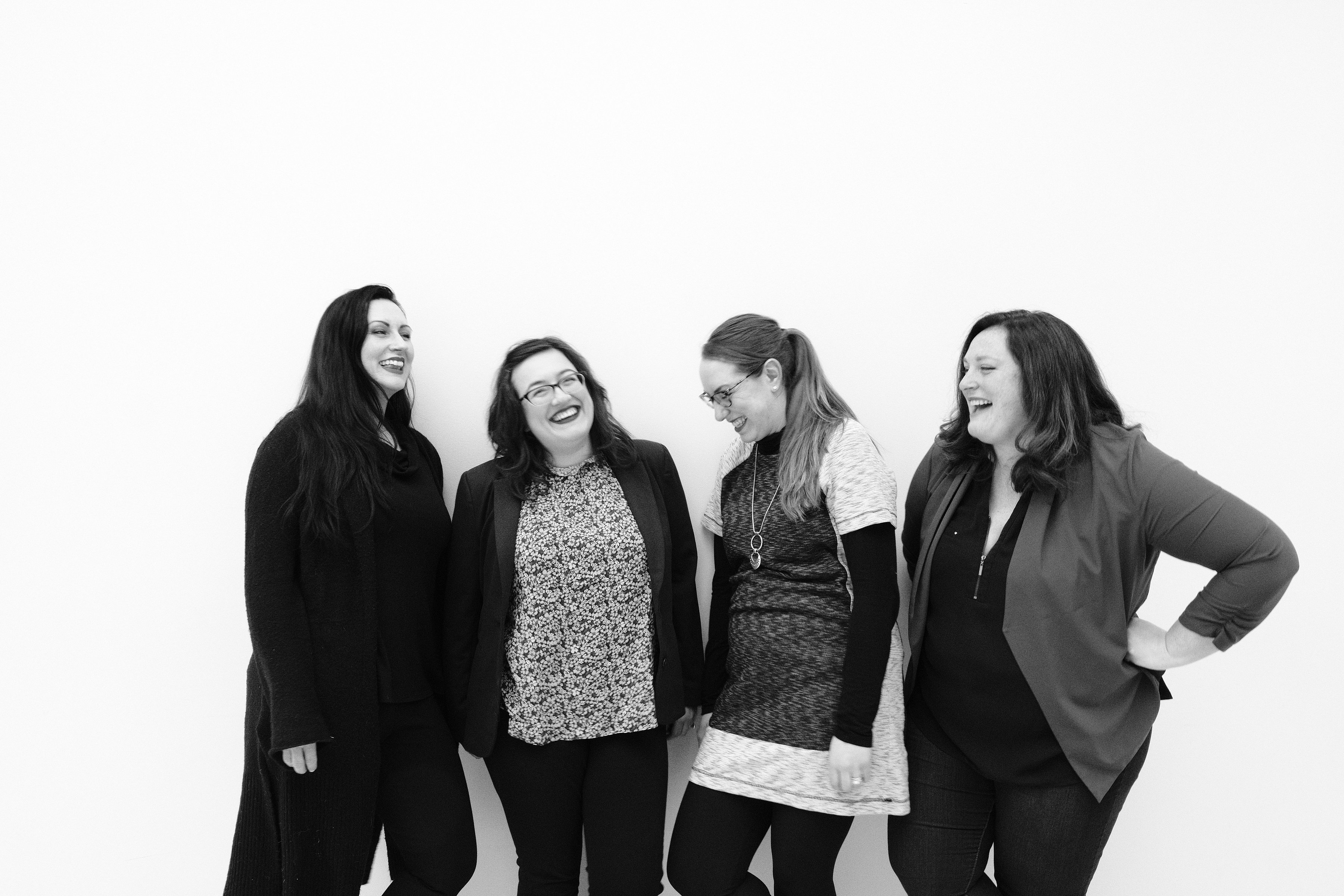 "Dig: A History Podcast" is a collaboration between four feminist historians, Elizabeth Garner Masarik (left), Dr. Marissa C. Rhodes, Dr. Sarah Handley-Cousins, and Dr. Averill Earls, who use their skills to craft extraordinarily unique and captivating narratives, each taking turns writing an episode for each four-episode series. Photo by Lovern Photography.
"When we started thinking about the field, it was clear that there's a gap," says Dr. Earls. "There are so few history podcasts run by academic historians with formal training and there are even fewer history podcasts created by women. We are both… and [we] wanted to bring that perspective and expertise to the wide and glorious world of narrative history podcasts."
The four feminist historians use their skills to craft extraordinarily unique and captivating narratives, each taking turns writing an episode for each four-episode series. Recent episodes have covered the debated origins of syphilis, 19th-century fatherhood, cannibalism in the Arctic, and the history of the orgasm (aka "the little death").
"[One review] describes us as a bunch of '[social justice warrior] 4th wave feminists,' which I think was supposed to be an insult, because it came with a one-star review, but we kind of like it," Dr. Earls jokes, before adding that the vast majority of their reviews are extremely positive (on Apple Podcasts they enjoy an impressive 4.5 stars with 179 reviews). "Mostly we just love learning that our show is entertaining and informing … [and] it's an entirely surreal experience to know that there are real people listening to us while they're doing dishes or jogging or sitting at a desk."
If you're active in the Erie social media scene or follow #EriePA hashtags, you've also likely noticed the crew behind Idiotville: Erie, PA's Favorite Podcast, who also write local commentary and provide some lighthearted Erie meme action on their Facebook page.
"We are trying to build a sense of community," Idiotville's co-creator, who goes by the pseudonym Brent N. Liberty, says. "Our goal is to sell Erie to the outside world and, most importantly, sell Erie to Erie."
The idea for the podcast began when Liberty and a co-worker, who goes by Dill Spears, were driving together for 10 hours a day, which led to many long and in-depth discussions. The two, along with friends Steve Castle and Jake News, eventually began brainstorming a podcast based on these conversations.
"We had a good flow and were arrogant enough to believe that others may listen to what we have to say," Liberty jokes. Still, their ideas were all too broad.
Liberty and his wife were on vacation when they found themselves in a hot tub with couples from all over the U.S. and Canada. While discussing Erie winters, he realized that he was really making the city sound like a miserable place.
"That's when I realized that we have a culture of negativity in Erie and I was contributing to that culture," he explains. They also now had their focus for the prospective podcast: Erie itself. "A big reason for the name Idiotville came from my realization that I was the idiot that adds nothing and waits for things to improve."
They have recorded over 80 episodes covering every local topic imaginable (their discussions about U.S. Representative Mike Kelly shouldn't be missed) and there is no end in sight now that they have moved production into the CAM Studio on West 12th Street. They hope to use Idiotville to keep locals engaged in and care about what is going on in and around Erie. "We talk about local news, but we're not trying to be news reporters," he says. "We do have a platform to discuss why people should care."
Radio veterans Tim Murphy and Ted Hallowell, both recognizable names from Star 104, have also embraced podcasting, which they don't see as competition to their day jobs.
"I look at podcasting the same way as other supposed 'radio-killers' [like] CDs, satellite, [and] streaming," Murphy says. "They're all totally different animals who I don't think were ever meant to replace radio and obviously still haven't."
"Both can, and do, exist and coexist in harmony," agrees Hallowell.
"What drew me to podcasting as a radio guy is the ability to get very in-depth into niche topics that I'm passionate about," explains Murphy. "Even in morning radio you only have a few minutes at a time to really tackle any topic and you have to appeal to a wide audience."
As for their niche topic? Seinfeld. Launched in June 2018 as No Hugging, No Learning, each episode of their show chronologically breaks down an episode of the popular television show, which originally aired from 1989 to 1998. What makes it so distinctive and entertaining is their added commentary: Murphy watched the show as a fan when they aired, while Hallowell has never seen any of them.
"I always knew [Ted would] be a good podcast partner, but I didn't want to just be one of those 'two dudes talking' podcasts," says Murphy. "When I found out he had never seen an episode of Seinfeld, I felt like I had unfrozen a prehistoric man. Longtime fans like me could watch along again and newbies could relate to Ted."
"I have to agree with him because there are so many things that will be referenced in Seinfeld that I will have no idea what they're talking about," Hallowell adds. "You'll hear that in our first few seasons where we're literally counting down to my birth. ... I've [also] been called a triggered millennial and a snowflake multiple times for calling out things in Seinfeld that would never work if the show aired today."
The Erie podcast scene has even more to choose from.
A graphic by Jonathan Burdick aggregating locally made podcasts.
Compiled by the author on Twitter, this served as the impetus for this article. 
Erie filmmaker and artist Britty Lea co-hosts the tabletop RPG podcast No Dice and spearheaded the creation of the Pocket Podcast Network. The network currently promotes ten podcasts including Avocadotoast, a political podcast for millennials co-hosted by a University of Pittsburgh student; Simultaneous Catch, a weekly NFL-centric show that began as a live radio show at Penn State Behrend; and That's So Lesbian, which centers around episodes of the Showtime drama The L Word. The network also includes creative ideas such as "show swaps" where shows swap hosts for an episode.
Also recorded locally is The Lizard Brain Podcast, hosted by actor and teacher Ken Falkenhagen. The podcast includes candid discussions on mental health, depression, and anxiety. For all things filmmaking and movie-related, there is Film Grain, the official podcast of the Film Society of Northwestern Pennsylvania and the Greater Erie Film Office, as well as Cinemantics, which intermingles reviews of movies and craft beers. Aspiring for More records conversations with local entrepreneurs; Hauntingly Beautiful focuses on conversations with local Erie creatives; Stereo Confidential converses on all things music related; Earful dives deep into Disney; and Lake Erie Gumbo is a group of three friends whose unfiltered living room discussions have covered everything from cancel culture to policing to the local music scene, while songwriter Tyler Smilo hosts Sink, Swim, of Fly, focused on addiction, recovery and the creative process.
Even local radio shows such as The Joel Natalie Show on Talk Erie and WQLN's Next with Marcus Atkinson are now available in podcast format, making these programs more accessible to those who may not be able to listen live.
"I've always felt that the best podcast episodes are the ones that cause you to linger in the car for a few minutes after you get to your destination," says Liberty. "That's the kind of podcast we aim to create."
Fortunately for Erie residents, our local podcasts live up to that desire — and there is still plenty of room for more growth, diversity, and ideas in the Erie podcast scene.
For anyone interested in podcasting, equipment and expertise are available through the Idea Lab at the Blasco Memorial Library, the Beehive at the Baron-Forness Library on Edinboro University campus, CAM Studios, and Bastion Studios.
Jonathan Burdick runs the historical blog Rust & Dirt. Follow them on Twitter @RustDirt, and on Instagram @RustandDirt.