Erie's Shop Local Holiday Gift Guide 2023
Keeping it home for the holidays
November 2, 2023 at 7:00 AM
Folks in Erie from older generations love to wax romantic about holiday shopping in their childhood. The magic of getting dressed up, going downtown in the lightly falling snow to ogle at the windows of the Boston Store, all done up for Christmas. Sitting on Santa's lap under the clock, the hustle and bustle, the twinkling lights, tinsel, and holiday music making memories to last a lifetime. As it went with many American towns, the magic of downtown started slowly dying with the advent of shopping malls and mega-centers that siphoned consumers away from downtown shopping districts and sent them miles away toward the highways, for centralized, corporate shopping. And, as we've seen in recent years, those too seem to be slowly dying as the younger generations prefer to shop online, making a one-stop shop with huge shopping conglomerates like Amazon, while our once jam-packed Millcreek Mall slowly becomes a ghost town.
But, just like most things in life, we tend to come full circle. In 2010, the first Small Business Saturday was introduced and ever since, there has been a real push to support local small businesses, especially around the holidays. And Erie is poised to provide nearly anything you could possibly need for your holiday shopping and to provide those items in a way that supports our local economy. And while the magic of a trip downtown may look a little different than it did in the mid 20th century, and while you may have to travel around a bit to find all those items on your lists, the small businesses of Erie have your back this holiday season.
So, let's make this yuletide as local as possible, while celebrating and supporting those who took the plunge to build their businesses in Erie. There are many ways to do this, and for our Shop Local Holiday Gift Guide this year we've broken it down for you by district. So if you happen to be downtown, we've got you covered. If you're nearby one of many local shopping plazas, we've got you covered. If you're hovering around midtown, we've got you covered. If you'd like to get out with the community at a pop-up market, we've got you covered. And if you still prefer to shop online, we've found a way to keep that local, too.
So check your lists (twice, if you'd like) and make an effort to find your gifts right here in Erie. We think you'll find it feels a bit better to keep your money home for the holidays.
Jump to a section:
(Clockwise from top left): Shop downtown at Louis Gerimita's Primo Tailoring for all your menswear needs, grab a bag of beans, a mug, or gift card at Ember + Forge, grab a unique vintage find at the Dollhouse at Pointe Foure, or give a gift membership to the Experience Children's Museum for year round fun. (Photos: Jessica Hunter)
The resurgence of shopping downtown has never been more apparent than it is now. With newbies from the Erie Downtown Development Corporation alongside old favorites, the heart of the Gem City is becoming more and more like what it once was: a walkable shopping district. Take a stroll with the holiday lights aglow, stopping from store to store: it will feel a little like walking back in time.
If you're looking for unique clothing you won't find literally anywhere else, downtown shopping is where it's at.
The Dollhouse at Pointe Foure Boutique, 423 State St.
Vintage goodies with everything from knitwear to accessories, casual sportswear to formal gowns — the longstanding vintage clothier has got something for that fashionista on your list.
Erie Apparel City Supply, 431 State St.
Did you hear? It's okay to love Erie! Get your Erie-centric garment fix at Erie Apparel's downtown location — City Supply.
Isaac Baker Menswear, 1001 State St.
One of the oldest menswear shops in Erie, Isaac Baker offers classic styling, suits, ties, and all the accessories necessary.
Primo Tailoring, 421 State St.
Nothing compares to a well-tailored suit, and Primo Tailor proprietor Louis Geramita has everything for the one who prefers stylish menswear in your life.
She Vintage, 419 State St.
2023 40 Under 40 honoree Alexandria Ellis has your style problems solved at She Vintage. She advises, "if you stay ready then you never have to get ready." Get everyone on your list ready at her unique shop.
Get creative! Give the gift of art! Locally made art, gifts, crafts, and more can all be found downtown.
D' Hopkins Denniston Gallery, 5 W. 10th St.
Local fine art, photography, and more is available to purchase at this downtown gallery.
The Erie Art Museum Gift Shop, 20 E. 5th St.
Grab a local art book, a piece of locally made art, and more at the gift shop within the front lobby of the Erie Art Museum. Or better yet, give a membership so the art lover in your life can get inspired whenever the mood strikes!
Glass Growers Gallery, 10 E. 5th St.
This mainstay downtown shop is known for featuring local artists. Buy a painting, a sculpture, some handmade glass or pottery, jewelry, or unique gifts like puzzles and socks.
Does your holiday table include cookies? How about that early morning cup of coffee as you watch your children unwrap their presents in the breaking dawn light? Downtown Erie's got food and drink aplenty!
Ember + Forge, 401 State St.
Shopping downtown in the Erie cold pretty much requires a stop into our well-established local downtown coffee shop, Ember + Forge. Grab some locally roasted beans or a mug for the coffee lover on your list, while browsing local art and locally made products for sale.
Purrista Cat Cafe, 30 W. 8th St.
Coffee and cats — what more does one need in life? Stop in to Erie's cat cafe and grab a gift card for the feline-obsessed in your family, so they can enjoy a visit with the kitties available for adoption (and maybe even take one home)! Or, grab some locally roasted coffee or a cat-themed gift item to make your giftee purr.
Ye Olde Sweet Shoppe, 402 State St. or Cafe 7-10, 7 W. 10th St.
Why waste precious hours around the holidays baking your own cookies when Ye Olde Sweet Shoppe or Cafe 7-10 does it so much better? Stop in for cookies, cupcakes, and sweets galore or send a cookie mug to the sugar lover on your list.
If you're one to prefer the gift of life, consider giving an experience to get your loved one out and doing something new and fun in Erie.
Brig Cigar Lounge, 419 State St.
If cigars are your giftee's thing, a new experience in Erie pops up on Fridays and Saturdays near the historic Cashier's House that the humidorian on your list will appreciate.
The expERIEnce Children's Museum, 420 French St.
You can get a gift membership for the kiddos and they can think of you every time they have a blast at the newly expanded children's museum. Also consider stopping in to their gift shop for some unique toy finds whose purchase will help support the nonprofit.
Golf Evolution, 5 W. 10th St.
If you've got a golfer in your life, help them improve their game through a Golf Evolution membership, class, or virtual swing improvement session.
Maritime Museum Gift Shop, 150 E. Front St.
Give the gift of history through Erie's Maritime Museum — a gift membership or one of the many nautical history-related gifts available through their shop adjacent to the Blasco Library.
Monacella Massage, 1001 State St.
Help facilitate some deep relaxation around the holidays, or anytime, with a gift card for a massage at Monacella.
Local Theater Tickets for Dramashop, the Erie Playhouse, or the Warner Theatre (Erie Philharmonic)
Grab some tickets to an upcoming performance and enjoy some local theater or music: it's the gift that keeps on giving (and will also help support the nonprofits that bring this unique entertainment to Erie).
Support all of the local downtown businesses at once this year with an electronic gift card from the Erie Downtown Partnership (EDP). In years past, the nonprofit tasked with supporting the growth of Erie's downtown has provided gift cards that encompass dozens of local businesses and this year, they're coming back better than ever. EDP Director Emily Fetcko mentions, "Last year we sold $80,000 in gift certificates and over the course of the pandemic we've sold over $250,000! There continues to be demand." The EDP hopes to launch the sale of these all-encompassing gift cards in early November, so keep an eye on their website and social media for more information. Fetcko continues, "We think this will energize people in a new and more flexible way to support downtown's small businesses."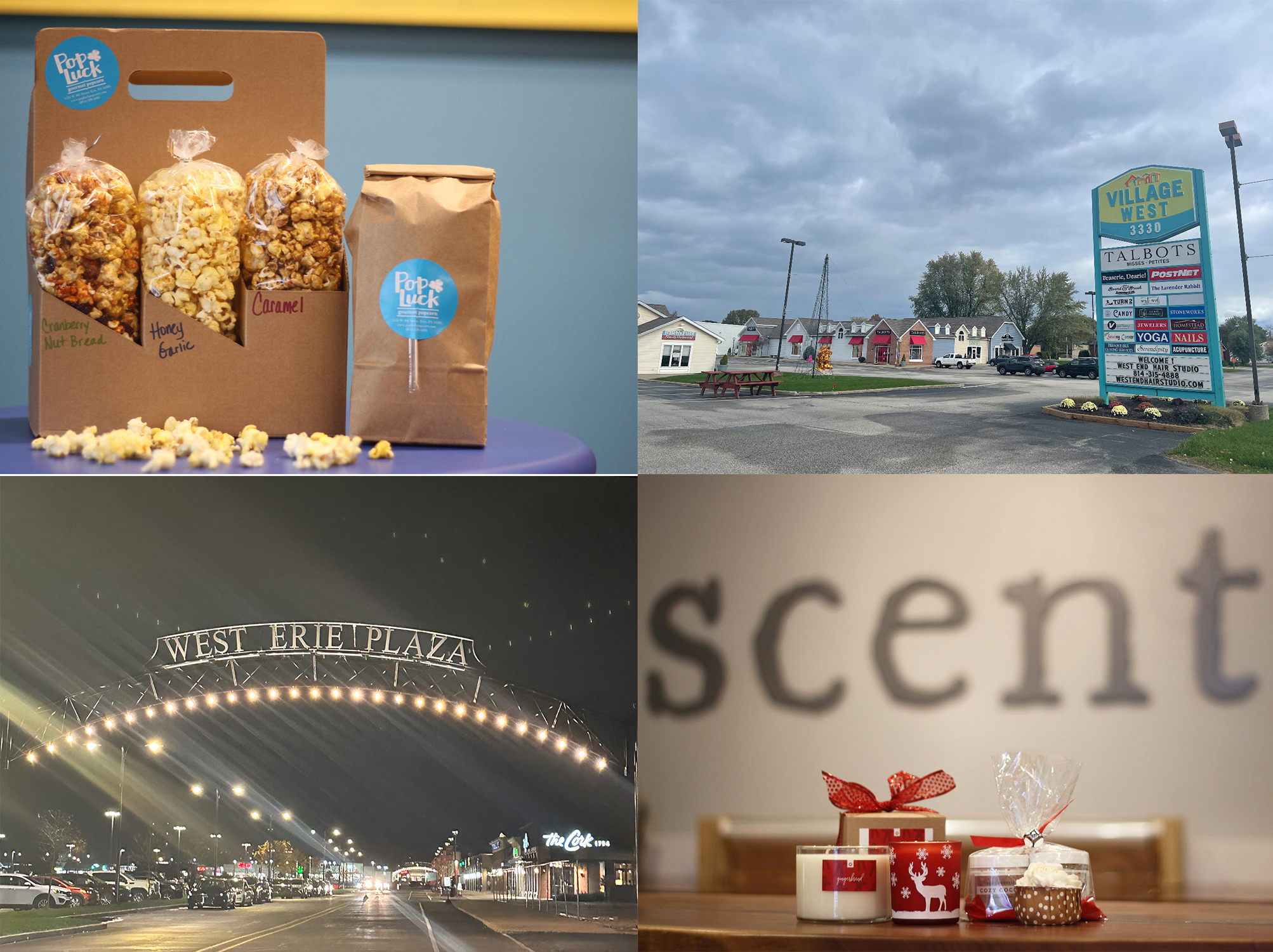 Erie has plenty of plazas full of local small businesses. Make sure to stop into one this holiday season. (Clockwise from top left): Popluck at Greengarden Place will have you swapping out that tired old tin with some fresh, gourmet selections, you'll have plenty of choices from one of the many shops in Village West, scent. in the Colony Plaza has some great stocking stuffers, and the recently renovated West Erie Plaza offers a multitude of gifting options. (Photos: Jessica Hunter)
Stopping by and casually wandering through the many shops that make up the various shopping plazas in Erie is nearly akin to experiencing that Main Street shopping magic. With plenty of stops in between for refreshments and to warm up, you can make a day out of it!
The Shops at the Colony, 2580 W. 8th St.
One of the largest and most unique of the shopping plazas in Erie, the Shops at the Colony really is a one-stop shop for most of your gifting needs. From crafting supplies, clothing, soap, candles, art, gourmet snacks, and toys: one trip ought to do it!
Everyone loves a mug, especially a handmade one-of-a-kind mug. Or vase, bowl, plate, jar — you name it. Or give a pottery-making class to help your giftee learn a new artistic skill.
Inside the Jelly Jar / New Beginnings
With the demise of Toys R Us, where are you supposed to find the magic of a dedicated toy store in Erie? Inside the Jelly Jar is where we should have been going all along! With high-quality toys for kids of all ages, books, baby gear, and educational materials: Inside the Jelly Jar is childhood holiday magic defined.
Kada Gallery's rotating collection of local art provides a great opportunity to give your loved one something truly creative.
Help your loved one get around, get outside, get active, and use fewer fossil fuels as they enjoy a ride on a new eBike. Or provide the cycling enthusiast in your life with a gear refresh.
Les Crago has been an Erie tradition since 1950. Quality, service, and timelessness makes their well-made jewelry an easy holiday win.
Gift the littles in your life a fun session at Polliwogs Gym, or enroll them in one of their weekly gymnastics classes (they offer multiple for different ages).
Have a knitter or crocheter in your life? Skip the mass-produced, box store yarns and opt for something more special — perhaps a locally made skein from Three Tulips Yarn Company.
Soaps and candles are the quintessential go-to gift for the hard-to-shop-for person on your list. Find unique fragrances and beautifully handmade items inside.
A La Carte / Peter James by Lollie / AJ's Classic Clothing / Lollie & Co. / The Preppy Pickle
With five, yes FIVE total clothiers in the Shops at the Colony, you're sure to find something interesting, different, and not-at-all cookie cutter. Why shop at a big box store for clothes that everyone else already has? Go local and get something of higher quality and a bit more interesting for the fashion-forward on your list.
The Juice Jar / The Original Popcorn House / Brew Ha Ha / Presque Isle Wine Cellars / The Colony Pub / The Colony Pizza
One can never go wrong with an item or a gift card for some delicious food, snacks, coffee, wine, or juice. Give the gift of a new food experience!
yogaErie / The Village of Healing and Wellness / Sandcille Spa
If you're of that "experience gift" mindset, you can't go wrong with a yoga class, a meditation or Tai Chi session, or a spa day. Give the gift of health and relaxation.
The West Erie Plaza, 800 West Erie Plaza Dr.
While the plaza at the edge of the city looks a little different than it did decades ago, the facelift has also brought an interesting smattering of new businesses and restaurants that will give you plenty of gift-giving options from which to choose!
Support local while also supporting the healthy habits of the athletes on your holiday list.
A fun experience gift for young and old alike. Help facilitate a creative experience that will end with a keepsake memento.
Interesting, unique fashionable pieces that are hand-curated and not like anything you'll find in the chain stores.
Vintage and Soul Home Design Company
Furniture, lighting, rugs, and pillows: if interior design is your giftee's jam, then make a stop at Vintage and Soul for something that will set them apart.
The Cork 1794 / Bar Ronin / Lucero / Pinkberry / Icing on the Lake Sweet Vault
Treat your loved one to a fancy dinner and cocktails on you, or a treat they wouldn't normally splurge for themselves.
Liberty Center, 3407 Liberty St.
There may no longer be a robust and bustling plaza on Liberty, but what is there is definitely worth stopping for.
Help the kids in your life harness that endless energy of youth by paying for a gymnastics session. With classes from toddler up to advanced, there's a program for any age.
Local, small, and of the highest quality: if you're looking to give your loved one a good night's sleep, send them to Fred's for the best in furniture, mattresses, accessories, and design advice.
Breakfast, brunch, lunch, or dinner: the gift of a hearty meal is never unappreciated.
You can never go wrong with a book as a gift. Give a book you enjoyed, or ask one of the knowledgeable staff members for a recommendation. Or grab a gift card for both books and coffee — if you have a bookworm on your list it's guaranteed to be appreciated.
Greengarden Place, 1535 W. 8th St.
A relatively new plaza on the Erie landscape — Greengarden Place, adjacent to Frontier Park, offers high quality gift-giving spots all in one place.
Interesting spirit blends made locally — a bottle of something is never unappreciated. Or opt for a gift card and give the experience of an artful cocktail served alongside a tasty meal.
Gourmet, quality oils, vinegars, custom seasonings and more. Grab a sampler pack and give the gift of good taste.
Update that tired old metal popcorn bucket with some truly gourmet flavors that are locally made and perfectly fresh.
Offering the best in new releases, classics, children's literature, and unique gifts ranging from stationary to games, mugs, and art, while also offering a full service cafe: a gift card to Pressed will never disappoint.
Romolo Chocolates, 1525 W. 8th St.
While not technically in the plaza but so close it may as well be, we'd be remiss not to mention that everyone loves some chocolate in their stockings this time of year.
Unique home goods, decor, and furniture — you'll find something for the would-be interior designer on your list.
Village West, 3330 W. 26th St.
Nestled conveniently off of West Ridge Road, Village West looks like a tiny winter… well… village and offers an array of inviting shops to browse through to find that perfect gift.
Give the gift of song! Have a budding musician on your list? Encourage them to take the next step by giving lessons in virtually any instrument, voice, acting, and more.
There is no gift that will get more mileage than a comfortable bra and that's a fact. Get a gift card to make sure your loved one will get themselves measured for the perfect fit.
Board and Brush Creative Studio
Get all your besties a session to sip and paint: catch up while making some art!
Buzz N' Bees Aquarium and Pet Shop
Don't leave out our furred, or finned, or feathered friends this holiday season! Stock those stockings with treats, toys, and grooming supplies.
Quilters, clothing designers, crafters — this is a spot that will cater to those folks on your list.
Celebrate our sense of place with Erie-themed souvenirs and gifts that will give everyone heart eyes for our gem on the lake.
Flavored dipping oils and gourmet vinegars make great stocking stuffers. If you've got someone on your list who doesn't like to eat their veggies, try roasting them in some bacon oil and you'll turn them right around.
An extension of the clothing company in the Shops at the Colony, Nest by Lollie brings that same sense of smart style to your home with unique gifts and decor.
The tri-state area's oldest jeweler, Ralph Miller provides consistent quality and customer service so your loved one can shine their brightest this holiday season.
Give a day of pampering and your stressed-out loved one will definitely appreciate the thought.
Rocks, stones, crystals, fossils, salts, minerals, jewelry, and gifts — give the gift of balance, healing, and meditation.
Turn 2 Sports Cards & Collectibles
A local option for the sports fan on your list, Turn 2 has cards, collectibles, merch, and more!
Cellar 22 / Butch's Restaurant / La Bella Vita / Lake Erie Candy Company
Give a glass of wine, a hearty breakfast, a romantic dinner, or a sweet treat!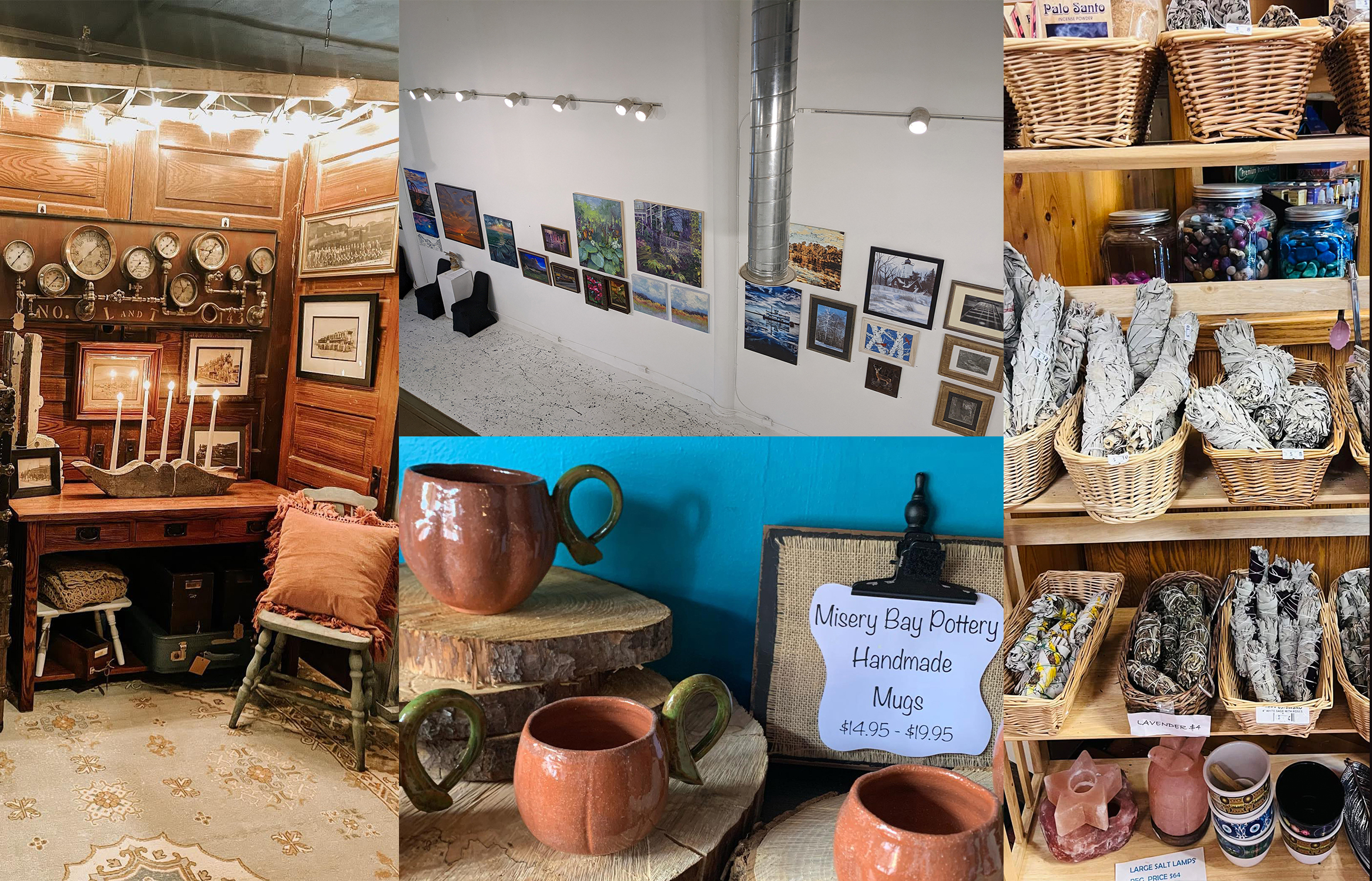 Shop the midtown area of Erie (between 12th and 26th streets) and make sure to hit up (clockwise from left): Copper Carriage antiques for perfectly curated curiosities with a local edge, City Gallery for a piece of handmade jewelry or some new art, Grasshopper Boutique for all your hipnique requirements, or Tipsy Bean for some handmade pottery, coffee-related decor, or a bag of local roast. (Photos: Erin Phillips, Tipsy Bean, and Grasshopper)
Downtowns get all the credit. But Erie has an interesting variety of shops smattered about our mid-town areas. Generally defined as the area between and around 12th and 26th Streets, and including the shops of Federal Hill, we encourage you to widen your search parameters for interesting gifts.
The Shops on the Hill, West 26th and Peach streets (and beyond)
The Federal Hill district of Erie has that feeling of an organic, creative, interesting, walkable shopping neighborhood one tends to find in much bigger cities. With a nonprofit organization dedicated to promoting the businesses within their boundaries, The Shops on the Hill are poised to become a destination for local shopping opportunities.
Chicory Hill Herbs, 2516 ½ Peach St.
Teas, blends, sage sticks, and more for the budding herbalist in your life.
Copper Carriage, 1909 Chestnut St.
While not technically in Federal Hill, their participation in the Hill District makes Copper Carriage part of the proverbial family. Find perfectly curated antiques, many with a local connection, and give a gift that doesn't exist anywhere else.
Federal Hill Smokehouse, 2609 Peach St.
Give the gift of the best barbecue in Erie (and, quite possibly, the best barbecue in the world). Just ask the people of Erie — they've voted Federal Hill Best of Erie's Best Barbecue for many years running.
Give a Crepe - La Creperie, 2431 Peach St.
2023's 40 Under 40 honoree and Give a Crepe proprietor Stephani Klassen hopes you'll spread the love of her crepes far and wide.
Grasshopper, 2518 Peach St.
Grasshopper was there before it was cool, man. This local staple hipnique boutique has everything that the counterculture consumer on your list could possibly want: tie-dyes, incense, pottery, music, handmade clothing and accessories, and other gifts that will have your loved one feeling totally far out.
Ink Assassins, 2601 Peach St.
Give that tattooed lady (or gentleman or nonbinary) the gift they really want: more tattoos!
Tipsy Bean Cafe, 2425 Peach St.
Stop in to this defining Federal Hill cafe and see why it was voted Erie's Best Coffee Shop in 2023. Grab a bag of beans for the coffee-lover in your life, while you're at it.
Other Midtown Businesses
While you're out and about on Federal Hill, venture a little further west or east to find these other midtown small businesses offering something a little bit different.
City Gallery, 1503 State St.
Find exquisite handmade jewelry, local art, mosaics, 3D printed ornaments, and more at City Gallery. If you've ever frequented Artlore Studio in their heyday, you'll find a similar vibe from the same owners Steve and Lena, who are creative, knowledgeable, and helpful.
Erie Food Co-op, 1342 W. 26th St.
With tons of locally produced goods like incense, apparel, soaps, and candles available for gifts, a gift card to the Coop is always appreciated, for lunch at the cafe or to offset some groceries.
FEED TOO, 13th and State
A small commercial extension of the massive media art facility FEED, this shop currently features Statik Garments, which is running a pop-up shop of recycled and upcycled clothing.
Graham's Used Records and Tapes, 613 W. 26th St.
Go totally analog while going totally local at Graham's. Vinyl collectors and vintage music enthusiasts will alight at the sound of that needle hitting wax.
The Hippie and the Hound, 664 W. 26th St.
Those on your list with a medical card will appreciate your thoughtfulness as they acquire all the glass accouterments and accessories necessary to have them up in smoke.
Leadhead Creative, 1501 State St.
An easy go-to for custom made designs, silk screened by human beings. Give the gift of a custom t-shirt to the whole family this holiday season.
Nickel Plate Mills, 1932 Parade St.
Holistic pet food, greenhouse supplies, seeds, and gear: Nickel Plate Mills is a great place to shop for the green thumb or pet lover on your list.
World of Music, 1355 W. 26th St.
Grab that musician on your list a new set of strings, a shiny new instrument, or give the gift of lessons.
Kellar's, A Modern Magic and Comedy Club, 1402 State St. / PACA, 1505 State St. / All An Act Theatre, 652 W. 17th St.
Grab tickets to an upcoming touring comedian at Kellar's or an independently produced play at PACA or All an Act and give the gift of laughter and/or inspiration.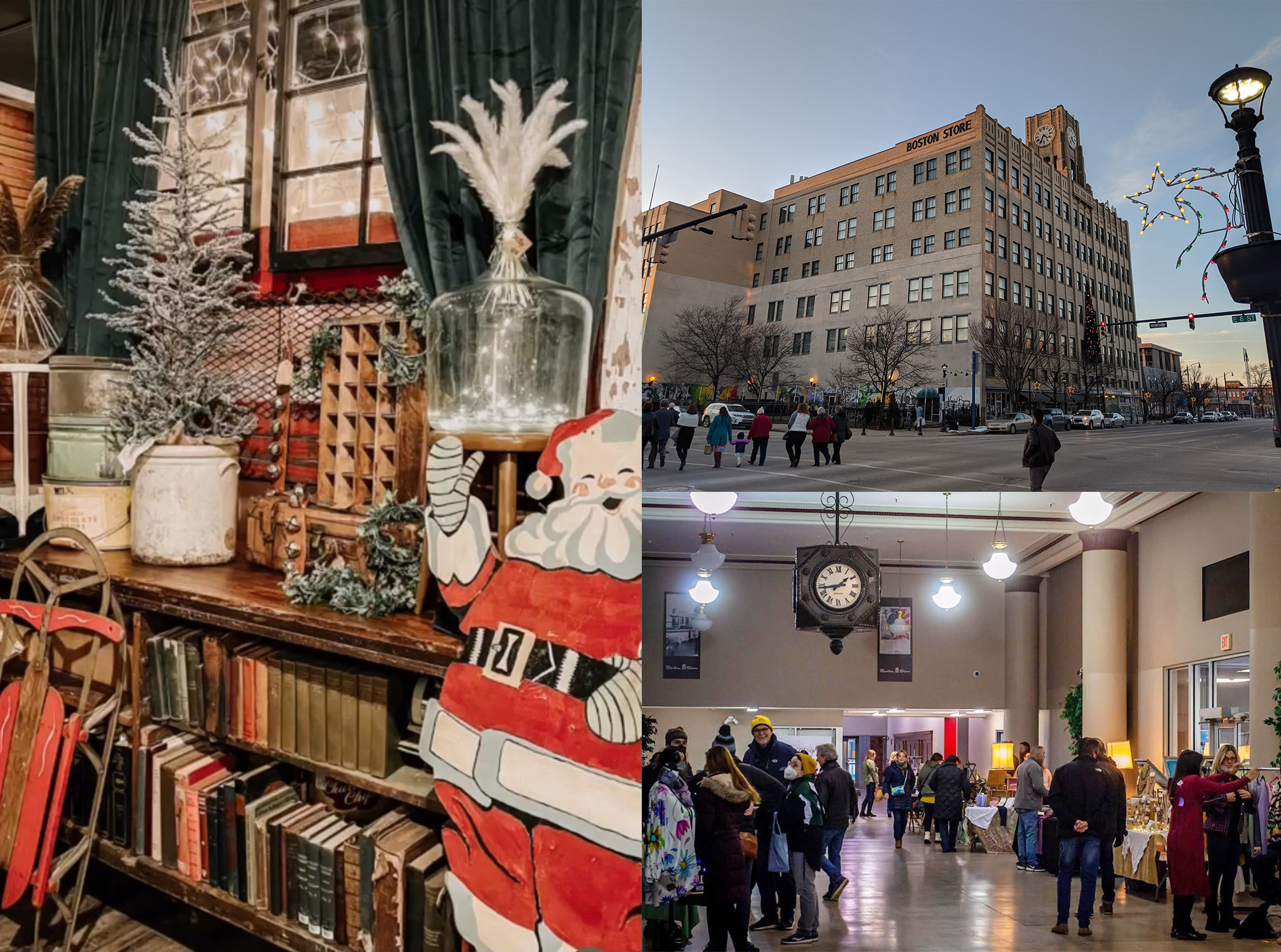 Erie often hosts a number of pop up holiday market events each season. Make sure you check one or all of them out, and give your money directly to the vendors and makers selling their wares. (Photos: Copper Carriage, Erin Phillips, EDP)
There are plenty of opportunities to shop locally-made goods from folks who may not have a brick and mortar store. It doesn't get more local than this: local people using local goods to make local products and selling them at local pop-up markets with no middle-man. You're giving your support and money directly to the people making what you're buying. Bring your reusable bags and browse the artisan tables set up at any of the following holiday markets.
Copper Carriage Holiday Market, Saturday, Nov. 11 and Sunday, Nov. 12
Shop the incredible antique finds that Copper Carriage is known for, alongside over 40 other local vendors taking up two floors of the historic Masonic Temple (32 W. 8th St.). Expect to find something for everyone on your list at this unique market.
Small Business Saturday, Saturday, Nov. 25
The Erie Downtown Partnership is hosting their regular Small Business Saturday local shopping extravaganza again this year. With makers and local businesses set up within the lobby of the Boston Store, and spilling out throughout downtown and other areas (like nearby 1020 Collective at 1020 Holland St.), this is a bustling market that makes downtown come alive. Providing live music, food vendors, and holiday shopping with hundreds of local small and micro business vendors, this event will also mark the return of the skating rink in East Perry Square (which will then be open every weekend through February), and the Holiday Village shops set up throughout Perry Square. It is a true downtown holiday shopping event!
Downtown D'Lights, Friday, Dec. 1
This is Downtown's marquee holiday event which includes the giant Perry Square tree lighting, a visit from Santa, and horse carriage rides — with activities and vendors throughout Downtown and around the park, this is one certain way to make some unforgettable holiday memories.
Local Maker's Market & Holiday Jazz at the Boston Store, Friday, Dec. 15
This market is a last-minute holiday shopping event at the Boston Store which will feature live jazz and artist and artisan vendors. If you'd like something handmade, one-of-a-kind, and unique for your loved ones, this is your chance to do so and support our local artists. This will also be another chance to take a horse carriage ride through downtown to marvel at the holiday lights in Perry Square.
Shop Online
If you're still of the mindset that you'd rather turn to the internet for your holiday shopping needs, there's an easy way to support local makers and businesses while shopping online. By doing a search on etsy.com, you can shop specific locations by adding a custom filter into their search bar for Erie, PA. This will pull up thousands of locally made goods and gifts: t-shirts, jewelry, decor, pottery, ornaments, art, posters, apparel, magnets, stickers, keychains, stationery, candles, bags, custom pet portraits, knitwear, cross-stitchings, beach glass, embroidery, woodworking — quite literally everything. Why go out in the cold to support local when you can, easily, from the comfort of your home?
Erin Phillips, who will be making a valiant attempt to shop as locally as possible this year, can be found at any of the above establishments or at erin@eriereader.com