Erie's United Electrical Workers Strike at Wabtec
Negotiations for increased wage, benefits requested while CEO makes millions
On the "Erie Forward" section of the Wabtec Corporation's website, the company highlights the skills needed by its employees. The Erie plant's union employees, they write, are skilled and versatile as well as "diverse and dynamic." One of the skills central to working there, they note, is flexibility – certainly an asset in any workplace – but, in particular, flexibility in relation to ensuring that Wabtec maintains "profitable growth." This, they state, is "a mantra from company earning calls that every employee in Erie and around the world needs to understand and take to heart." Elsewhere on the website, they add, "When Erie employees step up to make this plant more competitive and play team ball, Erie thrives."
Certainly, profit and growth are essential to any corporation. Yet, emphasizing company call earnings and implications of laborers not playing "team ball" likely will fail to inspire the 1,400 striking members of the Erie plant's UE Locals 506 and 618. 
On June 10, Wabtec offered workers what was described as their "last, best, and final offer" in the ongoing contract negotiations. On June 22, the membership voted not to ratify it. Wabtec executives expressed disappointment in a letter, stating that it is an "unfortunate decision" that the labor would "engage in a strike at this time rather than return to the bargaining table." They added that a walkout benefited no one and argued that they had "repeatedly informed the UE" that the Erie plant's labor costs were burdening and their work rules too restrictive. 
"UE members have rejected these terms," the company continued, "and are striking in support of Union proposals that would significantly increase our wage and benefit costs, further limit operational flexibility, and create an on-going risk of disruption in our manufacturing operations."
Perhaps unsurprisingly, there was no mention by the company of the costs of Wabtec executives as a burden. According to the AFL-CIO, Wabtec CEO Rafael Santana received over $11 million in compensation in 2021 alone. Explained in another way, $11 million is equivalent to nearly 150 employees earning $75,000 each. For additional context, as described by the Economic Policy Institute, the CEO-to-worker compensation disparity has increased significantly over the decades: 15-to-1 in 1965, 44-to-1 in 1989, to now hundreds of times more today (between 200 to 300). 
In defense of this disparity, economist Tyler Cowen argued in 2019 that this is due to the "intense competition" caused by "limited CEO talent in a world where business opportunities for the top firms are growing rapidly." Still, economist Dean Baker, in an April 2023 column for the Center for Economic Policy Research, argued a more straightforward explanation.
"There is a simple story as to how CEO pay could become so divorced from their actual value to the companies they run," Baker wrote. "The basic picture is that there is no one to hold their pay down. We all understand how the pay of ordinary workers … is held down. Managers are supposed to keep their pay as low as possible, in order to maximize corporate profits … but there is no remotely corresponding mechanism for CEO pay." 
These disparities help one understand the disconnect labor often feels from the executives and management. While executives are showered with stock options and bonuses worth millions, workers often feel as though they're fighting tooth-and-nail for crumbs.
As for UE Locals 506 and 618, they released a statement on June 24 that, despite Wabtec's statement that the union should return to the bargaining table, they were not the ones who ended negotiations. "We never left the table, the company left the table," they wrote. "We are waiting for them to come back."
Voting to strike by the membership is never taken lightly. While modest strike pay is available to those on the picket lines, striking workers otherwise receive no wages and lose access to their medical, dental, and vision insurance. Joe Cavalier, Vice President of Operations at the Erie plant, perhaps hoping to capitalize on financial fears, released a letter to employees explaining the legality of crossing picket lines and included instructions on how to resign from the union, even attaching a completed sample resignation letter.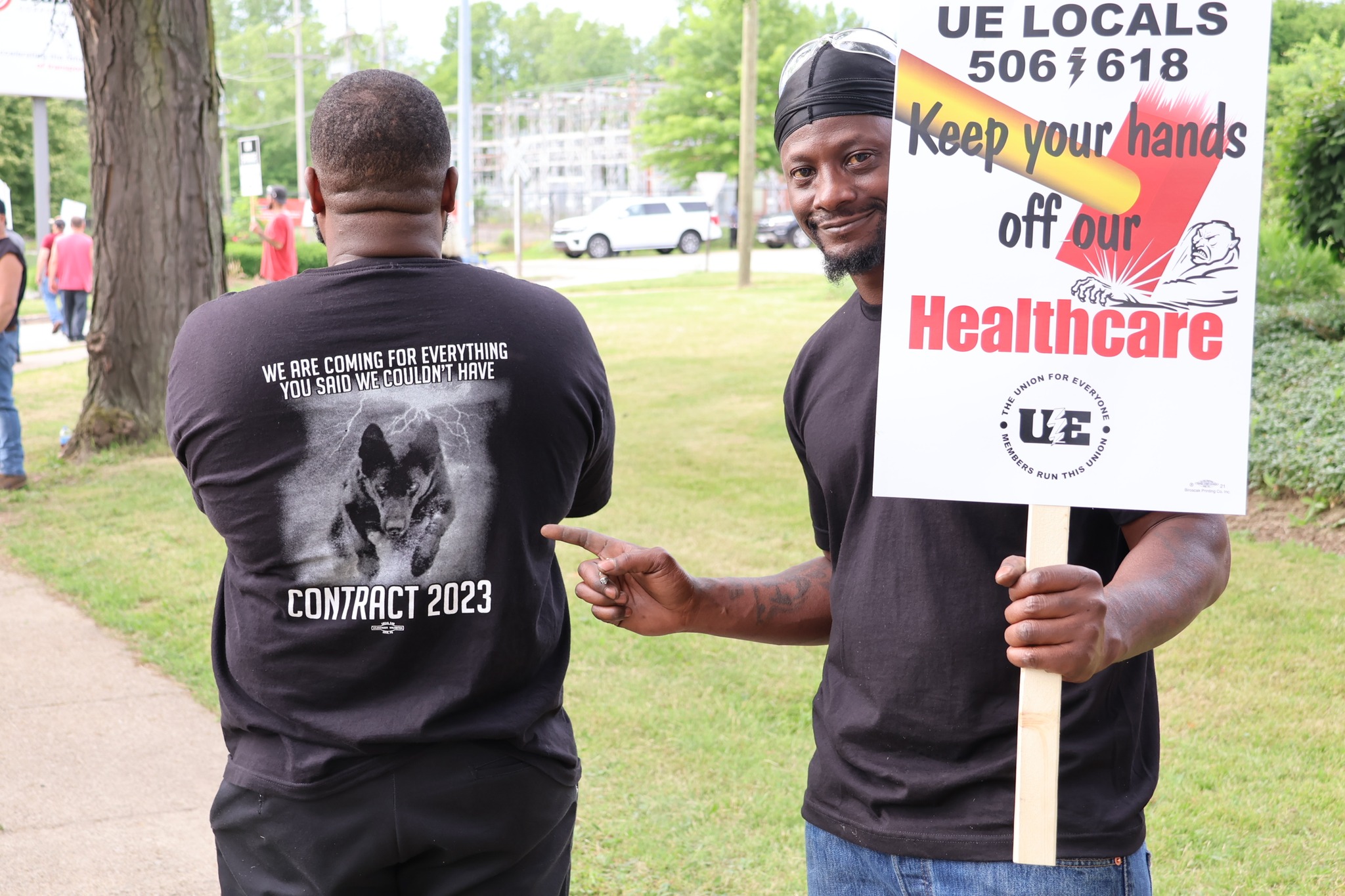 Photo: contributed
In the leadup to the strike, the union accused the company of not merely an unacceptable contract proposal, but also deliberately raising plant tensions, utilizing "union busting tactic[s]," unnecessarily escalating rather than settling grievances, and threatening to subcontract hundreds of jobs during negotiations to incentivize (or in the words of the union, blackmail) workers to agree to their proposal (Wabtec offered to rescind this if the proposal was ratified). 
UE Local President Scott Slawson stated that it was the company's "unwillingness to work with [UE] to resolve problems, either through the grievance process or through contract negotiations" that was the "major impediment" to the company's future. The issue over Wabtec's handling of grievances since its 2019 merger with General Electric Transportation has been a major sore spot for employees. In a report by Alex Press, she noted how grievances have been "more than twice as likely to be rejected," leading them into expensive arbitration battles that can drag out for months.
Slawson has also highlighted the local union's work on the Green Locomotive Project, which the union hopes Wabtec will embrace. According to a May 2023 Erie Times-News column by Stephen Herzenberg (executive director of the Keystone Research Center who earned a Ph.D. in economics from MIT), such a project would be a "game-changer" for Erie. A commitment to create one thousand green locomotives each year at the Erie plant would create thousands of jobs, he argued, noting a University of Massachusetts Amherst study. This would not only benefit the company, but would increase economic activity throughout the entire Erie County.
"[T]he plant still has the space and equipment needed to ramp production back up," wrote Herzenberg. "And the local union workforce is ready to apply its skills and experience to build the green locomotives needed."
In an open letter to employees in the days before the vote, Cavalier stated that the union wanted to "go back to the GE way of doing things." This, he argued, would reduce the company's competitiveness. "I know that you may not have gotten everything you wanted out of this contract," stressed Cavalier. "But I am proud of the contract proposal."
One striking worker posting on the UE Members 506 Facebook page seemed to feel otherwise. "When the kids and I were on the picket line yesterday, I was momentarily stumped when a passerby, who seemed supportive of us, asked what the main issues are," he wrote. "[B]ecause there are so many." He did not seem too proud of the proposal as he then listed off fourteen issues that he had with it. "I know there are more issues," he added. "Stay strong! This is going to be a long fight!"
Jonathan Burdick runs the public history project Rust & Dirt. He can be reached at jburdick@eriereader.com