The Struggle Continues
Wabtec-UE Local dispute latest in Erie's long line of labor battles
February 27, 2019 at 9:15 AM
By: Jonathan Burdick
During the summer of 1892, iron and steel workers at the Homestead Steel Works plant, a few miles southeast of downtown Pittsburgh, organized and planned a strike in response to looming wage cuts and failed negotiations. Henry Clay Frick was overseeing day-to-day operations at the Carnegie Steel Company and, with the blessing of Andrew Carnegie, as discussions stalled, he locked the workers out, even going so far as erecting a 10-foot high fence with barbed wire  —  "Fort Frick," it was dubbed.
This led to a series of escalating actions which resulted in one of the deadliest (and most infamous) clashes in United States labor history as locked-out workers and Frick-hired Pinkerton security clashed for 14 hours along the banks of the Monongahela River.
"No grief of my life approaches that of Homestead," Carnegie later wrote of the incident, although whatever grief he experienced did little to improve the conditions of those who worked within his mills.
In November of 1898, Carnegie gave an address in Homestead at the dedication for his library. There, he spoke to the large crowd, many who worked for him, of how he had improved "the tone of Homestead" and that the best relationship is that between "kind, friendly capital and self-respecting labor."
Pennsylvania has never been a stranger to the feuds between capital and labor. There have been innumerable labor strikes in Erie, Pennsylvania over the past 150 years. The years of 1912 and 1913 were particularly contentious in the city. In November of 1912, 800 iron molders and coremakers in Erie went on strike after a worker was fired over his leadership role in organizing activities. Occasional acts of violence broke out in the following months, including one reported riot where four were injured, including a state policeman.
These escalations led to speculation that Governor John K. Tener might send troops to Erie. If he did so, the Central Labor Council threatened to order a general sympathy strike throughout the city. Tener ordered troops to Erie anyway, in order to, as one newspaper described it, "suppress disturbances." The other unions ultimately voted against a sympathy strike, thinking it might hurt the iron molders' cause. The strike lasted 15 months. It did not end well for the 800 workers. Many were blacklisted.
"The real issue at stake is whether or not Erie shall become a union town," the Erie Labor Journal wrote at the time.
"The disorder handicapped the foundries and machine shops but little, the Manufacturers' Association of Erie having the situation well at hand," another paper printed, remarking on the power of the city's business leaders.
There were some successes for labor during this time though. For instance, that same summer, the Local 201 gained recognition from a plant while also reaching an agreement on eight-hour workdays. Yet, tensions intensified elsewhere, especially after a well-attended labor parade was held on July 4th. Two lockouts of unionized workers occurred those same months, one at Reed Manufacturing Company and the other at Burke Electric Company. Security forces were hired by the Manufacturers' Association to guard the strike-breakers  —  the scabs, in labor-speak. As many as 50 state police partook in this protection as well, many on horseback.
"This is the outcome of the general move of the Manufacturers' Association of Erie to crush organized labor," a Cincinnati journal published, commending "the machinists, pattern makers, iron molders, [and] blacksmiths" in Erie for carrying on the fight.
In all such cases, the employers by the very nature of their relationship with employees have a distinct advantage. As a result, workers throughout the 20th century incessantly organized, bargained collectively, and, when all else failed, sanctioned strikes as a means of tilting that power balance and preventing the exploitation of their labor.
On February 23rd of this year, the strained relationship between a colossal corporation and the labor it employs has been on display in Erie once again. As has been widely reported, the UE Local 506 and 618 voted to authorize a strike if negotiations fell apart during the finalization of the GE Transportation and Westinghouse Airbrakes Technologies Corporation (Wabtec) merger.
News of this potential strike went national earlier in the week when Senator Bernie Sanders tweeted out his support via a letter to Wabtec's CEO: "I'm proud to stand in solidarity with the 1,700 locomotive manufacturing workers in Erie, Pennsylvania, who are fighting to keep the pay and benefits they have won as members of the UE union. … [T]he Wabtec/GE merger should not be used to take away the hard-fought gains UE has achieved over the past several decades."
The UE Local 506 has plenty of experience in this arena, as implied by Sen. Sanders  —  the recent and seemingly continuous string of gut-punches in the form of job losses due to relocation to the Ft. Worth plant, numerous public spats over benefits and healthcare, and, of course, the widely-remembered strike of 1969-70 that lasted over 100 days.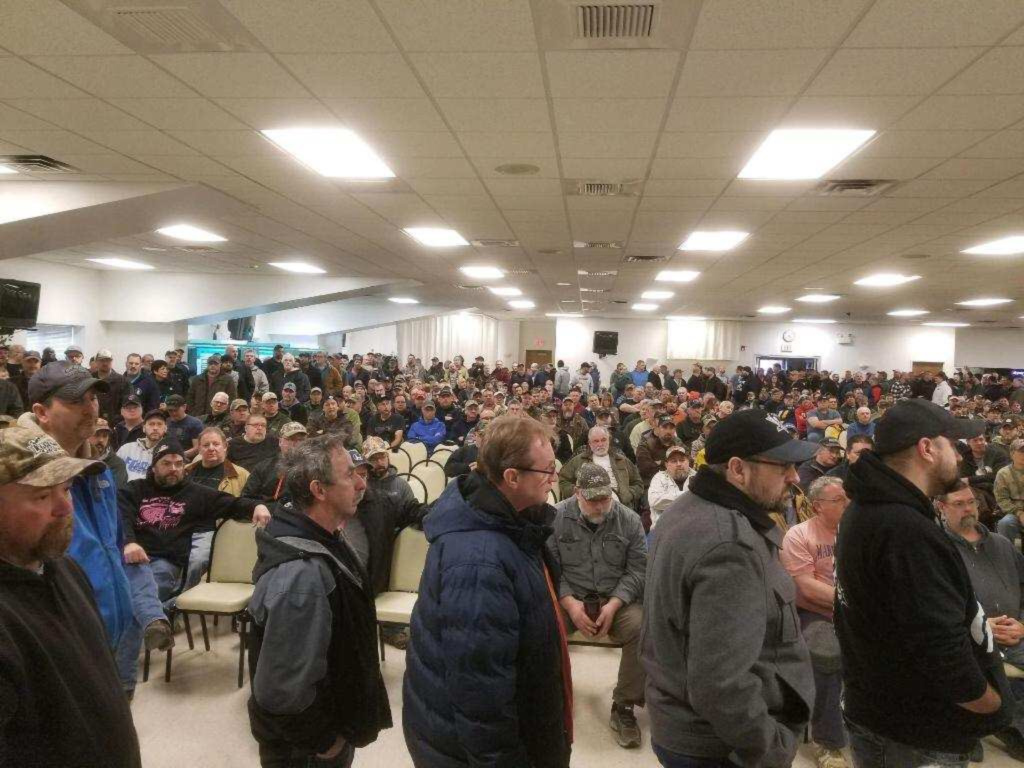 A federal mediator was needed to help broker an agreement between union workers of GE Transportation, now under the umbrella of the Westinghouse Airbrakes Technologies Corporation (Wabtec). As of Monday, Feb. 25, the sides could not come to terms on wages, overtime, and temporary employees, precipitating a strike. Photo from Erie News Now @SenSanders on Twitter.
Even before the strains of globalization though, the UE Local 506 faced turmoil. In the years following World War II, there was a wave of paranoia, fueled by politicians such as Senator Joseph McCarthy, that Communist infiltrators were webbing across American society.
In November of 1953, a Senate subcommittee began public hearings to investigate the "subversive influence" of the UE unions with an emphasis on the Erie and Pittsburgh leadership. These investigations were spearheaded by Senator John Marshall Butler. Butler was sponsoring the Communist Control Act (which went into effect in 1954), which permitted the prosecution of organizations deemed to have been infiltrated by Communists. It was also used as a tool to bust labor unions.
"This task force has been constituted for a single purpose," Butler declared during the initial hearing. "Namely, to inquire into Communist penetration of labor organizations." He added that his task force would not be deterred by "any cries of 'witch hunt,' 'Red baiting,' 'union busting,' 'purges,' or 'thought control.'"
During these hearings, an FBI agent was brought in to testify that many Erie union members were "good, loyal Americans … [who] don't realize that they have Communist agents planted in that union." Bruce McIntyre, an Erie Times reporter, attested that the UE had "a Communist taint."
"I resent being called a saboteur," John Nelson, president of the UE Local 506 at the time, told the subcommittee. When asked about Butler's sponsored bill, he explained, "As a loyal citizen of the United States of America, I think the Butler Bill is a very infamous frameup to destroy my union and all the other labor organizations in this country, and I will proceed to tell my membership and anybody else who might want to come within hearing distance long and as loud as I can, that I think that any such frameup is certainly taking away the basic and democratic rights of every member of my union and every citizen of the United States."
Nelson was fired by General Electric shortly after.
The reality is that organized labor, both in Erie and across the United States, has continuously been viewed as a threat to many who hold power, whether by those who control capital or those who run the government.
In James Young's meticulously researched Union Power: The United Electrical Workers in Erie, Pennsylvania, published in 2017, he traces these local unions, their diverse membership, and their ability to survive hardship after hardship.
"[T]he UE could easily have died in the 1950s under continued attacks from both left and right," Young writes. "[T]he union's ability to persevere rested primarily upon leaders at the local level who continued to command the support of their members on the shop floor."
As of Tuesday, February 26, the UE Locals 506 and 618 are once again on strike and find themselves in the national spotlight.
"UE Locals 506 and 618, which together represent 1,700 workers … worked long into Tuesday morning and were not able to convince the company to negotiate an acceptable short-term agreement that preserves wages, benefits, and working conditions negotiated with GE … over the past eight decades," the UE said in a statement.
With the merger, Wabtec joins the ranks of Fortune 500 companies and is expected to surpass $8 billion in revenue. Executives at Wabtec were already receiving generous compensation packages as recently as 2017: President and CEO Raymond T. Betler received $3.5 million, Chairman J. Neupaver received $3.2 million, and various executive vice presidents received between $1.3 and $3.1 million. With the GE merger, their yearly compensation will almost certainly increase, making it all the more difficult for workers to accept depressed wages and benefits.
Whatever happens moving forward — and the outcome is far from clear — history demonstrates that even in such adversarial times, the membership will continue to push back and push forward.
While online social media comments may sometimes suggest otherwise, public support for labor unions remains high with 62 percent approval in the latest Gallup poll. Public sympathy works in the union's favor — but union membership continues its decades-long slide from 30 percent to now only 10.5 percent. This isn't a coincidence.
"The struggle continues," Young writes in the epilogue to his book.
Without a doubt, it does.
Jonathan Burdick runs the historical blog Rust & Dirt. Follow them on Twitter @RustDirt, and on Instagram @RustandDirt.