Erie's VWLS Opens for Wild Adriatic and Releases Debut Album at King's Rook Club
Fresh, psychedelic local sound at the King's Rook. 
April 29, 2015 at 6:30 AM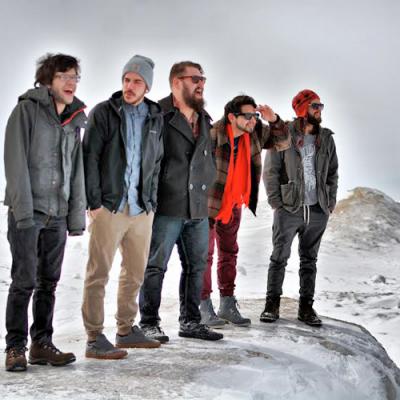 They've got a guy playing glockenspiel and doing vocals, another vocalist whaling on some lead guitar riffs, a second guitarist that's looping at least two different licks, a drummer that's almost as techy as Chris Pennie, and a rapper who plays bass.
In other words, VWLS isn't your standard local lineup.
And while all that might sound like the makings of a colossal mess, the band's diversity is what drives their highly experimental sound. VWLS is made up of musicians that hail from a wide range of musical backgrounds, all of whom are committed to pioneering novel sounds. 
After sitting in on a practice session with the full band, I can only describe them as a blend of psychedelic rock and progressive sensibilities. Soaring guitar riffs from Luis Pontillo and Alik Kujkowski are grounded by Dom Ferrare's meaty bass tones and James Quirk's complex rhythm work, while Todd Paropacic brings in a melodic blend of vocals and keys.
Overall, VWLS provides fresh and funky sounds. I talked to the band members about their beginnings, and what the future might hold for the group as they prepare for their upcoming show opening up for Wild Adriatic at the King's Rook Club Saturday, May 9.
Mike Iverson: When did VWLS really become a project for you guys?
Luis Pontillo: We started working on VWLS this past October. I went on this Scotland trip with Todd to do a play for the Edinburgh Fringe Festival, and when we got back, I asked him if he wanted to start a group. He was doing some music on his own at the time and was into the idea, so we formed this group and it fell apart in like a week. And while that was discouraging, I wound up running into Alik at the Rook one night and convinced him to come jam with us. Long story short, that laid the groundwork for a lot of what we're doing now, and the band came together from that.
Alik Kujkowski: I'll never forget, I was like, "...you had me at that first song" [laughs]. From there, I brought James in because we were working on Sea of Teeth together, but wanted to experiment with something different on the side.
LP: So it was just me, Todd, James, and Alik for a while, then we brought Dom in to play bass about four weeks ago and started teaching him the songs we had worked up.
MI: It can be tough to bring a new member up to speed even if a band's just starting out. Dom, how was it settling in with the other guys?
Dom Ferrare: It wasn't hard to pick up what they were doing. I'd worked with James and Alik before on some pre-Sea of Teeth stuff, so it's been a pretty comfortable transition.
MI: You rap too, and the rest of you all seem to have projects outside VWLS; does it ever get hard to maintain a balance between everything?
DF: I still rap, and I'm dedicated to that, but I've always found ways to put my all into whatever I'm working on, and I know the rest of these guys are the same way. 
James Quirk: We've been thinking about ways to bring elements from our other projects into VWLS too; maybe cover a Gorillaz song and have Dom rap, or bring in even more technical guitar work like we do in Sea of Teeth. 
AK: I've always just been excited to try new things and experiment with different sounds, and I think all of us are like that in our own way. That attitude is really what's helped this project take off the way it has. 
MI: You guys are doing some really interesting things with your sound in a scene that often defaults pretty hard on punk and hardcore standards. With that, I have to ask what some of your biggest musical influences are as a group.
LP: It's a pretty wide range at this point; people have told us that they hear notes of Tame Impala and Minus the Bear in our stuff, which is a weird combination in and of itself, but there's a lot of bands we could credit as influences.
AK: We really just like to draw inspiration from wherever we can. I feel like when it comes to music in general these days people just kind of end up infinitely describing bands with other bands. It's like this crazy mesh of influences all overlapping, and while that's all fine, we just want to pioneer our own sound. 
Since this last conversation with the band they've done more than solidify their sound; they've played a handful of house shows and small venues, started working on merch, and even finished their first demo. While you can find one sample track from this demo at soundcloud.com/VWLS-music-1, you can pick up the full thing at their upcoming release show.
8 p.m., Saturday, May 9 // The King's Rook Club, 1921 Peach St. // facebook.com/kingsrookclub