Ethnic Heritage Ensemble Sends Diverse Musical Message at Artlore
January 29, 2020 at 1:30 PM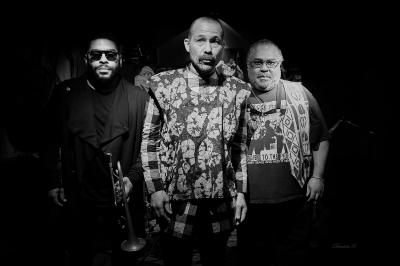 Sunday, Feb. 9
If you're only able to make plans to see a single show in February, the kind (and in-the-know) folks at Artlore Studio humbly propound that the one they're hosting should be, well, the one.
From Chicago to Bordeaux, France and many points around and in between (often including the Gem City) the Ethnic Heritage Ensemble — deftly combining contemporary jazz and other African American history-rooted styles with traditional African instrumentation and rhythms — has been using a revolving collection of most-deft hands to make out-of-this-world world music for nearly a half century now.
Long led by exalted multi-instrumentalist and composer Kahil El'Zabar, "the deepest, the one, the only Ethnic Heritage Ensemble … have made Erie their regular stop and a second home," over the past 20 year or so years, Artlore owner-operator/crackerjack jazz-man Stephen Trohoske said in announcing the show. "Please help us spread the word, art, music, history, [and] diversity in our city — in our lives."
That message — which will be carried powerfully by the EHE when it performs at Artlore — is worth listening to then. And, more than ever, now. — Ryan Smith
4 p.m. to 6 p.m. // 3406 W. Lake Road // $20 // artlore-studio.ticketleap.com