Exhuming the Hollow
Digging up a long-lived local legend
October 6, 2021 at 11:46 AM
Somewhere in the woods of southwest Millcreek, off of Thomas Road, south of Sterrettania, along Walnut Creek and its tributaries, and near the McKean township border, lies a legend as old as anyone you know. The stories of Axe Murder Hollow vary but nearly all versions include similar details: a jealous husband brutally murders his unfaithful wife and their children with an axe in the woods. His tormented ghost, and the ghosts of his family, still haunt the area, and have been terrifying scads of curious teenagers for decades. Sometimes the story contains details of an old stone foundation in the woods, cars mysteriously stalling out, dramatic temperature changes, mysterious steps leading nowhere. But where did this legend come from? How did it start? And is there truth to any of it? I definitely have some theories.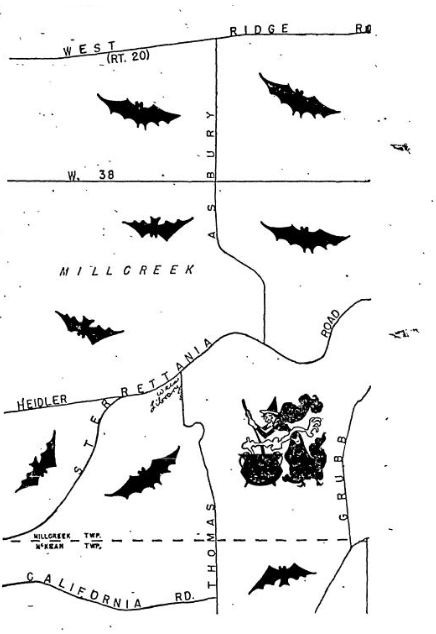 Erie Times-News
The first specific mention of "Axe Murder Hollow" by name in the newspaper happened in 1945, when it was reported that the entirety of the Harbor Creek High School football team made a trek out to the woods one night. Apparently, they witnessed an apparition, heard maniacal laughter and saw flashes of light, then high-tailed it back to their cars and spread their story (with ever-increasing flourish, no doubt). In an Erie Times article published in December of 1960, writer Tom McCormack interviewed Harper G. Rusterholtz, whose family owned acres of land and a dairy farm along Millfair Road, less than a mile from the Hollow. Rusterholtz and McCormack report: "In the Hollow lived but one resident — an old hermit named Billy. Billy reportedly was a son of one of Erie County's pioneer settlers; but Billy was disappointed in love, so he spent his life in a crude hut deep in the woods." "He was mighty cross," said Rusterholtz. "We kids were scared to death of him, and avoided him all we could."
Who could this "Billy" be? This area of Millcreek, around the turn of the 20th century, was sparsely populated, but there were a few hardy residents who made their lives here. Most of the roads in the area are named for these residents: Thomas, Heidler, Grubb, etc. and many of these families are buried in a cemetery off Heidler Road called the Weis Library Church Cemetery, which was previously called the Salem Church Cemetery. There are approximately 350 graves in this cemetery, and exactly one bearing the name William. 

William Gack is the probable inspiration for the Axe Murder Hollow legend. In 1922, two young teenagers were caught in the act of burglarizing the Gacks' home and detained by William — a longtime butcher at the Brown Brother's Slaughterhouse — until police could arrive.
The theory I've come up with surrounds this very man: William Gack. Frederick and Katherina Gack came to Millcreek from Germany in 1891 with their eight-year-old son William. They settled in this remote corner and started farming. Frederick died in 1909 and William continued on with the farm work after his father's death, remaining unmarried for decades and living only with his aging mother. In the winter of 1917, their farmhouse burnt down and was a total loss but for the stone foundation (sound familiar?). The family was displaced for a while before they were able to rebuild and it seems from that point, William ceased farming and became employed as a butcher at the Brown Brother's Slaughterhouse. He remained employed there until his death at age 73 from senile cerebral atrophy. William's mother died of cirrhosis of the liver. William never had more than a third grade education, which he received in Germany. 
In 1922, the Gacks' home was burglarized by John Florillo and Roy Johns, who were both 14 years old at the time. The teens were apprehended by Gack and then held at his home until police could arrive at the remote location. So, picture if you will, the people and the setting that these teenagers would have encountered on their ill-advised foray into larceny: two very rural people, one being a large, foreboding man possessing the accoutrements of a butcher — bloody clothing and aprons, cleavers, scimitars, and bone saws. When those kids got back from the juvenile detention center, what kinds of stories do you think they came up with about what they saw and experienced out in the middle of nowhere late one winter night? This is exactly how legends begin.
Now. I have painted an alarming picture of William here to prove my point, but in reality, he was likely just a normal guy working for a living. He did eventually marry about 10 years after his mother died (but not until he was 57 years old, so children in the area likely thought him a lonely hermit for many years). He had one son (as well as a step-daughter). His family were all still alive when William died in 1954 (i.e., he did not murder them with an axe). But, still. The perceived image of William could very well be the character that the legend was built upon and the "Billy" to whom Rusterholtz was referring.
In Stephanie Wincek's book, Ghosts of Erie County, she relays the long-told, familiar tale of Axe Murder Hollow, but also offers a different take: "An alternate version of the tale has to do with a band of Romani people who were traveling through Millcreek Township when they decided to camp in the hollow for the night. The leader of the clan learned that his wife had been cheating on him. Reportedly, the man immediately cut off his wife's head with an axe, then hid the head in the nearby Weis Library building located on the corner of Thomas and Sterrettania Roads." Stories litter the newspaper around the turn of the 20th century about "bands of gypsies" [sic] causing mischief and mayhem as they traveled through the county. There are a number of reports, both locally and nationally, of child abductions happening at the hands of such a maligned group of people which undoubtedly struck fear into the hearts of many parents, who then passed that fear onto their children. 
The Weis Library, which is a prominent building that still stands at the southwest entrance to Thomas Road, was originally erected in 1896 upon the bequest of John Weis, a wealthy, childless, eccentric man who requested that when he died, a structure be built "to be used for a free library and place for literary and mental improvement." The building existed as a library for generations, before becoming a private residence towards the end of the last century, as it remains today. Many have worked in, patronized, and lived in the library over the years with no reports of beheaded Romani turning up. Nonetheless, there was a rather disturbing report in the Erie newspaper of a murder in July of 1905 of a nearby Ohio woman who was "killed by a gypsy" [sic] with a chisel and then posed standing upright, inside a schoolhouse. Stories like that have a way of getting twisted up in our collective memory.
To add fuel to the Axe Murder fire, apart from Billy the Butcher and scapegoated Romani, the Hollow was once the closing scene of a brutal and well-publicized murder that took place in 1963: Edinboro College sophomore Mary Lynn Crotty of Lawrence Park at the hands of 21-year-old Daniel R. Biebighauser. Crotty was bound, raped, strangled to death, and then stabbed 15 times before her body was dumped in Axe Murder Hollow. Crotty was set up on a blind date with Biebighauser (who was, unbeknownst to Crotty, married with a son at the time) and it was during this date that the murder occurred. It was believed that Biebighauser made unwanted advances on Crotty, and when she resisted, he strangled her with her stockings. 
The murder occurred in Harborcreek, and Biebighauser then kept Crotty's body in the trunk of his car for 14 hours, eventually dumping her in the woods off of Thomas Road. Likely, he chose to leave her there in an attempt to mislead investigators into thinking the murder had something to do with the hollow. During the trial, Biebighauser was described as "the type who could kill you and not say anything." And upon further investigation, he was shown to be obsessed with violence; in addition making his own knives, he had purchased a gun earlier in the day on the day of the date (but because of state law at the time, he was not able to take possession of the gun for 48 hours), and drawings he made were found hidden in his car of nude women in violent, morbid situations. When confronted with these items, investigators had an easy time in coaxing a confession out of Biebighauser, who then led the police to where the body was located "seven-tenths of a mile south of the Thomas/Sterrettania roads intersection in Southwest Millcreek." In May of 1963, Biebighauser was found guilty of first degree murder, and sentenced to life in prison. While this crime did not happen at the hand of the ghosts of Axe Murder Hollow, the well-publicized details, circumstances, and location certainly contribute to the overall feeling of unease that locals associate with those woods.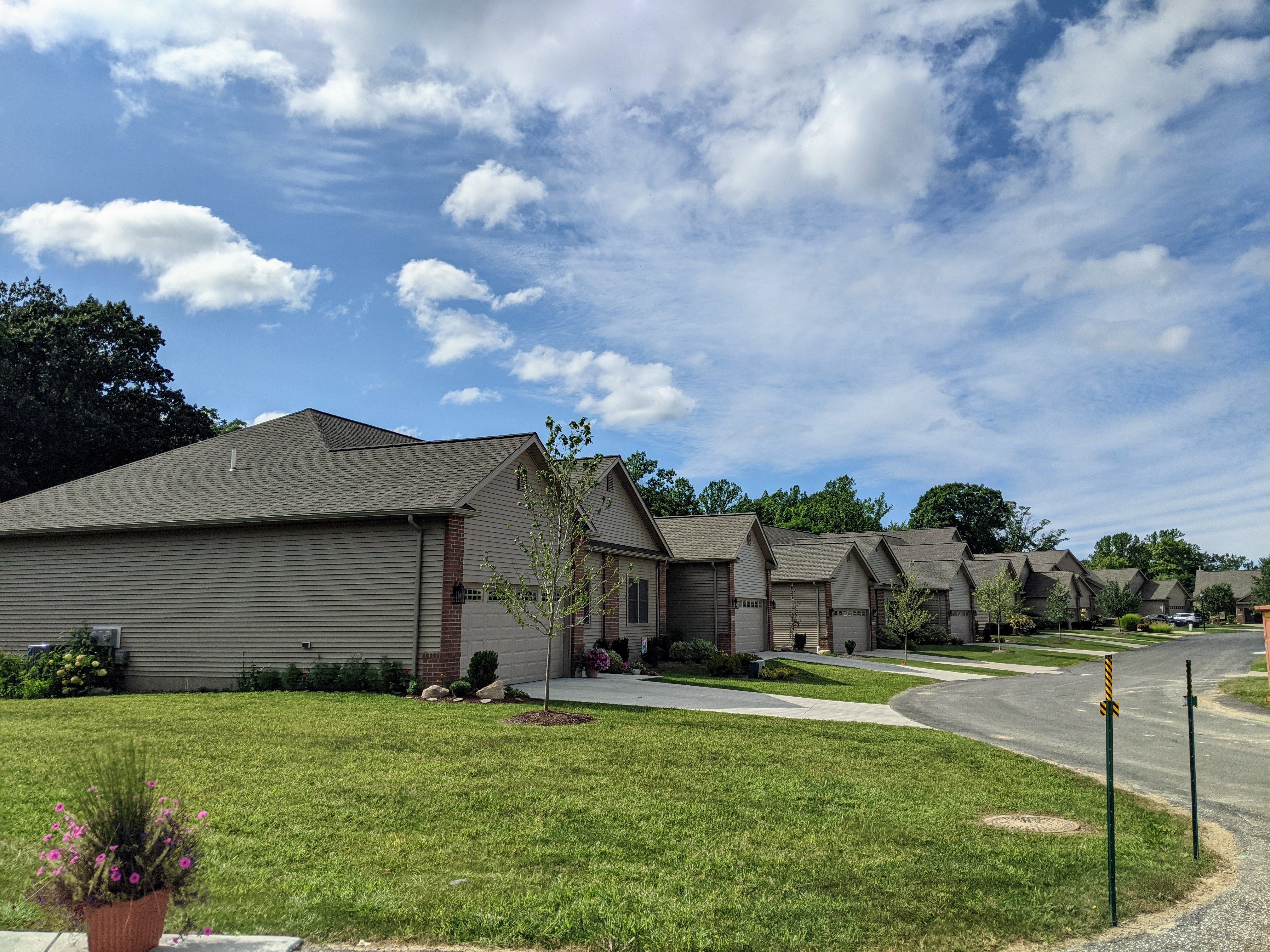 Tales of Billy the Butcher and roaming demonized Romani made Axe Murder Hollow — located off of Thomas Road in southwest Millcreek — a destination for teenage thrill-seekers for generations. Today, much of this wooded area has been cleared for residential developments.
Today, the area of Axe Murder Hollow has become less and less like anything anyone would be afraid of. Flanked by children's athletic fields, new construction pops up around Thomas Road every day. While this area was kept remote and unsettled for generations in Erie, the lure of real estate opportunities in Millcreek outweigh the discomfort some might feel about living in the Hollow. And although this area has been a popular haunt for teenagers for so many years, it is always good to remember that this is, in fact, someone's property and your curiosity should be curbed with respect for their privacy. So, enjoy this entertaining story and pass on the legend, but please: no trespassing.
While I was able to uncover some of the characters that may have lent to the legend of Axe Murder Hollow, whether or not there is any truth to the "axe murder" part still remains to be seen. But likely it all originated the way most legends do: someone got scared once and made up a story. And that story, just like in a game of telephone, goes through many versions over the years and ends up nothing like what actually happened. Since the physical location of Axe Murder Hollow is changing so rapidly, the place we all associate with this legend simply won't exist for the younger generations. So please, make sure you tell your children and grandchildren some version of this tale while you take them on a spooky drive on Thomas Road some foggy night, so that, hopefully, this long-lived Erie legend will never die. 
Erin Phillips runs the Instagram @olderieonfoot, an in-depth look at local architecture "by foot, stroller, papoose, bike, and occasionally minivan."