Expanded Universe
ComiCon Erie draws it up differently
September 13, 2017 at 4:30 PM
The premise has been sketched; the contracts have been inked; the schedule has been filled in edge-to-edge with color. The time has now arrived to get ahold of the very first issue of ComiCon Erie, which will unfold the weekend of September 22-24 at the Bayfront Convention Center. 
ComiCon's organizers, Erie Promotions & Expos (EPE), are confident that the inaugural event will one day be viewed as a collector's item as successful editions begin to stack on top of one another. 
"At the beginning of the year, we take a look what's out there and what's successful," says Erie Promotions President and CEO Mark Concilla. "We've been researching this for a year now and saw the need for a [comic convention] on a larger scale." 
Events such as BlurrieCon (a homage to anime, gaming, and geek culture slated for its fifth iteration this October) and the Erie Library Comic Con (which celebrated its third anniversary in May) have established track records and doubtlessly influenced the decision. The folks at EPE are grateful for the precedent these events have set, and have offered space at Comicon Erie for both the Anime Club of Erie (ACE) and GeekErie to promote their respective conventions (although only ACE will be present). 
If you've been paying attention to the glut of comic book and fantasy franchises smashing box office and television viewership records as of late, you'd have every reason to believe there is room for one more. The comic book universe is expanding, not contracting, and the mainstream is voyaging deeper into a space formerly only occupied by "dorks" and "nerds" than ever before. Whereas the first comic book conventions were sparsely attended affairs for a niche audience, today's comic book conventions are often massive productions held in virtually every major city around the world (sometimes more than once per year) and cover a broad swath of pop culture. They are a showcase not only for comic books, but the entertainment industry at large.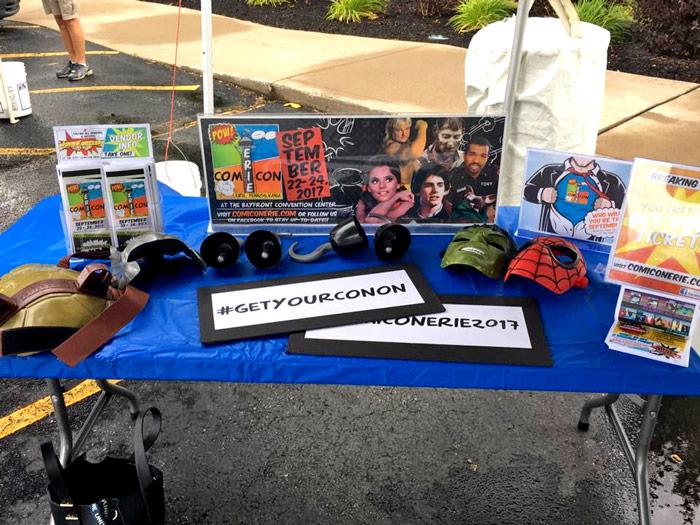 Multiverse theory contends that there are any number of universes (up to infinity) operating at any given point in time. It is a concept that should be familiar to most comic book fans, as both the Marvel and DC Comics behemoths have applied it to their intellectual properties. It allows writers and artists to dream up limitless new scenarios for familiar series without affecting their main chronologies. For instance, in the DC Multiverse, Batman is a villain known as Owlman in one universe, a Nazi enforcer named Leatherwing in another, and the openly gay, bio-enhanced Midnighter in still another. In the Marvel Multiverse, Spider-Man appears as the four-armed mutant Man-Spider, a zombie, or a robot (among other things) depending on what alternate reality he's in. 
Comic book conventions aren't quantum physics, exactly, but they do bear similarity to their source material in that there is more than one valid way to approach them. While the Erie Library Comic Con more intimately focuses on workshops and craft, ComiCon Erie is striving for spectacle and atmosphere more on par with the big cities. Think of them as not conflicting versions of the same narrative, but equally worthwhile plots occurring in parallel universes. In both cases, it's a welcome dose of escapism from the grim realities of Earth One. 
Headlining illustrator and animation artist Kurt Lehner is one Earthling who can definitely appreciate the value in that. As a sufferer of asthma and Celiac's disease, Lehner sometimes struggled to keep up with his healthier peers outdoors during his childhood. The harsh winters of his native Ontario aggravated his conditions, forcing him indoors. He occupied his time with toys, cartoons (the Hanna-Barbera lineup being his favorite), and a budding imagination. The discovery of his talent as an artist and his discovery of comic books roughly coincided, igniting a lifelong passion. 
"I didn't read much in school, but loved reading comic books. The education system was a little inept about the different kinds of literature," Lehner recalls. "I argued that I was learning big words like 'behemoth' and 'annihilate,' but my teachers didn't want to hear it. It's crazy now because graphic novels are actually a thing [within curricula]." 
Lehner idolized both Marvel and DC Comics artists growing up in the 1970s, in particular John Buscema (The Avengers, Silver Surfer, Thor), Neil Adams (Batman, Green Lantern/Green Arrow), and John Byrne (X-Men, The Fantastic Four). American fantasy and science-fiction artist Frank Frazetta was also hugely influential as he pursued his dream. After graduating from the Ontario College of Art & Design and a stint in the advertising industry, Lehner caught a break and joined the animation industry as a character designer and storyboard artist. 
Lehner knows a thing or two about bringing concepts to life and watching them turn into something that enhances the lives of other people. Although his name may not be familiar to you, some of the titles he's worked on for Walt Disney, Warner Bros., Marvel, and Dreamworks Studios assuredly are. Movies such as 1996's Space Jam (starring NBA great Michael Jordan and Looney Tunes characters) and animated series such as Gargoyles (which aired 1994-97) remain treasured memories for many millennials, and kids today still embrace Franklin the Turtle (whose design Lehner adapted from the Canadian children's books by Paulette Bourgeois). 
If there is one bit of wisdom Lehner would impart to prospective animators (or entertainers of any kind), it is to be selfless. "Don't do it for yourself; do it for everyone else. Remember you're entertaining them." If that audience includes children (or the young in spirit), he emphasizes the importance of the "childlike heart" — an excitement for sharing your talent with others and a genuine fascination with the world and its curiosities. Don't resent others for their abilities; admire them and take notes.
In an aging town where cynicism and defeatism run rampant, perhaps we really do need another comic convention and all the youthful energy that comes with it — the suspension of disbelief and the rekindling of a childlike sense of wonder. To that end, there'll be plenty to marvel at all weekend: 
— Talented artists such as Lehner, Tom Fluharty (painter and magazine cover artist), Stephen Silver (animator for Disney, Sony, and Nickelodeon), John Nevarez (Disney/Pixar, Illumination Entertainment, Sony Pictures Animation), Jess Scutella (of Strange Operators, Steadfast Tattoo Parlour), and many others;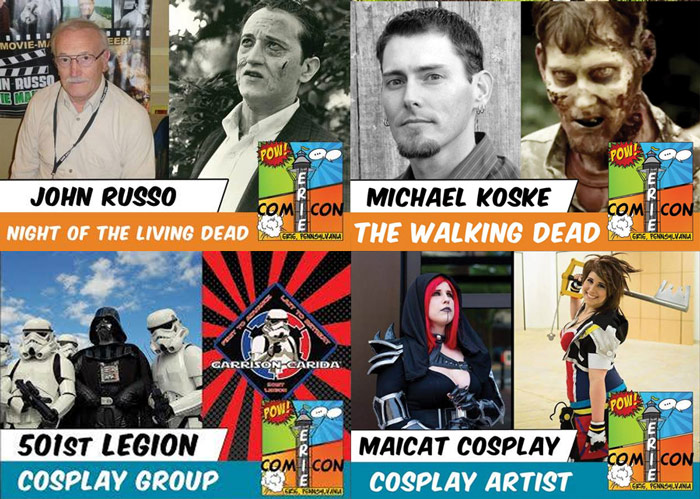 — A diverse panel of celebrity guests (Michael Beach of Sons of Anarchy and the upcoming Aquaman film, Dawn Wells a.k.a. Mary Ann of Gilligan's Island, Zach Galligan of Gremlins, Micheal Koske of The Walking Dead, WWE and Pro Wrestling Hall-of-Famer Greg Valentine, Night of the Living Dead co-creator John Russo); 
— Cosplayers galore, both professional (Garrison Carida of the 501st Legion, a Star Wars  cosplaying organization) and amateur (for great tips on pulling off a professional look, see "Looking the Part: A cosplay consultation with Brooke Surgener"), impersonating their favorite characters from page, stage, and screen (and customized backdrops by the Sci-Fi Photo Guy!)
— Real-life replicas of TV & movie vehicles (Mach 5 from Speed Racer, Tow Mater from Cars, the Mystery Van from Scooby-Doo), courtesy of NFI Empire;
— Comic books, toys, collectibles, and more. 
For those who are less inclined to marvel and more apt to duke it out, you can do so without even throwing a punch (or psychokinetic projectile — both are strictly prohibited).  Competitors can test their mettle in the video game (hosted by Next Level Gaming) or card game (Gateway Games) tournaments, or attempt to look just a little bit better than the next half-octopus/half-android parochial schooler in the cosplay contest. Creative license, after all, is what the weekend is all about. 
Friday 2-8 p.m., Saturday 10 a.m.-8 p.m., Sunday 10 a.m.-4 p.m. // 1 Sassafras Pier // advance Friday or Sunday passes $15, Saturday pass $18, weekend pass $30; tickets $20 at the door (children under 12 free with paid adult admission) // For more details and a full schedule of events, visit www.comiconerie.com
Mortals and immortals alike can contact Matt Swanseger at mswanseger@eriereader.com. Super-team inquiries will be entertained on a first-come, first-served basis.