Experience Real Magic at Night Lights
Heron grounds set aglow with grooves
August 14, 2019 at 9:00 AM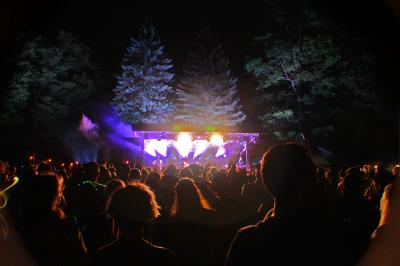 Thursday, Aug. 22 - 24
Strange, magical, and even sinister things have been said to occur in the woods. Shapeshifting and illusions. Brushes with immortality, the supernatural, and fantastical creatures. Dense, mysterious, and just beyond the realm of ordinary human experience, the woods have captivated our imaginations for millennia.
Music, too, can take us many places, inhabit many forms, and often consume us. It is fitting, then, that an enchanted forest become the backdrop of the Night Lights Music Festival. Like something out of a funky fairy tale, the Heron Farm and Event Center in Sherman, N.Y. is transformed into a midsummer night's dreamland each August, its grounds bathed in the glow of many-colored lights. Over the course of three days and three nights, a total of 36 artists will grace its three stages with all manner of sonic sorcery — but only the fun kind.
The acts vary greatly stylistically, but are united in their underlying pulse and sense of rhythm. Here is just a sampling of the bands whose animation spells will get your body moving throughout the weekend:
FRIDAY
Danielle Ponder and the Tomorrow People: The socially-conscious powerhouse vocalist and her band will also play a Saturday set, paying tribute to the "Women of Soul."
Witty Tarbox: Also returning with a Saturday set, this Buffalo band stitches together surf rock riffs, indie melodies, and funky rhythms.
Ghost-Note: This jazz-funk collective will satisfy fans of bands such as Lettuce, Lotus, and Snarky Puppy.
Big Something: Pop-rock and reggae-inflected jams with sci-fi-inspired lyrics.
Dirtwire: Hard to classify but easy to embrace, this Oakland trio fuses American and world music instrumentation and traditions, adds electronic flourishes, and makes it all danceable.
Aqueous: A perennial favorite at the King's Rook Club, this group's jazz influence and pop sensibilities bring to mind jam giants such as Umphrey's McGee.
SunSquabi: An entrancing amalgam of jazz, dubstep, electronic, and prog rock melded together in real-time.
SATURDAY
Midnight North: Helmed by Grahame Lesh, son of Grateful Dead legend Phil Lesh, Midnight North ties together rock and Americana in a fashion reminiscent to Graham Parsons and The Band.
Funktional Flow: Their first set of the day will pay homage to The Police.
Consider the Source: Self-described as "Sci-fi Middle Eastern fusion," this group offers up mind-bending instrumental jams.
!!!: Pronounced "chk-chk-chk," this band emerged from the New York post-punk scene in the early 2000s, incorporating disco and funk elements into their indie rock sound.
Sego: This raucous dance-rock outfit from Los Angeles keenly layers distortion and dissonance while still remaining accessible.
Girl Talk: The alter-ego of Pittsburgh DJ Greg Gillis expertly splices together workouts for both the ears and the body from a dizzying array of pop samples. Sure to be a festival highlight.
Marco Benevento: This wildly inventive pianist and graduate of Boston's esteemed Berklee College of Music marries jazz, classical, pop, and electronica.
Thursday evening's lineup, headlined by supergroup Uncle Mike's Random Co. (featuring members of Aqueous, Moe., Dopapod, and Tauk) will be exclusive to weekend pass holders only. Day passes will be available for Friday and Saturday. Camping is permitted within designated areas, outside firewood and glass containers are prohibited, and staying up all night dancing is highly encouraged. — Matt Swanseger
Thursday through Saturday // The Heron, 2361 Wait Corners Rd., Sherman, N.Y. 14781 // Advance weekend passes $149.99 ($170 at gate), advance day passes $79 ($90 at gate), additional fees for camping and parking // Visit nightlightsfest.com for complete lineup