Explore the Heights of the Himalayas in Meru
If you're up for a visceral, vertiginous thrill, Meru is a film that begs to be seen on the big screen. 
November 11, 2015 at 2:15 PM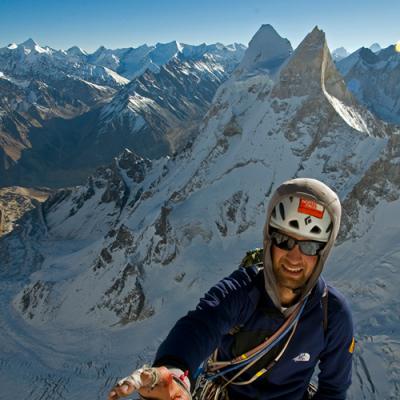 Wednesday, Nov. 18
If you have a fear of heights, stay as far away from Jimmy Chin and Elizabeth Chai Vasarhelyi's 2015 documentary Meru as possible.
The film follows three potentially-insane adventurers as they try to reach the top of Meru peak, a 21,850 foot mountain in the Indian Himalayas. One of the climbers is the co-director, Jimmy Chin, who shot much of the footage while dangling from a rope on his way to the top. The team's leader is Conrad Anker – a legend among extreme sports enthusiasts who discovered the remains of explorer George Mallory along the heights of Mount Everest, nearly 75 years after his death.
Meru goes beyond the usual daredevil antics you might expect from an ESPN short or a "Go-Pro" Youtube video. Instead, expect insight into the physical and psychological exhaustion that often accompanies extreme sporting endeavors. Journalist Jon Krakauer, whose 1997 bestseller Into Thin Air: A Personal Account of the Mount Everest Disaster documents an equally audacious climb, offers insight and narration as well.
If you're up for a visceral, vertiginous thrill, Meru is a film that begs to be seen on the big screen. Drop by the Erie Art Museum on Nov. 18, and leave your faint-hearted friends at home. — Dan Schank
"Age of Kaos" short films screen at 6 p.m., Feature at 7 p.m. // Erie Art Museum, 10 E. Fifth St. // erieartmuseum.org/events/film.html