Fall Backward, Malt-Forward
Lake Erie Ale Trail breweries preview their sweater season lineups
October 24, 2018 at 1:30 PM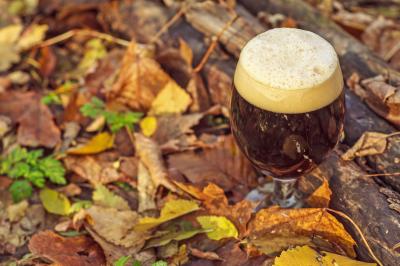 By: Matt Swanseger
Beer tastes good year-round — an objective fact quantified by several millennia of empirical observation. Depending on the time of year and who you are, however, some beers may taste better than others. As you might know, beer is constructed from four primary ingredients — malt (pre-sprouted grains), hops (spicy, bitter conical flowers in the same family as cannabis), yeast, and water. The yeast and fermentable sugars in the malted grains work together to create alcohol (yay!), and the interplay between the hops and malt create the bulk of that beer's flavor and character.
When the hops are the dominant force in the coupling, a beer is described as "hop-forward." Due to their generally bright, piny, floral, or citrusy elements, hop-forward beers are a fixture in spring and early summer lineups, their intensity a proverbial wake-up call to the tastebuds. In the IPA-obsessed USA (IPA = India Pale Ale), however, heavily-hopped beers are perennial with the earth, and always in the rotation.
Not that there's anything wrong with that, but there are some among us who appreciate the subtleties that can be brought about by a masterfully balanced malt profile. The malting process begins with steeping grains (usually barley, but others such as wheat, oats, and rye may be used) in a warm bath to get them loosened up and convert some of their starch into sugar. Then comes kilning — a hot, dry dose of reality for the tender young grains that they will never see the light of the day as a mature plant.
Kilning can winkle a huge spectrum of different colors and flavors out of the shy little grain we started with. Base malts such as pale and Pilsner are kilned for shorter durations and generally stay out of the way; they comprise the bulk of the grain bill. Specialty malts — those that have been toasted, roasted, or even smoked, deepen the hue and add pizazz to the libation. Just as we're more apt to fire up our ovens in the chill of fall and winter, brewers are more prone to favor the flavors of our most beloved baked goods in the "malt-forward" beers of late year.
Billy Kissel of the Brewerie at Union Station perhaps sums it up most eloquently:  "As summer fades into fall, our tastes seem to change in accordance. Our brews tend to shift from lighter, refreshing, perhaps fruity offerings to more hearty, malty, spicy, or even oaky elixirs. Fall beers are the proverbial 'hoodie and jeans' of the beverage world."
With the Brewerie being just one of 14 members of the ever-expanding Lake Erie Ale Trail, there are plenty of cozy outfits to try on. Let's see what's in style — and the different ways in which they are tailored.
KEY: 7 Sins Brewery (7SB), Arundel Cellars and Brewing Co. (ACB), Black Monk Brewery (BMB), Blue Canoe Brewery (BCB), The Brewerie at Union Station (BUS), Erie Ale Works (EAW), Erie Brewing Co. (EBC), Five & 20 Spirits & Brewing (5&20), Lavery Brewing Co. (LBC), Millcreek Brewing Company (MBC), Orr's Brewing Company (OBC), Sprague Farm & Brew Works (SBW), TimberCreek Tap & Table (3T), VooDoo Brewing Co. (VBC). * denotes a year-round selection recommended for the cooler months.
Oktoberfest/Märzen
This Bavarian specialty alternately takes its name from two different months, one when it is brewed (März, or March) and one when it is (usually done being) consumed. Before modern refrigeration, the Germans dug cellars, filled them with ice, and left beer to condition underground through the summer, thanks to a bottom-fermenting yeast that works more slowly and at cooler temperatures. Thus the lager was born (lagern = the German verb for "to store"). Additionally, many brewers planted chestnut groves over the sites of their beer caves to shield out the sun, which presaged the beer gardens that are today so prevalent.
The Märzen, known for its toasty, biscuity, or cracker-like character, became the official celebration beer of Crown Prince Ludwig I's marriage to Princess Therese of Saxe-Hildburghausen in 1810, which marked the first-ever Oktoberfest.
Ale Trail examples: Oktoberfest (several breweries, ranging from 6-8 percent alcohol-by-volume), Schnitzengiggle (VBC, 5.9% ABV)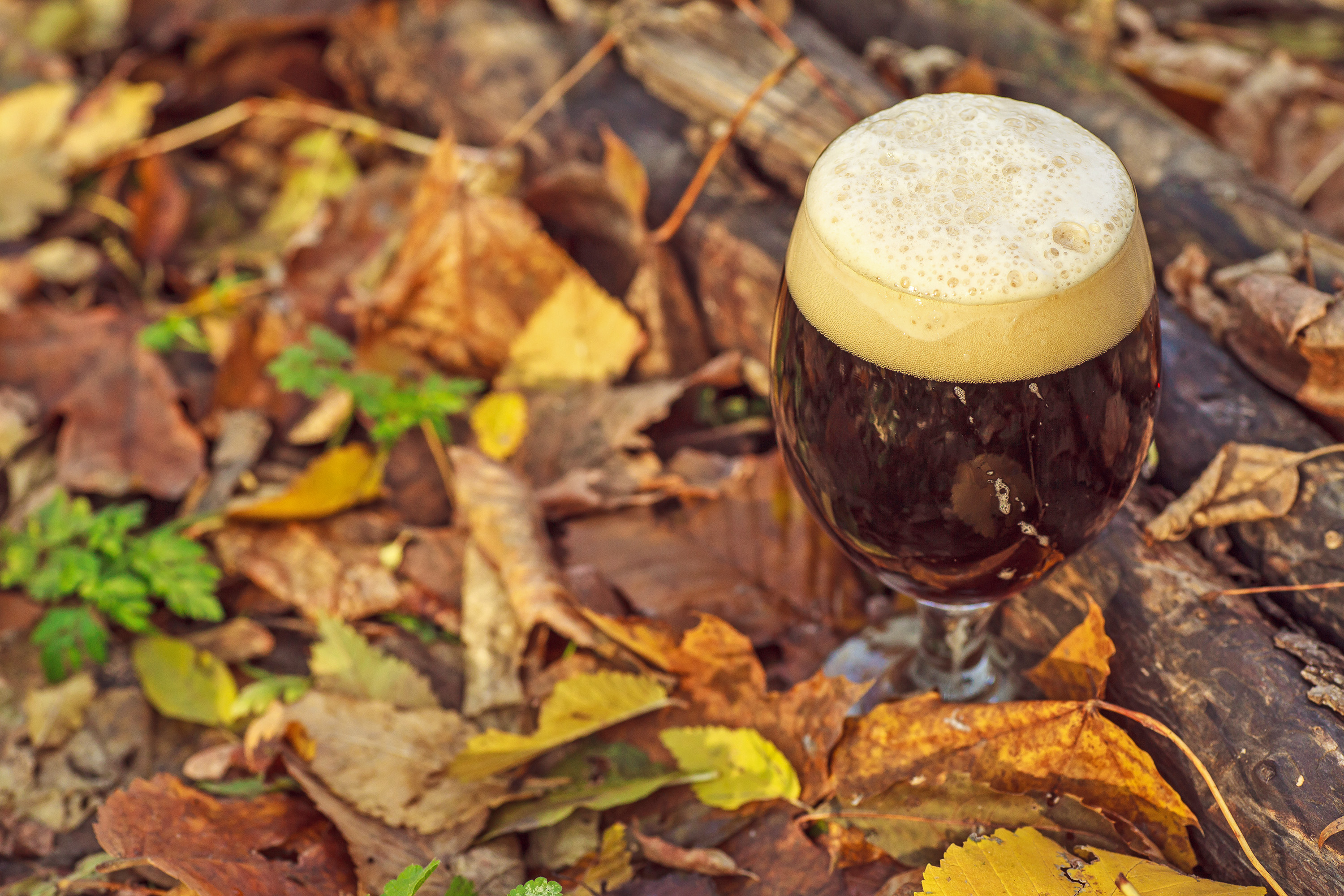 Through a process known as kilning, brewers can create a diverse palette of colors with the malts that provide the backbone to beers. Like fallen leaves, the beers of late autumn and early winter range in color from amber to coppery orange to deep brown or even black. Credit: hiddenhallow
Pumpkin Beer
Pumpkin is not a style in itself; rather it is a bodysnatcher, possessing the liquid souls of any of a number of beers. The pumpkin beer is as ubiquitous throughout the fall as the jack o'lantern, and while its many detractors would rather carve their own eyes out than see another on the shelves, they are far outnumbered by worshipers.
Some brewers merely infuse their boils with pumpkin spice to convey the idea, while others go through the trouble of adding actual pumpkin to the mash (Erie Brewing Company burns through 6-pound cans of pumpkin puree like a frat-house burns through Natty Ice in concocting its Johnny Rails Pumpkin Blonde Ale).
While I adhere to a personal code of no pumpkin beers before the Autumnal Equinox, distributors ensure it is available before Labor Day to appease the fanatics.
"The market dictates that, not the brewer," explains Paul Alessi of Five & 20 Spirits & Brewing. When it comes to seasonal beers, brewers must seize on consumer anticipation in order to move the most volume — which means pumpkin spice everything before the leaves have even started falling. Basic ass business.
Ale Trail examples: Seedy Pumpkin (ACB, 6.2% ABV), Nightmare on South Franklin Street (BCB), Vampire vs. Wolfman (EAW, 5.5% ABV), The Devil's Pumpkin Ale (LBC, 7.5% ABV), Punk'n Pie (BUS, 6.2% ABV), Headless Spragueman (SBW, 7.5% ABV), Creek O'Lantern (3T, 8% ABV)
Brown Ale
Like many beer styles, the definition of "brown ale" has become more nebulous with the craft beer boom and the resultant experimentation. Neither misleading nor convoluted is the fact that it is, indeed, unwaveringly brown. The 20th century brown ale evolved from the English mild, a minimally hoppy, minimally boozy ale designed for maximum quaffability. Many showcase a nutty or toffee-like character, which can be (and is) played up for more dessert-like effect. Some breweries may add specialty malts such as oatmeal for a thicker, richer mouthfeel (Five & 20's cookie-like Oatmeal Brown). Others may add flavor extracts if they wish to get really specific (The Brewerie's Tiramisu Ale). In the brewing world, brown is anything but drab.
Ale Trail examples: Greed* (7SB), Blind Squirrel Nut Brown Ale (BMB), Bourbon Barrel-Aged Major McNair's Nut Brown (BUS, 5.4% ABV), Dunkledore (3T, 5% ABV), Wynona's Big Brown Ale* (VBC, 7.5% ABV)
Stout/Porter
The denizens of the United Kingdom certainly know how to craft an ale for a rainy day, with the stout and porter being the most prominent examples. The murky-hued, medium-bodied porter — an 18th century London invention — predated the stout (originally called stout porter, as it was stronger) and was intended to be enjoyed over a long session of hiding from the rain and fog. Today, the terms are used interchangeably, regardless of gravity (i.e., alcohol content, or how quickly they bring you back down to Earth). As a general rule, stouts rely on a greater proportion of unmalted roasted barley (for a more burnt, bitter coffee-like flavor), whereas porters are built primarily from more conventional malted barley.
Any flavors that associate readily with the intrinsic bittersweet chocolate or coffee notes of these ales tend to find their way into the mix. Seeing as how both chocolate and coffee are much beloved, complement nearly every dessert, and are two of the best things at staving off misery, stouts and porters have substantial presence at brewpubs through the chill of late fall and winter (barrel-aging to impart additional boozy warmth to the liquid is also common practice).
Ale Trail examples: Commiseration (5&20, 12.4% ABV), Gluttony (7SB), Ink Slinger (ACB, 6.3% ABV), Get Hip or Split (EAW, 5.1% ABV), Skipper's Stout (EBC, 7.2% ABV), Ulster Breakfast Stout (LBC, 7.2% ABV), Chocolate Oil Stout (OBC, ~9% ABV), Big Black Voodoo Daddy (VBC, 12% ABV)
Other things to keep (running) tabs on
Keep your eyes peeled and palates prepared also for heavily cinnamon-spice laden winter warmers such as The Brewerie's Shittersfull and Sprague's Cinn-O-Sure — a style that is a staple of the holiday season. Sprague's proprietor Brian Sprague also hints at an upcoming collaboration with a local barbecue establishment — the exact parameters are veiled in mystery, and probably smoke.
THE LAKE ERIE ALE TRAIL
In Erie and Millcreek:
Black Monk Brewery, 3721 W. 12th St.
The Brewerie at Union Station, 123 W. 14th St.
Erie Ale Works, 416 W. 12th St.
Erie Brewing Company, 6008 Knowledge Pkwy.
Lavery Brewing Company, 128 W. 12th St.
Millcreek Brewing Company, 4102 W. Lake Rd.
VooDoo Brewing Company (Erie Pub), 101 Boston Store Pl.
And Beyond:
7 Sins Brewery — 10593 W. Main Rd., Ripley, NY 14775
Arundel Cellars & Brewing Company — 11727 E. Main Rd., North East, PA 16428
Blue Canoe Brewery — 113 S. Franklin St., Titusville, PA 16354
Five & 20 Spirits & Brewing — 8398 W. Main Rd., Westfield, NY 14787
Orr's Brewing Company — 109 S. Franklin St., Titusville, PA 16354
Sprague Farm & Brew Works — 22043 Hwy. 6 & 19, Venango, PA 16440
TimberCreek Tap & Table — 11191 Highline Dr., Meadville, PA 16335
For the full list of Lake Erie Ale Trail brewery locations and websites, visit lakeeriealetrail.com/breweries
Matt Swanseger has been known to enjoy a pint or two. And answer emails at mswanseger@eriereader.com