Falling Hollywood Set to Release Highly Anticipated Follow-up Album
Band to host Halloween CD release party at the historic Watson-Curtze Mansion.
October 16, 2013 at 8:08 AM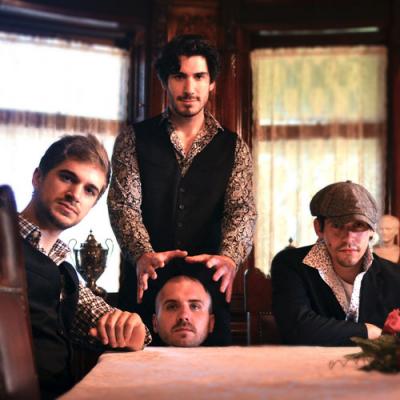 On Saturday, Nov. 2, Falling Hollywood will release their highly-anticipated second album in "spooktacular" fashion – at a costume party in a creepy ol' mansion.
It's a fitting venue – the historic Watson-Curtze mansion on West Sixth Street – and a fitting theme for a band that skyrocketed to local stardom last summer on the strength of their freshman effort, "Set the Table," which earned a place as the only local album on "Dr. Rock's Top Albums of 2012" in the Erie Times News, and also earned the Erie Reader's Local Album of the Year award.
Even more fitting, that musical costume Falling Hollywood's been wearing for almost two years now is about to hit the floor like last night's underpants.
Their punk roots are readily apparent in every track on "Set the Table" – but to call the band's debut record a "punk" album is folly; it's folky, acoustic flavor is occasionally self-indulgent, which would certainly garner them some face-punchery – or worse – from the likes of GG Allin and Sid Vicious. The story goes that guitarist/vocalist Matt Flowers, bassist Bill Frackowiak, guitarist/vocalist Nick Taylor, and drummer Brad Triana were invited to an open mic at the crooked i by Matt "Broke" Boland, and didn't want to carry all their electric gear around. They also didn't want to blast patrons out of the room, so they stripped down and found a sound that was much more acoustic, mellow, and folky than they'd ever intended.
"People liked it immediately," said Taylor, as I sat around my dining room table with all four members of Falling Hollywood on a recent foggy Sunday. "I think we just hit that scene in stride. Right when the more raw, real emotional sound was gaining popularity elsewhere, we happened to be right in the thick of it. And it also allowed us to reboot as a band, which allowed us to capture a new audience. 'Set the Table' felt like a reboot, like a core."
Audiences responded well to their gritty-yet-fresh sound, and over the past two years, they've played nearly every major gig available in and around Erie, including Celebrate Erie, the Downtown Partnership's Block Parties, Romolo Chocolates Music Series, The Great Blue Heron Music Festival, and The Gathering at Chaffee's, while simultaneously becoming regulars at places like Basement Transmissions, the crooked i, Sandbar, and Sherlock's. They also became Dr. Rock's darlings, frequented Fazed Cookies, and appeared on the Reader's Aug. 22, 2012 cover. Lately, they've been playing a greater amount of their gigs on the road at well-known venues like the Hard Rock Café in Pittsburgh, Sullivan Hall in Greenwich Village, and the Grog Shop in Cleveland; and their recent Kickstarter campaign to fund this new album exceeded its $3,000 goal by 50 percent in just under 30 days.
All based on that one folky, poppy album.
"This album definitely has a harder sound," said Flowers of the as-yet unreleased, unordered, unnamed album as he fiddled with a half-empty beer can. "It's kinda weird, but I think this album has this – even though it's rougher – there's this strange, sexy, loving, melancholy, energetic feel. It's one of those albums where you listen to it and you feel high afterwards."
That these guys have grown as a band is apparent to anyone who's seen them play over the course of the last year or so; the uptick in gigs has certainly made an already-tight outfit even tighter – not to mention the hours spent on stage. "As we became tighter as a band, and we all got better at our respective instruments," Flowers said.
Flowers would know – he had a lot to do with that. As I listened to the album, the thing that immediately jumped out at me was how much both Flowers and Taylor had matured in their playing; at times, Taylor lays down some searing leads in places Falling Hollywood would normally spotlight acoustic strumming, and Flowers' dependable, workman-like axemanship has only gotten more reliable over time. Frackowiak – who's rapidly become one of the best bassists in Erie – and Triana's already-solid rhythmic relationship takes a deeper turn as well.
Triana, however, looks at the band's growth a little differently, as is his custom; he cited their organization and confidence as evidence of their progress as a group, but all four of them are quick to give credit to Band Manager Emily Smicker. She not only books shows, they say, she also delegates responsibilities to members of the band like a taskmaster, freeing the musicians up to do what they do better than anyone else in town right now – make music that people enjoy hearing.
That organization and confidence manifested itself during the production of their new album; they once again reach out to the capable hands of Senior Audio Engineer Larry Luther at Mr. Small's in Pittsburgh for recording and production.
"The first album was getting to know Larry Luther,"  Taylor said. "He didn't know us, and we didn't know him… so with this, it felt like old friends. "
"During 'Set the Table,' as ready as we were to do that, we ran into a few snags, and working through those was pretty simple," Frackowiak said. "With the feeling that this album was going to be better in general, we thought it would be a good idea [to return to Mr. Small's] because of how smoothly the first one went."
Flowers concurred. "There was a comfort level there," he said. "Larry Luther heard something in this album, and the encouragement and warmth we received while recording this album was good for us."
You can feel that warmth on every track of the new album, especially – and thankfully – in the area that first set them apart as a band – the brilliant vocal harmonies of Flowers and Taylor.
"If you had to say it in terms of percentage of time [in the studio], we spent most of our time on the vocals," Taylor said. "We re-took and re-took to make sure they were perfect."
Flowers agreed with his cousin, and elaborated on his earlier comments about the bands growth. "I learned how to sing on this album." The harmonies are stronger, he said, because of all the time they spent on it.  "Nick spends a lot of time working on the harmonies, and I learned from him."
As with 'Set the Table,' the lyrics weren't an afterthought on the new album. Part of the folky residue that remains in this band is the stories they tell with their music, providing a connection back to the album that made them popular in the first place – a connection Taylor thinks fans will appreciate.
"People that have our last album will find something new and refreshing in this one, and also some old familiar sounds," he said.
I'm luckier than most – I've already listened to the album a few times and have to agree with Taylor. I think there are definitely glimpses of "Set the Table" in the new album, but I also agree with Flowers that it spotlights Falling Hollywood's edgier, heavier side. I don't want to give too much away – so look for our official album review in the Oct. 30 issue – but if you're a die-hard Hollywoodhead, put on your goofiest/sexiest costume and make sure you're at that creepy ol' mansion on West Sixth Street on Nov. 2 to see and hear the band's new musical costume; it looks a lot like the old one, but recent adornments may have changed the face of Falling Hollywood forever.
For more information about Falling Hollywood and the creepy ol' mansion party, go to FallingHollywood.com, see the event page on Facebook. or buy tickets on Eventbrite.
Cory Vaillancourt can be contacted at cVaillancourt@ErieReader.com, and you can follow him on Twitter @VLNCRT.