Falling Hollywood to Play SXSW
The stars at night... Are big and bright... Deep in the heart of Texas!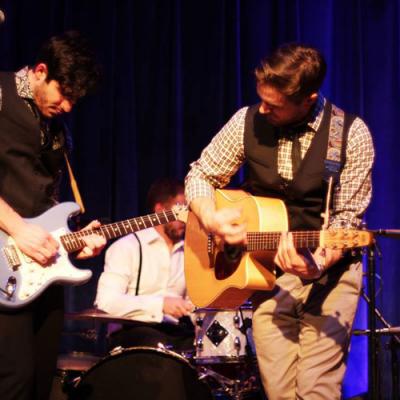 Falling Hollywood to Play SXSW
The boys in Falling Hollywood have been blowing local minds for nigh on to 2 years now, but this month, they'll be taking their infectious, punky brand of Rust Belt folk rock to Texas, where they will become the first band from Erie to play at the Convention Center of the prestigious South by Southwest festival in Austin.
"We are incredibly honored," said frontman/guitpicker Nick Taylor. "This could mean big things – record labels, opening slots for national tours, or hopefully an invite back to the main stage next year. If nothing else comes of this, it will be the experience of a lifetime."
SXSW was started as a music festival in 1987 by the staff of Austin's alternative weekly newspaper, the Chronicle. Since that time, it's grown to become one of the – if not the – most influential conference/festivals in the world, with specific segments devoted to film, music, and interactive technology.
Taylor, along with fellow vocalist/axeman Matt Flowers, bassist Bill Frackowiak, and drummer Brad Triana will play two shows at SXSW's Interactive Expo, on March 6 and 7; the lucky crowds who catch these gigs will be treated to a special...ummm... treat.
"We plan to once again tear away the excess, and play in our raw, acoustic set up," Taylor told me, "exposing the raw core of Falling Hollywood that first captured the ears and hearts of our fans here at home."
That raw core Taylor speaks of first manifested itself in Falling Hollywood's stunning 2012 debut album, Set the Table. They strayed slightly from that formula with their energetic follow-up album Heavy Weather late last year. However, both albums are among the most highly regarded releases by a local group in years.
And although Falling Hollywood's popularity has long since grown outside of their native region – as evidenced by recent gigs in Greenwich Village, Brooklyn, and Cleveland – this set of performances in Texas could end up earning them the recognition they deserve on a national scale.
"We are incredibly optimistic for this year and our music," said Taylor.
For more information on Falling Hollywood, visit www.FallingHollywood.com.Contact Cory Vaillancourt at cVaillancourt@ErieReader.com.