Festival Features Art, Music, and More
Great things happened there. Where? Edinboro Art and Music Festival. And Ryan Bartosek took it all in.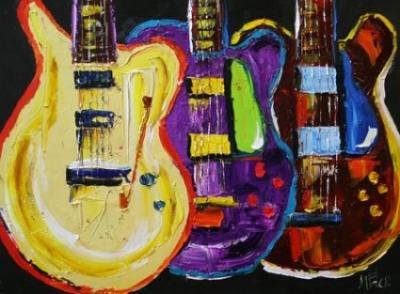 As they say in Edinboro: Great Things Happen Here. This was made clear the weekend of May 19to 21 when the 7th Annual Downtown Edinboro Art and Music Fest took place at various venues throughout the quaint college town. What began as a humble outdoor concert in the local park that featured a handful of acoustic acts has grown into multi-day, multi-stage event that draws well over 1,000 patrons over the course of the weekend.
The locally-sponsored and government-funded event features a splendid line-up of musicians each year, and while donations from festival-goers are accepted and encouraged, they are not required, thus all of these performances are ultimately free and also all ages.
"We make a great effort to get the right combination of bands each year," said festival organizer and promoter Fred Parker. "Some local, some touring nationally, some from deep in Appalachia, this eclectic mix keeps our fest unique, yet still in the spirit of a cultural roots-Americana theme. It's a hard process, but a rewarding challenge and each year we are proud to announce our line-up."
And proud they should be. Parker and his crew have been able to pull in some rather large, legitimate acts in recent years. Parker's self-professed crowning achievement came back in 2005 when he managed to land then up-and-coming folksters The Avett Brothers, a feat that folks familiar with the Edinboro Art and Music Festival still talk about. The past few years have seen performances by one of Parker's most beloved bands and one of our region's top draws: nationally touring Americana band Donna The Buffalo. Donna kicked things off again this year with an energetic Thursday night performance in front of a hot, sweaty crowd packed in shoulder to shoulder inside the clubhouse at Culbertson Hills Golf Course, which served as the festival's main stage. The room remained jammed to its approximate 500-person capacity for performances by Parker's own band Tiger Maple String Band and Ithaca, N.Y.'s Blue Sky Mission Club on Friday night and "the Canadian Bruce Springsteen" Fred Eaglesmith, jamgrass band Cabinet, and local favorites Shotgun Jubilee on Saturday night.
Music also took place on Friday and Saturday on the outdoor stage at Edinboro Lake Resort, Charlie's Pizza Pub, Edinboro Hotel Bar, as well as inside the performance barn located on the property of Goodell Gardens & Homestead, a 78-acre farm that also features a botanical garden and arboretum. The cozy barn features a small stage, hay-bale seating, and plenty of dance space, giving the performances there a rustic, barn dance vibe. Huge doors on either side of the building open onto the vast yard, where the crowd spilled out of the barn and into the grass. The performance barn maintained a large crowd all weekend and bustled with activity as bands such as Erie's The Heliotropes, Pittsburgh's Rising Regina, Jamestown, N.Y.'s The Bogarts, and The Woodticks, a festival staple from Morgantown, W. Va., all performed to a highly appreciative audience. The square dance hosted by Upriver on Saturday afternoon was a fan favorite, and zydeco act The New Aliens got the crowd up and moving.
Goodell Gardens & Homestead is a relatively new venue for the festival, first being utilized three years ago. It has since grown into the festival's center of operations. Aside from musical performances, the festival's information tent is located there, as well as the Artisans' Tent, a huge canopy tent, under which a bazaar-type marketplace was housed.
Local artists peddled their wares, which consisted of handmade jewelry, pottery, watercolor art, blown glass, metalwork, woodwork, and various other creations. Also featured were homemade organic foods from vendors such as Beelzebub's Salsa and Hurry Hill Maple Farm.
A new feature at Goodell Gardens this year was the expanded children's tent. Frequently found at most large scale festivals around the country, the children's tent is an important fixture, and the folks at Edinboro Art and Music Festival did an outstanding job planning activities that kept the kids smiling all day. While arts and craft activities are a staple in any children's tent, Edinboro's itinerary also featured juggling workshops, sing alongs hosted by Tiger Maple String Band vocalist and local children's entertainer Lori Burke, as well as lively stories told by Keith McManus of The Woodticks, who had the kids literally rolling with laughter.
While taking in the music and perusing the vendors was enough entertainment for many of the folks at Downtown Edinboro Art and Music Festival, some chose to take more of hands-on approach by participating in fiddle, mandolin, dulcimer, banjo, and guitar workshops as well as open jam sessions that took place throughout the weekend. Howard Blumenthal hosted structured acoustic jams on Friday evening and Saturday afternoon at the Empty Keg bar, open to musicians of various experience level, giving them a chance to bring out their own instruments and play music with other festival-goers, picking on traditional bluegrass and old thyme tunes. The workshops were free and open to the public as well and were a feature that the festival crew is especially proud to put together.
"Workshops are a very important part of the festival," Parker said. "We feature mainly music workshops, which are taught by some of the best instructors from the eastern U.S. These workshops are open to anyone and may be very influential to a person in terms of their musical direction in life."
It was easy to see why the Downtown Edinboro Art and Music Festival has grown into what it has and why so many look forward to it each year. Clearly it has a bright future ahead of itself, however, as Fred Parker so succinctly put it by quoting the Grateful Dead, "The future's here, we are it, we are on our own. We do the best we can to make Erie county a better place through art and music. We will try to keep things moving in the right direction."