Fighting Revenge Porn through the Legal System
Litigator Elisa D'Amico visits Penn State Erie.  
September 30, 2015 at 10:30 AM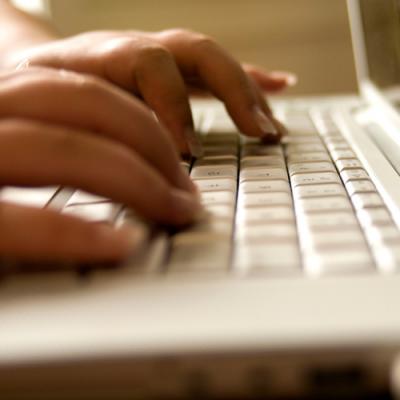 If you're unfamiliar with the term "revenge porn," prepare to lose a little faith in humanity.
According to Miami-based litigator Elisa D'Amico, the phrase "refers to the distribution of sexually explicit images without the consent of the pictured individual." A spiteful ex-partner (usually male) is often the perpetrator, but D'Amico says that person might also be "an individual who feels wronged and seeks to shame or humiliate the victim, an individual seeking profit or notoriety, or in some cases, an individual that the victim has never met — like a hacker."
Worse still, the shared information often goes well beyond an intimate photo or video. D'Amico adds that "in most cases even more personal information is provided, like phone number, date of birth, school, class schedule, or social security number." These revelations, when combined with explicit content, "expose [victims] to cyber harassment and cyber-stalking," as well as "in-person harassment at work or school." Some victims are even physically attacked.
In Pennsylvania, legislation was passed in July of 2014 to address this issue, making the distribution of imagery "with intent to harass, annoy or alarm a current or former sexual or intimate partner" illegal. By June of this year, 11 cases had been brought forth by prosecutors, including one that led to the conviction of a 32-year-old child rapist in Pittsburgh this August.
I spoke to Bob Catalde, the Erie County Clerk of Courts, to determine whether or not this legislation has been invoked in our area. It has. A case is currently slated for the November trial term involving sexually explicit videos and images made publicly available on a popular social media site. Without being too specific (since the case is still in progress), a local police officer was able to view and capture the content without a search warrant. A member of the alleged victim's family also claims to have received threatening calls from the defendant, an ex-boyfriend who warned that more incriminating content could be released as well.
Fortunately, Elisa D'Amico and her partners at the Pittsburgh-based law firm K&L Gates are providing victims with the resources they need to fight back. In 2014, she collaborated with David A. Bateman (a partner in K&L's Seattle office) to establish the Cyber Civil Rights Legal Project (CCRLP), which offers pro bono legal service to victims of non-consensual pornography.
On Oct. 1, D'Amico will discuss her work with CCRLP at Penn State Erie's Reed Auditorium at 7:30 p.m. I corresponded with D'Amico recently about what it's like to deal with such a delicate, troubling, and important subject as a lawyer. Our conversation has been edited for length and clarity.
Erie Reader: What legal resources are available to victims of revenge porn, and how does the Cyber Civil Rights Legal Project approach the majority of its cases?
Elisa D'Amico: Victims of revenge porn can seek legal recourse but the available remedies vary greatly depending on the facts, the circumstance, and the applicable laws. And then of course, it all depends — sometimes  — on connecting with someone in the right place at the right time.
Twenty-six states currently have laws in place that address revenge porn. Many of those statutes — such as the ones in Pennsylvania and Florida — permit victims to bring a civil cause of action for revenge porn, and some include statutory damages. A federal revenge porn law has been drafted and is expected to be introduced by Rep. Jackie Speier (D-Calif.) this fall.
Depending on the facts of the case, a victim may be able to seek redress by way of the criminal legal system, or the civil legal system, or both. Victims can report incidents of revenge porn or other online harassment to their local police stations. Sometimes victims prefer speaking to a detective working in the cyber-crimes or sex crimes units. An investigation by law enforcement may lead to an arrest and prosecution. Victims can also seek protective orders if they feel unsafe and fear physical harm.
When a law enforcement officer or civil attorney analyzes a particular matter, many factors affect what is done. For example, one important inquiry is whether the victim knows the identity of the perpetrator. Many victims are certain they know the identity of the perpetrator because the material at issue was shared only with one person. Others know who the perpetrator is because he (or she) threatened the victim with the posting of the intimate material and then carried out the threat. In other cases, the victim has no idea how the explicit material got into the hands of a third party and thus the perpetrator's identity is a mystery.
Civil attorneys [like the CCLRP's lawyers] can help victims seek legal redress. The overall purpose of seeking civil redress is to compensate the victim for damages incurred as a consequence of the perpetrator's harassment. The particular course of action depends again on the facts of the case.
ER: Since revenge porn often involves intimate subject matter, romantic relationships, and extreme violations of privacy, how do you work to create a safe space for your clients?
ED: In terms of cybersecurity and confidentiality, all matters handled by the CCRLP are kept confidential within the project. The CCRLP encourages victims to visit the project's website (cyberrightsproject.com) and to submit their information and inquiry by way of an online form. The CCRLP's Intake Team is dedicated to evaluating inquiries and determining whether the project can help and if so, how. All attorneys who work on the project are trained on how to handle these cases, and also on how to manage the sensitive information. The CCRLP keeps all electronic data on secure servers.
I spent some time as a suicide-hotline counselor, so I understand how victims of this heinous crime need to feel secure and safe before they can even begin to start discussing the incident(s). A delicate balance between counseling and lawyering must be reached because victims require an attorney that can dedicate enough time and care, but attorneys must be pragmatic and inevitably ask very matter-of-fact questions. These cases involve the consideration and analysis of photographs and videos that victims never wanted any third party (outside of the original intended recipient if there was one) to see. Victims who have recently been violated and exploited are, in some sense, forced to expose themselves again. I take extreme care to be sensitive to my clients' and potential clients' needs.
When I first speak to victims, I try to understand whether they are the type of victim still dealing with fresh, raw wounds, or if they have been able to process what has happened to them (in some sense this is similar to the grieving process), and organize their thoughts and goals. The former type of victim very frequently reaches out to the CCRLP for help but then never follows up to our response; I believe these victims want help but the response from an actual human who is asking them questions about their specific circumstances makes it too real, so they flee. The latter type of victim is often someone who has compartmentalized the pain and anguish and is conversing with me or one of my colleagues in a methodical, logical manner; these victims usually have no problem sharing their intimate material with us because they have already accepted the fact that in order for attorneys to help, that is something they need to do.
ER: I've heard that copyright law can be useful in addressing these issues. Is that true?
ED: Most victims have one main goal: remove the sexually explicit images from the Internet. Civil attorneys often refer to this action as a "takedown." Typically, a takedown is done by sending a notice, pursuant to the Digital Millennium Copyright Act (DMCA), where the website where the offending material resides. Among other things, the sender must attest that he or she is the copyright holder of the subject material in order to send a valid notice.
Whether a victim is the copyright holder is usually an easy question to answer because the proper inquiry is whether the victim was the photographer or videographer. If so, the victim is the copyright holder. If someone else took the photograph or video, the victim is not the copyright holder. In the latter situation, the victim cannot send a proper DMCA notice without first obtaining the copyright from the copyright holder.
In some situations where takedowns are either not needed or already commenced or completed, and where victims do not know the identity of the perpetrator, civil attorneys can file lawsuits to try and uncover the identity of the perpetrator.
In cases where a lawsuit successfully unmasks a perpetrator or where the identity of the perpetrator was known all along, civil attorneys often can file lawsuits in state or federal civil court seeking to recover damages. Victims can allege various causes of action, such as intentional infliction of emotional distress, invasion of privacy, public disclosure of private facts, and identity theft.
ER: Can you highlight a recent achievement by the CCRLP?
ED: In one particular case, the CCRLP worked with Canadian-based attorneys at Osler, Hoskin & Harcourt LLP to obtain forensic proof of an online posting of sexually explicit material. In that case, an unknown individual created an imposter profile on an online dating website and posted the victim's sexually explicit images along with the victim's name, address, telephone number, and other personal identifying information. The profile also contained defamatory language, depicting the victim as a drug dealer who liked to host and attend sex parties. Osler helped the CCRLP obtain an order from a Canadian court, directing the website to produce account information about the individual who created the imposter profile. Ultimately, the CCRLP was able to uncover the identity of the perpetrator, who was subsequently pursued by local law enforcement and arrested.
ER: If a victim of revenge porn is reading our article, what resources can she (or he) turn to for help?
ED: There are many resources for revenge porn victims who are seeking immediate help:
Cyber Civil Rights Legal Project - cyberrightsproject.com
End Revenge Porn - endrevengeporn.com
Cyber Civil Rights Initiative - cybercivilrights.org [and its 24-hour crisis helpline – 844-878-CCRI]
Women Against Revenge Porn (WARP) - womenagainstrevengeporn.com
Internet Crimes Against Children (ICAC) - icactaskforce.org/Pages/TaskForceContactInfo.aspx
CopyByte - copybyte.com/stop-revenge-pornography/
Elisa D'Amico's lecture, "Revenge Porn and Online Identity" will take place on October 1 at 7:30pm at Penn State Erie's Reed Auditorium. The event is free and open to the public.
Dan Schank can be contacted at dschank@eriereader.com.