Find Weekend Fun When You Discover Presque Isle
Discover Presque Isle attracts more than 100,000 park visitors on its 25th anniversary.
Friday, July 29
People discovered Presque Isle's loveliness long before the 1990s, but it was only 25 years ago that Erie's natural beauty was first celebrated with Discover Presque Isle (DPI). Since then, it's become a beloved three-day celebration that attracts more than 100,000 park visitors.
Discover Presque Isle has become a beloved three-day celebration that attracts more than 100,000 park visitors.
The annual weekend festivities wouldn't be complete without the sand sculpting, kite flying, and canoe building; but the primary purpose is to create awareness about the park's ecosystem and recreational opportunities and to teach the importance of preserving the environment. More than 130 vendors also partake in the celebration.
"It's a great family-geared event," Presque Isle Partnership Executive Director Jon DeMarco said. "There's definitely something for everyone."
For the first time, this year's DPI weekend will absorb the annual Hidden Treasures of Presque Isle. While this was previously a separate weekend celebration, DeMarco expressed his excitement about the change, saying that visitors can "discover" even more about the park through additional events.
These include a hands-on demonstration of the iNaturalist app at the Tom Ridge Environmental Center (TREC), a presentation about Pennsylvania bats at the Stull Interpretive Center, a lesson about objects in the summer sky at Beach 6, and more. For a complete list of events, visitors can look for the circular "Hidden Treasures of Presque Isle" logo on the schedule.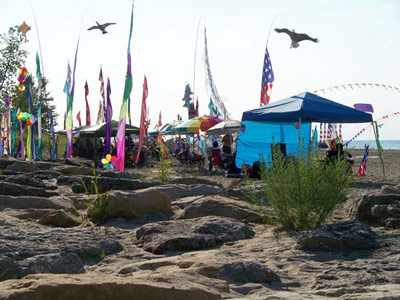 This is also the first year that electricity will be provided by solar power. A sponsor covered the cost of hiring Zero Fossil, a Pittsburgh-based company that provides clean energy.  DeMarco says this educational initiative will show people that there are alternative sources to fossil fuels.
While most of the attractions are free, this is the Presque Isle Partnership's largest annual fundraiser. At every event and throughout the park, visitors can find volunteers selling frog buttons. Visitors can purchase one for $3 or two for $5. Every button purchased will support the park, and as a thank you, the purchaser's name is entered in a drawing. In honor of its 25th anniversary, the Presque Isle Partnership is giving away 25 recreational prizes, such as kayaks, bikes, and fishing gear.
Like 25 years ago, DPI still relies heavily on volunteers. DeMarco said that the volunteers make the event a success, as they "come together to support the park."
DeMarco encourages people to attend Discover Presque Isle for the entire weekend, but he also asks that visitors help to preserve the park by packing out whatever trash that they bring in. – Tracy Geibel
Friday, July 29 through Sunday, July 31 // Presque Isle State Park // discoverpi.com