Fitness Across a Generation
A family tradition to emulate.
January 6, 2016 at 3:30 PM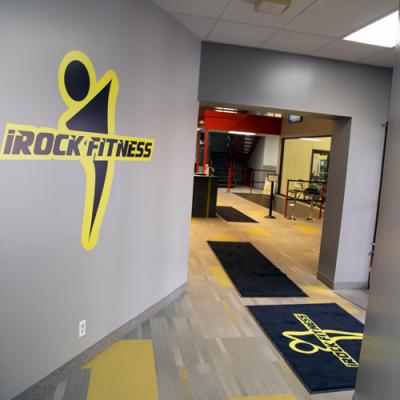 It was a salt 'n vinegar kind of day as I stood in the Wegmans produce department, dreaming of the bags of salty sourness just a few aisles away. Attempting to equate the image of the blue and white chip bag with the one of my ever-widening thighs, I selected a mildly firm avocado one day from full ripeness. I looked up to see a 50-something woman with the body of a 20-something fitness instructor in black stretch pants and jacket, cart overflowing with all things leafy and green. It was Carol Taylor, a woman who greatly influenced my training in the health and fitness industry, arriving just in time to save me from my great chip pursuit.
We talked about Carol's sons, Anthony and Matt Pribonic, their purchase and transformation of the old Nautilus building into Fitness U, and their iRock group personal training business that had, after a few short years, proven its viability and worth in the fitness industry. It was about 20 years ago when I first worked for Carol at the Nautilus Fitness and Racquet Club.
"Stop by," Carol said, in reference to the renovated Fitness U building and new iRock home. "We changed everything."
How much can a 60,000 square foot, sprawling amalgamation of concrete blocks change? In mid-December, I parked my car in the north lot at 2312 West 15th Street and entered the Fitness U building via the old racquetball doors to discover for myself how far two men, a vision, and a commitment to fitness can go in just over five years. As a non-nostalgic person, I did not expect contemporary grey walls and gutted racquetball courts to affect me, but only the concrete building frame and the solid glass front remained of the courts where I had once spent hundreds of hours practicing kill shots.
Carol, who watched my reactions as I visually absorbed the transformation, pointed to the glass wall and said, "This room is for the Junior Fitness program Anthony plans to grow in 2016. It's really just starting now." 
A worthy conversion, indeed.
According to the Erie County Department of Health's 2015 Community Health Needs Assessment, the number of overweight K-12 students in Erie County during the 2012-2013 school year stood at 36 percent, representing fully double the percentage of overweight students in 2011-2012. In his article "Obesity in Children" on Medscape.com, Steven M. Schwarz, M.D., professor of pediatrics at the State University of New York Downstate Medical Center, writes that nearly one in four children under 19 in the U.S. is overweight, placing Erie youth well above the national average. The reasons for these statistics are multifactorial, including such measures as environment, lifestyle, and genetics, with more than 90 percent of cases attributed to modifiable habits.
In other words, Junior Fitness programs such as Anthony's could directly impact the level of wellness among local youth and help to reverse the rising statistical trend.
Carol showed me the iRock group fitness room for adults and the room reserved for individual personal training. All three rooms contained similar workout equipment: exercise balls, stationary bikes, kettle ball hand weights, and some type of black and yellow straps hanging from a bar suspended about nine feet in the air. We then returned to the lobby area where Anthony and Matt sat waiting.
A tall, attractive man with a deep voice and neatly-cut brown hair, Anthony – a Reader 40 Under 40 honoree – quickly dispels any potential intimidation factor with his sincere commitment to improving the wellness of his members. "Our goal with these classes is to provide a really cool work-out," he said. "We like it when people come in from work, are really tired, and leave happy."
The brothers attribute their health and fitness-oriented practices to their mother's influence while growing up.
"When I was a teenager, I didn't feel good," Carol said. "I thought it might be a lifestyle thing. This happened during the running craze of the 90's and I started to run and started getting into health food, but I wanted to learn more. So I moved to south Florida for the lifestyle and that's where I really got into fitness and running and eating healthy, and when I moved back to Erie, I kept that going. When the boys were little, I just kept exposing them to that kind of lifestyle and I think they liked it."
Matt said, "Fitness was how my mom was known, and in school, we were the active kids. We were the ones who would never sit down, but we were just modeling ourselves after what we saw at home, which was activity."
The National Institutes of Health (NIH) support the boys' beliefs that their mother's healthy habits impacted their own wellness states. Studies have shown that overweight preschoolers are more likely to stay that way during every stage of development, making early health and fitness interventions important. According to NIH studies, kids are likely to imitate their parents' actions. When parents get involved in their children's activity levels, children are not only more likely to lose weight but also are more likely to keep the weight off.
"Mom always encouraged us to be active," Matt continued. "She never said 'Settle down,' or 'Don't run around the house,' or 'Don't get dirty.' It was always, 'Do it. Do it now, run around, wear yourself out, go crazy.' It was awesome."
Growing up in an active household may have, to Anthony and Matt, felt like a natural starting point to owning a gym relying on an untested, unproven, dramatically new form of group personal training, but the transition did not seem so natural to Carol.
"It was during the recession, and Anthony called and said, 'I'm switching my major from pre-med to business, quitting baseball, and opening a gym,'" Carol said, rolling her eyes and laughing at the absurdity of the phone conversation. "I was just getting out of the fitness industry and he was going into it. With the recession, I thought there was no future in fitness."
"My dream was to run a gym and have my chiropractor office be part of my club," Anthony explained. "But in 2009, when I was a junior at Gannon, my mom got me a job running the Family First Fitness Center."
With no budget for equipment, Anthony tried for weeks to improve programming and personal training services. Eventually, he called his brother, Matt, a personal trainer in Fort Lauderdale, and asked him to return home to help build a better club.
"We used medicine balls and big tires for personal training," Anthony said. "But we started to see a bigger need for group fitness. Everyone who signed up for the gym up there kept asking about group classes."
About that same time, Anthony came across the TRX Suspension Trainer: straps invented by an ex-Navy SEAL intended for full-body workouts. These were the black and yellow straps I had seen hanging in each iRock fitness room.
After purchasing one to use with a personal training client, Anthony came up with the idea to use the straps for group fitness classes. Matt, who possesses the larger, more muscular physique of the two brothers, did not believe a piece of material resembling a Jeep tow-strap could impact a workout significantly enough to become the focus of group personal training.
 "I put him through a fifteen minute work-out," Anthony said. "A very basic work-out. And I just buried him. Then Matt said, 'Let's do it.'"
"Anthony's the visionary, Matt's the guy who goes out and makes it happen," Carol said. "Anthony and I kind of sit in back and plan, while Matt's up front talking to people and getting everything going."
In the adult group training room behind us, music started for the next iRock class. It was loud. Very loud. It was the thump-thump-thump our parents always told us to turn down as kids.
Matt called Neal Devlin, a local attorney and iRock member, over to the table. Devlin said his membership began with a Father's Day gift card from his wife and grew into memberships for his sons, also.
"It's just a really fun atmosphere that we all look forward to coming to," Devlin said. "For one hour a day, we get to turn off everything else and do it. Now I bring my two older boys to the youth fitness class and they love it. For my middle son, who is not as into sports, the classes provide a really good fitness outlet for him."
In their "Fit in 50 Years" study published in BMC Public Health, Simone Dohle and Brian Wansink showed that kids who exercise regularly during their youth are more likely to stay fit throughout adulthood.
Leyla Dombrowski, a 2015 Mercyhurst University graduate and member of the Mercyhurst women's national runner-up rowing team, participates in iRock classes because she wanted to do something that made her feel as good as she did when she rowed. For Dombrowski, joining a gym was an important way for her to continue being an athlete in a different way.
"It makes me so happy to feel fit," Dombrowski said, pausing at the table on her way into class. "It gives me more confidence than anything else. To be able to come to the gym before work, I'm already in a good mood. My managers at work always ask me if I'm tired when I get there, but I say, 'No, I'm more awake than I would be if I didn't work out.'"
As the music thumped behind us, Matt and Anthony Pribonic left for appointments while Devlin and Dombrowski ran into class. Carol and I talked about the path that led her and her boys to this point.
"I thought I had burned out in the fitness industry just as Anthony and Matt started into it. Now, they're doing their visionary and marketing things, they're both fit and happy, and I get to see my boys and my granddaughter every day," Carol said, referring to Anthony's 6-month-old daughter who visits the club's daycare daily.
Anthony and Matt Pribonic created change within the fitness world with a vision derived from watching their mother's commitment to wellness over the decades. They witnessed something that made sense and they emulated it.
If history continues to repeat itself in this family, as studies have shown that it will, then there's a good chance Carol's granddaughter will visit her daddy's club for many years to come. Perhaps Devlin's kids' kids will follow the family fitness tradition in sports or gym activities. The Pribonic boys will become the norm rather than the exception and the next ECDH Community Health Needs Assessment will show an upward trend in local youth fitness.
Maybe all that will happen, but it won't happen by doing nothing. Anthony and Matt created change within the fitness world with a vision derived from watching their mother's commitment to wellness over the decades. They witnessed something that made sense and they emulated it. 
Now it's time for others to do the same. Let's reverse the epidemic of unhealthy weight. Let's make Erie the wellness example to follow, not the one to avoid.
Ti Sumner can be contacted at tSumner@ErieReader.com.