Food Review: Bricks American Steakhouse
A fully fleshed dining experience
August 23, 2023 at 7:45 AM
Erie continues to surprise me — amidst the construction, noise, and life of State Street is a hidden gem in the truest sense. A new restaurant, Bricks, is making magic in the Gem City. Housed in a building that transcends time, I had an unforgettable meal and one of the best dining experiences I've had in this town. Bricks American Steakhouse at the Cashiers House combines exciting new flavors with classics in a peaceful, comfortable atmosphere.
After walking past and noticing the sign, I suggested to my wife that we celebrate our 10-year anniversary somewhere new. We made our reservations and when we arrived at the Cashiers House, we met chef and co-owner Justin Stull who welcomed us in. We got our first glimpse of a menu that included dry-aged ribeye, tomahawk pork chops, and a risotto that was more than promising.
Bricks is the brainchild of Stull and Chris Adams — two friends who have spent the past 15 years honing their craft and growing their relationship. Both previously working at Edinboro University, the two went on to open stalls in the Flagship City Food Hall (both North Row Philly and Straw Hat Ice Cream Shop) where their culinary talents were immediately recognized. After their success, they were offered the opportunity to live out their vision and create a restaurant inside the historic Cashiers House. In only a few short months they had turned the blank canvas of one of Erie's most recognizable buildings into Erie's best new restaurant.
The first thing guests to Bricks notice is the building. The Cashiers House is one of the oldest buildings in Erie, dating back to 1839 and built before State Street had its current name. It was constructed, as the name implies, to house the cashier of Erie's first bank. Today it houses something wholly new while shining as a testament to historic preservation, dripping with the kind of detail and character that can only be found in historic buildings.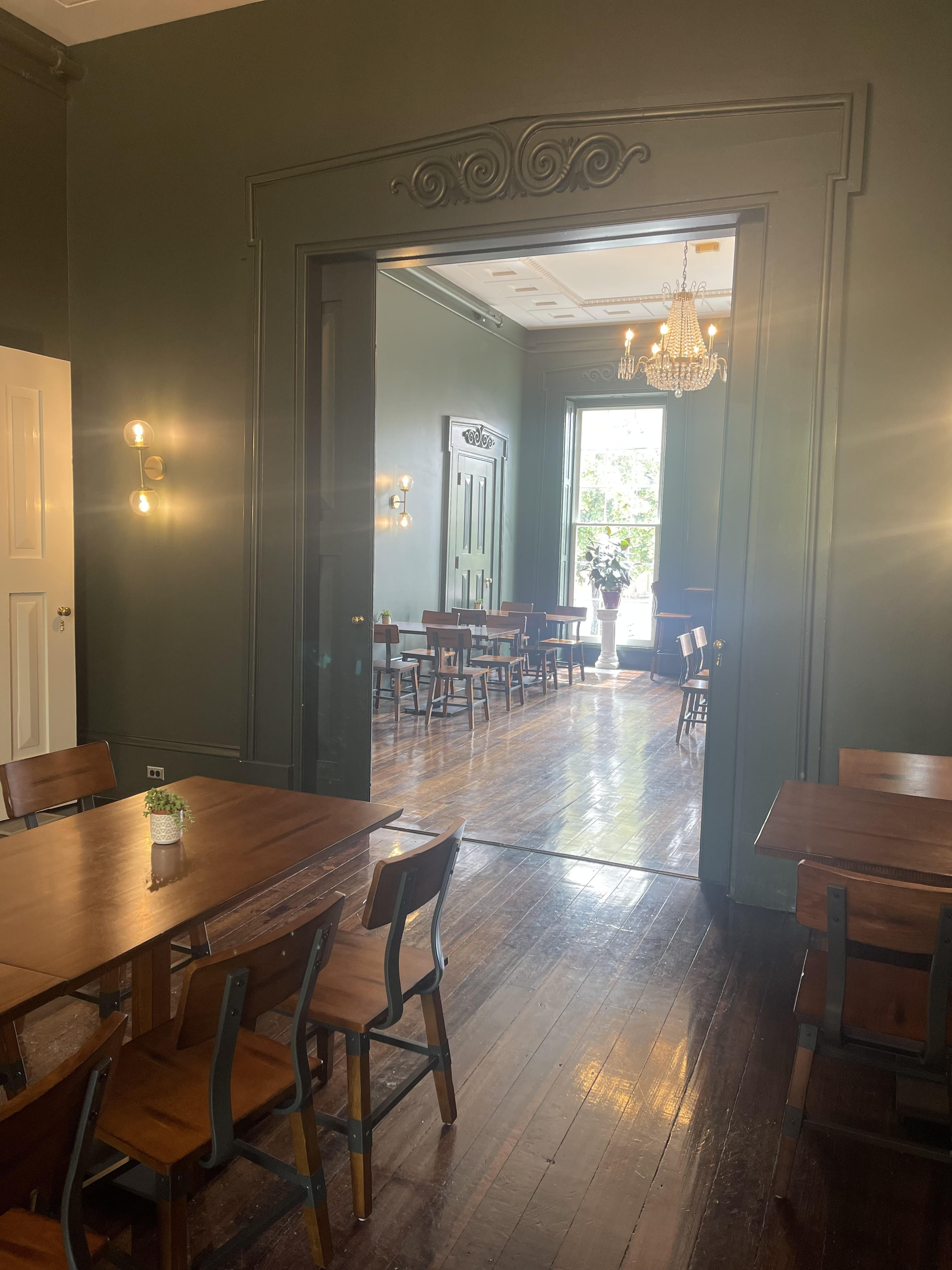 The dining room at Bricks American Steakhouse evokes the building's history: the 1839 Cashier's House on State Street.
After being escorted to our table it was impossible not to be impressed and comforted by the building itself. The dark green dining room with a marble fireplace, 16-foot-tall ceilings, 10-foot-tall wavy glass windows, and three-foot baseboards setting off the shining hardwood floors and tasteful period furniture. The walls are decorated with artwork provided in collaboration with Glass Growers Gallery, which evokes a sense of natural beauty and shifts with the seasons.
The dining room is captivating, and we certainly chose the right time of day — as the golden hour sun streamed through the windows, it shifted and danced around the dining room. Light jazz was playing and as I was taking in the charm of this historic building, we were greeted by our server, Shay. Enough good things cannot be said about Shay who was delightful, accommodating, and answered every question I had about the bar selections and dry-aged beef. Shay brought me their signature "Money Vault Mojito" that featured local spirits provided in an exclusive partnership with Altered State Distillery — a drink that was, by all accounts, excellent.
I skipped the appetizer while my wife opted for French onion soup. A deceptive dish, I have never had a French onion soup where the bread did not dissolve into a soggy mess within minutes into the meal. Somehow, the chefs at Bricks had achieved what I thought was unachievable — perfectly crispy bread, toasted cheese, and fresh microgreens. For dinner she ordered a filet mignon which was "the most tender steak" she'd ever had, paired with a decadent caramelized onion risotto.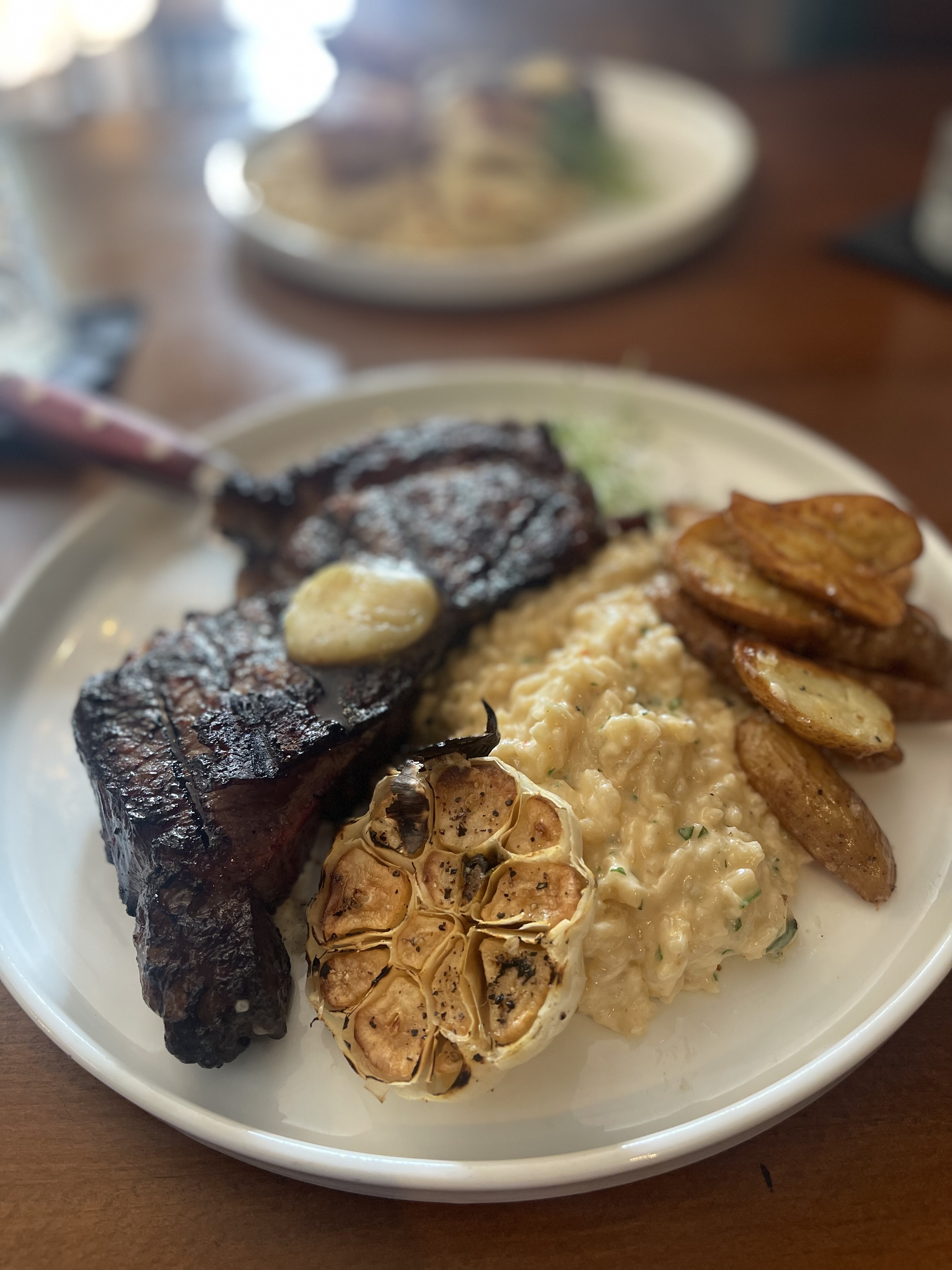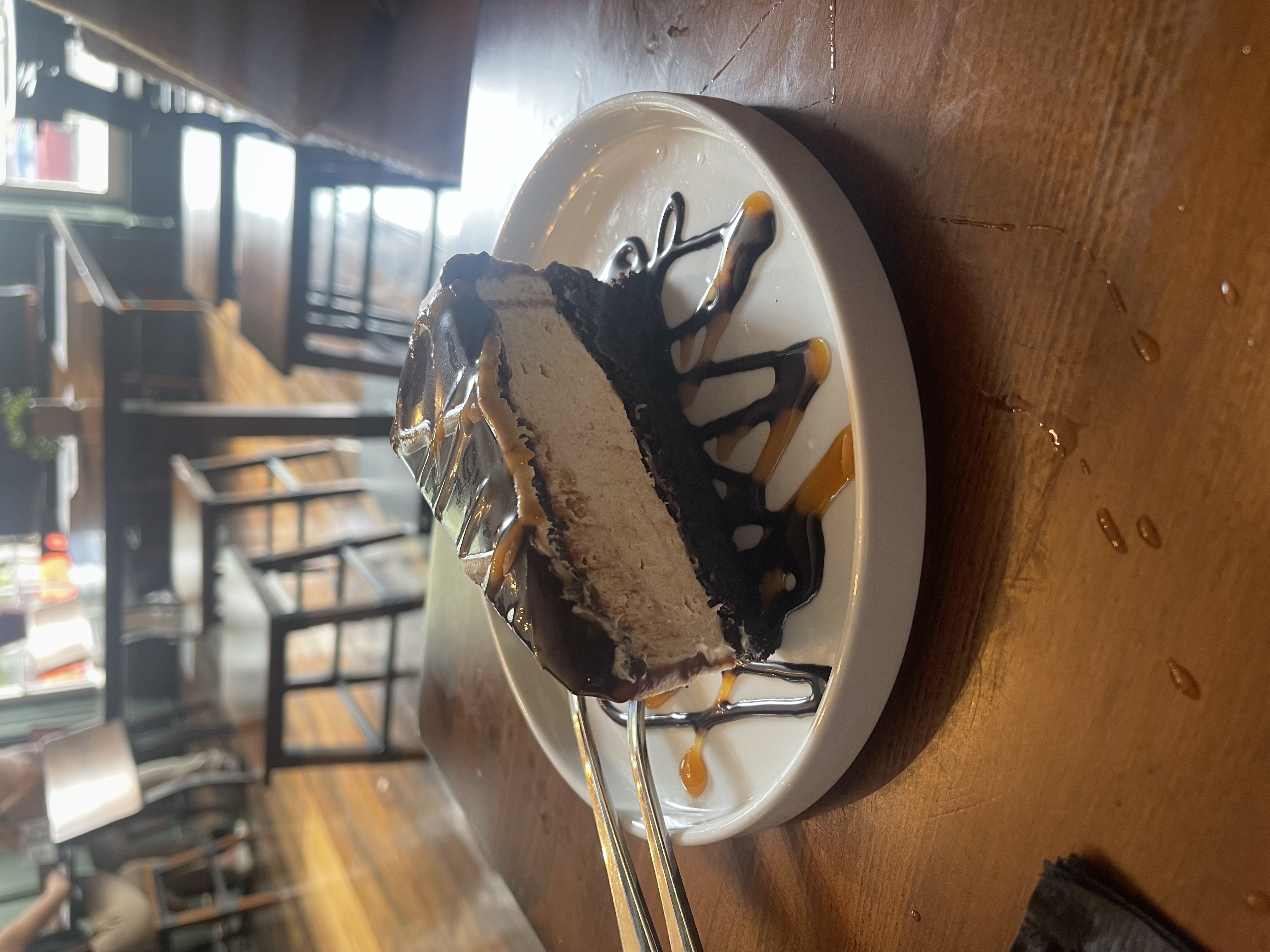 I ordered a dry-aged ribeye, and I must admit I was a skeptic. At its core, the process of dry-aging meat is exactly what it sounds like: aging meat for a lengthy period usually in a refrigerated environment. According to Justin, my steak had aged over 40 days and most of the dry-aged steaks served at Bricks are aged 35 days or more. The flavor imparted to the meat through this process was unlike anything I have experienced before. The aroma from the flavorful crust was garlic and campfire smoke. It was tender and cooked to a perfect medium. The flavor was at once salty and buttery with just the smallest hint of nuttiness and a gamey quality that created a singular experience. I was so taken by my meal that I had to order a second drink, a whisky sour, that had just the right amount of acid to balance out my meal.
I'm normally not one for dessert, but after the meal, the service, and the atmosphere, it was only fitting that we shared a slice of peanut butter pie. Another locally sourced element, the pie was made fresh, right across the street at the Erie favorite Ye Olde Sweet Shoppe. Justin and Chris tell me they have plans to feature new desserts from the Sweet Shoppe and I look forward to the pairing.
In fact, as of this summer, Bricks has unveiled a host of new dishes in their seasonal menu. Their offerings now include delightful summer choices such as the Honey Nectarine Salad, a refreshing blend of sweet nectarines and crisp greens drizzled with honey, a true celebration of the season's flavors. For carnivores, a tomahawk pork chop makes for a unique dining opportunity. Of course, the heart of Bricks will always remain in their signature steaks.
There is magic in a good meal and Bricks sells magic, but this type of an experience isn't found — it's earned. It's earned through the tireless work of two friends who have poured everything into creating a unique experience in Erie. The duo's passion is on full display, as is their goal: to provide their guests with the best dining experience Erie has to offer. For my money, they have achieved that goal.
Bricks American Steakhouse is more than a restaurant; it is a testament to Erie's history and its changing present. It invites visitors into its beautiful historic surroundings while showcasing new and innovative takes on old favorites.
Bricks American Steakhouse // 417 State St. // (814) 464-0175
Spencer Cadden is a full-time bureaucrat, father, and perennial student. He can be reached at spencer@caddenclassic.com