For the <3 of PA Art
Whether you?re running in time with your iPod, dancing in the front row of an 8 Great Tuesdays concert, or cruising home from work and cranking a well-worn CD, your favorite music moves you.
August 8, 2012 at 7:30 AM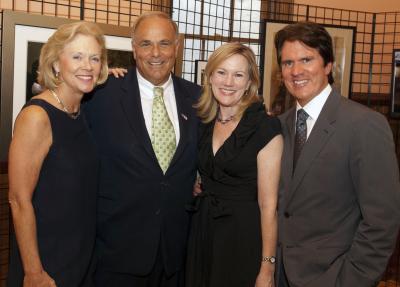 "If music be the food of love," Shakespeare once wrote, "Play on."
Whether you're running in time with your iPod, dancing in the front row of an 8 Great Tuesdays concert, or cruising home from work and cranking a well-worn CD, your favorite music moves you. Whether it's emotionally ("I just dance at weddings… and only if there's an open bar…") or you fearlessly get your groove on at the first chance you get – there's no denying its impact on the rhythms of our own lives.
And Rob Marshall – acclaimed choreographer-turned-director of films like "Chicago" and "Memoirs of a Geisha" and Distinguished Arts Award winner in 2007 – knows a thing or two about movement.
Growing up in Pittsburgh's Squirrel Hill neighborhood, Marshall entered Carnegie Mellon University's school of drama and graduated in 1982. Marshall participated in local theater companies starting at age 12, and even took time away from college to join a nationwide performing tour company of "A Chorus Line."
He took off for New York City after earning his degree and worked his way up the Broadway ranks – behind the scenes first, then dance captain, and all the way up to head choreographer of shows including the Broadway revival of "Damn Yankees" and director of shows including the Los Angeles stage revival of legendary choreographer/director Bob Fosse's musical "Chicago" before it moved across the U.S. to New York in 1996. Marshall choreographed two well-received made-for-TV musicals in the 1990s – "Cinderella" in 1997 and "Annie" in 1999 (which he also directed), which served as a springboard for his film directing career.
Perhaps Marshall's background as a dancer and choreographer is what makes him such a sharp, well-cadenced director. Imagine, if you've seen it, the intensity of "The Cell Block Tango" in Marshall's film adaptation of the razzle-dazzling stage smash "Chicago," which he both directed and choreographed.
The scene starts with a shivering Roxie Hart (played by Renée Zellweger) – in jail for murder in the 1920s – wrapped in a scratchy, dismal, prison-issued blanket. Water drips from a dismal-looking faucet. The warden's footsteps clang rhythmically on the steel grates overhead. Roxie's imagination veers into full-throttle action and suddenly the prison is transformed into a cabaret-style nightclub, with spotlights that burn all the honesty from her and transform her into a ravenous starlet, craving the flash of the cameras.
The music just moved her that much.
No wonder "Chicago" won the Academy Award for best picture in 2003.
But Oh, arts-exploring Erieites, how are we to discover the music that moves us if we stick to the confines of our familiar iPod playlists like the threadbare strands of a childhood blanket? If we bury our heads in the familiar sonic sands of our go-to Pandora channels, our pre-programmed radio frequencies, our beloved classic LPs to which we know the timing of every crackle, hiss, and pop?
We challenge you, then, to get out and explore something musically new. Go on! Don't be shy. Goodness knows there's no excuse for a silent night in Erie in the summertime.
Snap a photo at a performance of a local band you haven't seen – at a bar, at 8 Great Tuesdays, the Erie Art Museum's music at noon… heck, even a travelin' guitarist on a streetcorner! – and post it by August 21 to the Governor's Arts Awards Facebook page or Instagram it with hashtag #erieart.
Photographers: Get ready to have your chance to win a prize package that includes an Erie Reader subscription ($50 value), 2012 20th Anniversary Erie Art Museum Blues & Jazz Festival T-shirt and limited edition festival poster signed by the artist, John Bavaro (priceless!), plus two tickets to both the hot-hot-hot Governor's Awards for the Arts at the Warner and Aftermath after-party at the Erie Art Museum on September 20 (again – who can put a price on such a thing? Not I.).
Local musicians: Get ready to get your rock star swagger on when the cameras come flashing for you.