The Governor's Arts Awards: PA's Most Distinguished Artists to Descend on Erie for the State's Biggest Arts Awards Ceremony
Erie?s no stranger to art festivals. Heck, the dust from Erie?s notorious Chalk Walk is still faintly visible on State Street, and strains of the Erie Art Museum?s Blues and Jazz Festival can still faintly be heard blowing through the wind. But the upcoming Pennsylvania Governor?s Awards for the Arts ? with a week of county-wide celebrations slated to begin on Sept. 16 ? is in a league all its own.
September 5, 2012 at 6:00 AM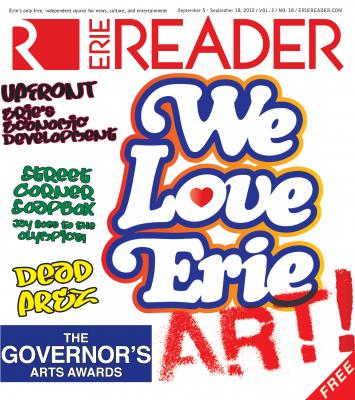 Erie's no stranger to art festivals. Heck, the dust from Erie's notorious Chalk Walk is still faintly visible on State Street, and strains of the Erie Art Museum's Blues and Jazz Festival can still faintly be heard blowing through the wind. But the upcoming Pennsylvania Governor's Awards for the Arts – with a week of county-wide celebrations slated to begin on Sept. 16 – is in a league all its own.
It's big. It's statewide. And it's the first time in the event's history that Erie has been the host city.
The annual Governor's Awards for the Arts was established in 1980 and serves as a statewide commemoration honoring outstanding individual Pennsylvanian artists, patrons of the arts, and arts organizations that contribute their artistic talents to their communities. Some of the 160 honorees from previous years have included big names like Patti LaBelle, Fred Rogers, and Rob Marshall.
Each year, the Pennsylvania Council on the Arts collaborates with a different host city to host the awards ceremony and an accompanying plethora of community art projects. The awards took a year off in 2011 for the first year of the Corbett administration, and in 2010, the awards were held in Philadelphia The framework of rotating the host city from year to year gives each Pennsylvania city a chance to show off its distinct artistic flair, said Philip Horn, executive director of Pennsylvania Council of the Arts.
"We have this basic concept here – the governor is coming to town," Horn said. "And it's up to the home community to figure out, okay, how do we make this our own?"
While the event oscillated among more prominent Pennsylvania cities like Harrisburg and Philadelphia in its first years, Horn said the PCA made an intentional decision to give smaller cities the opportunity to host the awards, starting with Altoona in 2000.
They haven't looked back since.
"It was amazing," Horn said of the response in Altoona. "It really enlivens the whole downtown for a day or a week. It makes people aware of what we've got here."
Past mid-sized GAA host cities, like Wilkes-Barre, Williamsport, York, and Reading, have closed off the streets for art festivals, held outdoor theater performances, and converted old parking garages into public art parks – all to build anticipation and excitement for the awards ceremony itself.
In Erie, high-spirited street fairs, jam-packed outdoor concerts, and flamboyant fish and frog statues are all established and well-loved projects that have contributed to the city's cultural landscape. What, then, could Erie do as a host city that would be fresh and different?
Show off what we do best – and take it to the next level.
The Impact
Horn noted that for Erie's size, it has a significant number of arts and cultural institutions – the Erie Playhouse, Erie Philharmonic, Erie Art Museum, Lake Erie Ballet, and Dafmark Dance – typically found only in larger cities. He's seen the Governor's Awards for the Arts breathe life into arts organizations in other host cities and establish a spirit of collaboration that extends after the awards leave town. Erie, he explained, will likely feel the same effect.
"There's been a lot of work to revitalize Erie's downtown, and the arts are a big part of that," Horn said. "And this is another chance to connect the dots – to connect the organizations in a significant and intentional way."
Barbara Chaffee, president and CEO of the Erie Regional Chamber and Growth Partnership, said the GAA will draw visitors from all over the state, many of whom have likely never visited Erie before. Certainly, that fuels a short-term economic boost. But Chaffee noted that the long-term impact of the awards will be showcasing what Erie has to offer as a region that prioritizes the arts as a significant part of the community's culture.
"In smaller communities, what the GAA has done has raised the level of collaboration among artists and arts organizations," she said. "It focuses on the arts being a critical component of our quality of life – and it never hurts to have state-wide attention brought to our region."
The Winners
This year, the GAA will honor six Pennsylvanians with five different awards.
You've likely seen Peter Bohlin's work – he was the driving force behind the iconic design of the Apple store, which has expanded to include 377 stores in 13 countries. The Apple store features a 32-foot-tall, transparent glass cube – equally stalwart and delicate, almost like an ice sculpture – which customers enter and descend to the underground retail space by way of a round glass elevator or glass staircase.
Bohlin will accept the Distinguished Arts Award, which recognizes a Pennsylvania artist of international fame, leadership or renown whose creations or contributions enrich the state. Bohlin's firm, Bohlin Cywinski Jackson, was founded in 1965 and has expanded to include offices in Wilkes-Barre, Pittsburgh, Philadelphia, Seattle, and San Francisco.
"A lot of people don't know architects," Horn said, "so they might not know that this guy is a rock star."
In a 2010 interview with the Philadelphia Inquirer, Bohlin said he believes a well-designed building will enable people to discover things about themselves, and that architecture "creates a kind of choreography."
Bohlin's Apple store in New York City is so remarkable that a 2010 Cornell University study of 35 million Flickr photos deemed it the fifth most popular thing to photograph in New York – ahead of even the Statue of Liberty – and the 28th most photographed landmark in the world.
Bohlin, a Fellow of the American Institute of Architects, also designed the Pixar Animation Studios and Headquarters in Emeryville, Calif., the Liberty Bell Center in Philadelphia, and Bill Gates' home in Washington state.
As for Jane Golden, executive director of the Mural Arts Program of the City of Philadelphia, she doesn't design buildings – she transforms them.
Golden will accept the Arts Innovation Award on behalf of her organization, which began in the 1980s as a public agency to fix Philly's graffiti problem. The Mural Arts Program expanded and is now the largest public art program in the nation, inspiring more than 3,000 murals of all mediums – paintings, mosaics, and even stained glass – from center city to the farthest Philadelphia borders.
The Mural Arts Program motivates and educates more than 1,500 young people every year as they collaborate to use public art as a vehicle for positive change in their neighborhoods. In 2011, the group of high-school seniors enrolled in the Mural Corps education program had a 100-percent graduation rate.
Golden, who said she "jumped for joy" when she received the phone call notifying her of her award, said the driving force behind her work is to break open the untapped talents and unreached potential of young people.
"This is a really important validation and acknowledgement of our work," she said. "We're really on a mission… we wake up every day and ask, how are we going to move the needle? How are we going to create change? The vehicle we use is art."
She sparked a movement, and now the City of Brotherly Love has more murals than any other city in the world. The murals have spurred an interest in art tourism in the area with "mural tours" being a top pastime for tourists visiting the area. And the locals dig them, too – Golden said that recent studies in Philly have shown that a neighborhood mural significantly increases property values and retail sales in the area.
"We wanted to create visible and tangible things that could show people that people care, things can change, and government can be effective," she said. "I feel that this is really exciting to see, and I don't want to lose momentum. I think it's important, every time you have success, to build on it."
The Artist of the Year award recipient, Erie native Susan Hale Kemenyffy, can be summed up in three words. Says Horn: "She's a force."
Kemenyffy's work has been exhibited and sold all over the world, but is especially prominent in Erie. She designed the 1800-square-foot butterfly wing work, "A Sense of Place," that sprawls across the theater lobby at the Tom Ridge Environmental Center. She is also behind the west garden rock wall in front of the Inner-City Neighborhood Art House, transforming a typical urban parking lot into a natural escape and providing an inspiring backdrop to the young artistic minds inside.
A former chairwoman of the Pennsylvania Council on the Arts, Kemenyffy's work bridges more than four decades and all types of media, including drawings, ceramics, textiles, and even gardens.
As if that wasn't a thick enough resume – the well-regarded Kemenyffy shares her gifts regularly through workshops, lectures, and essays. She's a powerhouse of knowledge, and has been featured at such esteemed events including The Potters' Council in 2008, The International Ceramic Studio in 2001, and the Renwick Gallery of the National Museum of American Art of the Smithsonian Institution in 1991. Her works have been exhibited and sold all over the world and can be found in many esteemed collections including The Carnegie Museum of Art, The Smithsonian Institution, and the International Ceramic Museum in Hungary.
In addition to her public installations at Erie's TREC and the Inner-City Neighborhood Art House, Kemenyffy has contributed pieces to don the halls of East High School, Harding Elementary, and the Trinity Center.
In their home, Governor's Arts Award winners Susan and Tom Hagen of Erie proudly display artwork made by children at the Inner-City Neighborhood Art House, which Susan Hagen said serves as a reminder of the important effect the arts have on underprivileged youth.
The Hagens will be presented with the Patron Award, which acknowledges the contributions of individuals and businesses who nourish the arts in their communities. The Hagens are generous individual donors, as well as pacesetters for corporate donations through their work at Erie Insurance, said they're honored to receive the award. Most of all, they are excited that Erie can showcase its thriving arts community to guests from all over the state.
"I think it's great," Susan Hagen said. "Erie doesn't get a chance to toot its own horn very often. Erie does a lot for the arts, and it's good for the rest of the state to know about us."
Tom Hagen said GAA guests will be wowed by the number of arts organizations in Erie, and also by their longevity. The Erie Playhouse, he noted, is one of the oldest community theaters in the nation established in 1916, and the Erie Philharmonic is on the cusp of celebrating its 100th season. He added that painter, instructor, and Erie native Joseph Plavcan is not only world-renowned for his own art, but the students he taught have scattered, taken root, and grown to achieve their own distinctions.
In short, this couple sincerely believes this city has it all, and they generously contribute to its continued artistic success.
"For our size of population base here, we really have a large group of artists," Tom Hagen said. "We've had a long, sustained arts community here."
As a family, the Hagens have generously contributed to establish the Hagen Family Gallery at the Erie Art Museum and are also patrons of such organizations including the Inner-City Neighborhood Art House, Young People's Chorus of Erie, as well as fund drives managed by the United Way, Arts Council of Erie, and the Erie Downtown Arts and Culture Coalition. Susan Hagen was honored in 2010 with the Distinguished Citizen of the Commonwealth Award from the Pennsylvania Society, as well as the Edward C. Doll award from the Erie Community Foundation in 2009.
In addition to individual giving, the Hagens have prioritized arts stewardship as part of the corporate culture of Erie Insurance, from patronage of local arts organizations to the integration of the corporate campus into the city's historically significant buildings.
"The arts contribute to the quality of the life of the area," Susan Hagen said. "When companies are recruiting people to come to the area and establish a residence here and come to the community – the arts is certainly attractive to those who might be coming in."
The Patron Award is a relatively new honor for the GAA; the category was established by Governor Tom Ridge in 1996. As president and CEO at the Erie Regional Chamber and Growth Partnership, Chaffee can speak to the fact that businesses' contributions are equally important to recognize in the ceremony. Investment in the arts, she said, enriches a community's quality of life as well as its economic stability, and those corporate leaders should be applauded for their efforts.
"They realize the importance of the arts to their employees – attracting people to work in the region," Chaffee said. "And they often don't get enough attention."
Pennsylvania impressionism, a style of art that prioritizes outdoor scenes and radiant quality of light, might not get much attention, either – but thanks to Bruce Katsiff, more people are able to enjoy this colorful, lyrical style that showcases the beauty of rural Pennsylvania.
Katsiff, who aided in the transformation of a former county jail to the 63,000-square-foot James A. Michener Art Museum in Doylestown, Pa., will accept The Arts Leadership and Service Award. As director and CEO of the museum, Katsiff grew its collection to more than 2,500 works and established it as the leading location for Pennsylvania impressionism works. Katsiff also served as the chair of the Bucks County Community College art and music department.
As a young man, Katsiff took an early interest in photography, working at his high school student newspaper as a photographer. He held his first exhibit at age 17 in a local coffee house. He initially went to The Pennsylvania State University and enrolled in the pre-law program to please his parents, but shortly withdrew from the program to study photography at the Rochester Institute of Technology, the Pratt Institute, and Oxford University.
Katsiff's leadership expanded the museum's impact to draw 120,000 visitors per year to the museum's 15 rotating exhibits per year. The historic building now encompasses exhibition space as well as community gathering spaces for education, conferences, and collection storage spaces.
The Celebrations
For Susan Black, chairwoman of the GAA's "Art in Everyday Life" committee and owner/instructor of Art of Yoga, the awards not only serve as an opportunity to honor outstanding artists from across the state, but also spark Erieites' interest in art and make that art accessible at a local level. The goal of the "Art in Everyday Life" events is to move art from gallery walls and symphony halls and redistribute it to the streets, inspiring a city-wide conversation.
Black saw that conversation begin to happen when the GoFish! and LeapFrog public art projects came to town in 2001 and 2004, respectively. She saw people smiling and talking to each other in the street, and she hopes to extend that sense of community through the GAA's "Art in Everyday Life" kick-off events from 2 to 6 p.m. on Sept. 16.
Instead of having one street festival, as other cities have done for their GAA community celebrations, Erie will host six different celebrations at six different venues to disperse art all throughout the county and encourage all "everyday artists" to share their enthusiasm for their style of art.
Goodell Gardens in Edinboro will feature live music, a farmer's market, a quilt show, art and food vendors, and kids' activities for their Annual Homegrown Harvest Festival. Chuck Joy will gather poets in Poetry Park. Judy Meyn and other hair, makeup, and henna artists will congregate among floral and gardening art in Frontier Park. Seth Tuttle and others will display "rolling art" and yoga for cyclists at Fuhrman's Cider Mill. Presque Isle will host drummers, sand-castle building, and beach art, and Harry Miller of La Bella Restaurant will lead interactive food demonstrations, table decorating, and centerpiece design.
"There is beauty and art and creativity all around us," Black said. "But you have to be able to see it."
Black likens the effect of interacting with a large-scale public art project to buying a brand-new yellow car. Once you have one, you automatically start noticing more yellow cars on the highway. The same goes for art – once you experience and interact with it, your mind adjusts itself to look for art everywhere, from the vibrant fluttering laundry hanging on a line to the complexity of a buddy's sweet and malty homebrew.
"When you see the art in your everyday life, your life gets so much more meaningful and rich," she said. "It's exponential."
The GAA and its accompanying community celebrations seem to spark a friendly sense of competition among Pennsylvania cities, Horn noted. The 2008 awards in Williamsport had a great crowd, which York topped when they hosted the following year.
The all-time attendance record is 1,400 people at the 2004 ceremony in Reading – but Horn, citing the magnificence of the Warner Theatre, said he wouldn't be surprised if Erie surpasses that number come Sept. 20.
"There's certainly plenty of room to draw a crowd," he said.
There's a great pride in having accomplished the hosting of the Governor's Awards for the Arts, Horn said. Once it comes to fruition, event planners from previous host cities will travel to the awards every year to see what the new host city did differently. With a laugh, Horn said it's almost like having "groupies."
"They've seen firsthand that a community turns itself inside out to make this into a very special event," he said. "It's a great group, it always is."
Black said she is enthusiastic to be a part of the host city's planning team, and aims to inspire Erie – and all of Pennsylvania – with the GAA's presence here.
"Once it's done, we believe we're setting the benchmark for the rest of the state," Black said. "We want them to look at us and say, 'We want to do it as well as Erie did it.'"