For the Fallen Dreams headlines BT show
Spacey reverb, moshing, and trouble at the door.
June 10, 2014 at 11:12 AM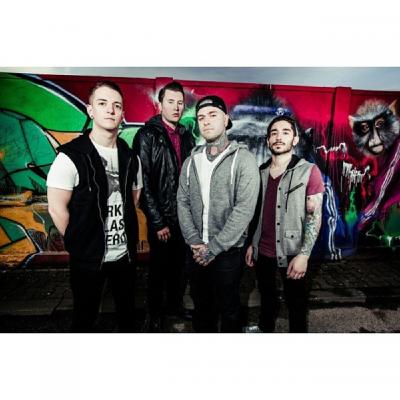 There were mixed emotions as local show-goers began their evening Friday May, 30 at Basement Transmissions.
Controversy unfolded when doors opened and a crowd waiting outside was informed that the show, which had been promoted as costing $14 was raised to $17 with no explanation ever provided from the show staff. The show was put on by Erie Entertainment, a local booking agency, who has been bringing touring pop-punk and metal bands to Erie since 2011.
Sylar, a band that sounded kind of like a contemporary metal equivalent of Limp Bizkit, started the night off with what was a pretty boring set. Their cheap choreography and otherwise lack of enthusiasm appropriately accompanied their lack of creativity.
Along with most of the audience, I was unmoved by the frontman's persistent attempts to encourage stronger crowd enthusiasm. Saying something along the lines of "Let's hear some f---ing noise, Erie!" between every song, his overall persona and stage presence began to become annoying. Any notable interest in this band was likely the result of a sense of obligation from having paid almost 20 bucks to be there. Not to mention their unnecessary guitar tech, who between every song obnoxiously shoved his way through the crowd to hand the band members a different guitar in the same tuning. Their set wasn't very long, so I sure was happy when it was finally over.
I, The Breather and Reflections both followed with performances that were hard to differentiate. The same band might as well have just played two sets, because both of them sounded exactly like all the other Like Moths To Flames wannabe bands that I've seen a hundred times over chugging out song after song of never-ending breakdowns. Crowd reaction did pick up a little bit at this point, though. The heavy riffs that persisted for the next hour seemed to be enough to finally open the pit up and give some kids an opportunity to let out their aggression, which I'm sure there was a lot of, as frustration pertaining to the change in admissions price remained the subject of most of the conversations I had with people throughout the night.
Next on the bill was Epitaph records' Obey the Brave. While this band was slightly more melodic than the others, it was the same chugging guitars and overused double bass pedal that had been playing all night. All of their songs had the same exact structure; heavy verses with lots of palm muting and screaming and basic four chord choruses that were slightly more melodic than the verses. The atmosphere in the room began to change, as more people were starting to mosh and the dancing began to get more aggressive.
For the Fallen Dreams, who is currently signed to Rise Records, was the final band of the night. The only thing that really set this band apart from the others was that they had a couple ambient guitar licks that gave the songs an added depth. A little bit of delay and reverb created a somewhat spacey tone that I found refreshing after a long night of overdriven breakdowns.
Kids went nuts for this band. A good portion of the crowd was forced into back of the venue to avoid getting hit as the dancing got more intense. I even saw one or two kids stage dive during the set, which I have only ever seen one other time at Basement Transmissions.
While I can't there was anything about the last band that set them apart from others of similar style, the energy they brought with their set seemed most appropriate to close out the evening.  
Although it was unfortunate to see a number of kids be turned down for not having the extra 3 bucks, I managed to have a lot of fun just hanging out. If I could suggest a couple things to the guys who run Erie Entertainment, however, faulty advertising for a show that is already over-priced should not expect to be welcomed with open arms. I understand that bringing touring acts can get pretty expensive, but I have been to shows that were a thousand times more fun and cost four-times less.
Perhaps it would be smart to try and incorporate more local acts into their events. Erie offers a great variety of underground bands that would help break up the monotony of a show like this one,   as most of the other shows I've been to at Basement Transmissions tend to flow much better than this one, and aren't nearly as tedious.  
Will Taylor can be contacted at wTaylor@ErieReader.com.