Fourth Annual Beer on the Bay
Calling all beer lovers. This event's for you.
July 22, 2011 at 12:00 AM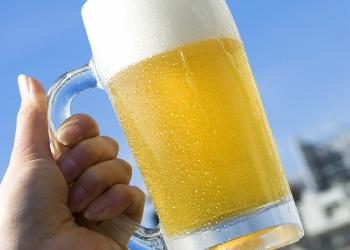 Attention beer snobs and other connoisseurs of the hops and barley, the 4th annual Beer on the Bay is a go for Saturday, July 23. Even if you are not an overachiever when it comes to beer selection, you can come to enlighten yourself since the event also caters to those looking to enlighten themselves to a higher class of drunken revelry.
This year the Burger King Amphitheater will host 25 craft brewers from around the region offering over 100 beers to sample.
Local participants include Erie Brewing Company, The Brewerie, and Lavery Brewing Company. The event will also feature the likes of Sam Adams, Magic Hat, Sierra Nevada, and Yuengling.
"We are glad to be a part of it. It is great exposure for not just local and regional brewers but for Erie itself," said Chris Sirianni, president and general manager of The Brewerie at Union Station. "I really believe this is an asset to the region."
Presented by Erie Brewing Company and the Erie Regional Chamber and Growth Partnership, Beer on the Bay revolves around the craft of brewing and the sampling of the elixirs produced but isn't just a staid line up of tables and sipping cups.
This year's event will feature more food vendors and a VIP tent. VIP status grants access to rare offerings from some of the featured brewers.
With the show at the amphitheater, the stage will be fully utilized. This year the acoustic trio Small Town Rollers and the rock stylings of Colonel Mustard will be on display, providing an eclectic mix of covers to help accentuate all of your senses.
Fine beers, food, and music are a delight unto themselves, but it is the location that makes Beer on the Bay a truly enticing event.
"I have been to events like this all over and there is not a better venue to be found," Sirianni said. "It is very unique. Lots of events like this are held in buildings or warehouses, or even parking lots, nothing like having it right on the water."
Brewing in the area is not relegated to a few choice companies and restaurants, there is an ever-growing population of home brewers around Erie and part of the purpose of the event is to help encourage those passions.
"If nothing else, it is a great event for the community. A great educational event," Sirianni stated. "There are lots of home brewers in the area all at different levels and this allows them to better understand their craft. From the experienced home brewer to the novice, to the curious, Beer on the Bay is a gateway to help answer any and all questions about home brewing."
The Brewerie will be offering their hard lemonade and kiwi wheat beer for the event, a calculated decision on Sirianni's part.
"It is a chance for people who think of craft beer as just dark and heavy beers to have their minds changed," he said. "We'd like to change people's perception of what a craft beer can be."
The 4th Annual Beer on the Bay will be held in two sessions on July 23. The first from noon to 3 p.m., the second from 4 p.m. to 7 p.m. Tickets are $30. $45 for VIP.