Franco shines in "127 Hours"
We hear there's this scene where James Franco cuts his arm off... Our writer saw something more...
February 11, 2011 at 6:39 PM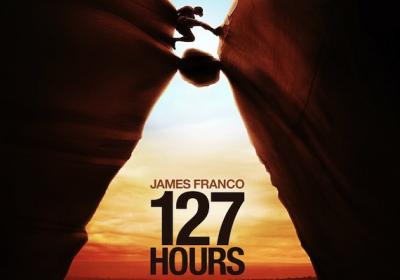 I looked away.
I admit it. When it came time for James Franco to cut off his arm during "127 Hours," I buried my face in my boyfriend's shoulder. Worried my squeamishness would betray me, I even preemptively covered my eyes when Franco plunged a dull knife into his forearm earlier in the movie. Reports of viewers passing out during screenings of "127 Hours" circled news outlets this fall, and I didn't want to be one of those people.
Directed by Oscar-winning director Danny Boyle, "127 Hours" is adapted from mountain climber Aron Ralston's autobiographical book, "Between a Rock and a Hard Place." Both chronicle a solo trek into Utah's Canyonlands National Park where Ralston's arm was trapped by a bolder in 2003. He hadn't even told his mother where he was going. For about five days—or 127 hours—Ralston, played with grace and mania by Franco, rations his water, tries to free himself and uses a handheld video camera to say goodbye to his family and friends.
With all the media attention surrounding perhaps the most excruciating scene this Oscar season, it might seem that the self-amputation is the most pivotal scene of the film. Even with my eyes averted, I felt a certain a catharsis in it after seeing Franco manically mountain bike to the canyons at the beginning of the movie and following the camera into his quickly emptying water bottle. However, the most important scene of the film happens just before the grotesque sound of cracking bones. The breaking point for Franco's Ralston has nothing to do with a broken arm.
Ralston, and the viewer, sees a sun-bleached room and himself holding a young boy. Could it be his son? Nephew? It's not clear. What is clear is his desire to live that maybe-moment. Finally, a man who just days earlier ignored his family's phone calls and candidly apologizes, via the video camera, for missing his sister's wedding, sees the importance of escaping that bolder. Ralston's family and old girlfriend dance before his and our eyes throughout the movie, but not until he sees that little boy in his future does he find a reason to save himself in the most horrific way possible.
These moments of vulnerability allow Franco's performance to surpass many of his earlier roles. His stoner dujour from "Pineapple Express" and even the brooding Daniel Desario from "Freaks and Geeks" come through in "127 Hours" as Franco's Ralston screams for help and tells morbid jokes to the camera as a game show host. His time alone in the canyon brings out all these characters, serious and comedic, insane and sober, showing both the different facets of his acting ability and human nature in general.
Unfortunately for Best Actor-nominated Franco, many moviegoers seem to have forgotten his bare foot, stretched as far as it could go just so he could feel some sunshine. Or the gravel in his voice when he tells his mother he should have called her more.
Instead, I hear there's this scene where James Franco cuts his arm off.