From 1 to 4 – The Highmark Quad Becomes a Family Affair
One man's experience at Erie's Quad Ski blossoms into a family tradition
March 20, 2018 at 10:32 AM
Growing up as the youngest child in the heart of the snow belt, where his closest friend lived half a mile down the road; taking up skiing was an easy choice for Doug Luthringer. As a teenager he would often pack a bag of snacks, strap on his skis and spend hours exploring the area around his house.
One day Doug saw an article in the Erie Times advertising the upcoming Quad Ski Race. He talked his mom into paying for his registration and little did he know, that he just signed up for an event that he would still be doing almost 30 years later with his wife and kids.
His first Quad ski experience took place at Elk Valley Golf Course. He had no formal training and had never waxed his skis. He started with the "non-elite" wave but quickly found himself catching up to those in the "elite" wave. He also quickly found out why people do wax their skis. He gutted his way through this race and fell in love with the Quad Games. The next thing he knew, he was signed up for the Quad Swim. He'd never had swim lessons or done a swim race. He belly smacked off the blocks, didn't have goggles, but finished the race and still loved the Quad Games.
In 1993, Doug joined the US Marines. He was very physically active during this time, but the Quad Games were forgotten over the next 15 years. During those 15 years, Doug got married, had his first child, Carter, and physical activity took a backseat to daily life. He soon found himself 75 pounds overweight and constantly sore and tired from running after his young son. He knew he had to make some lifestyle changes and get back into shape.
Doug started working with a personal trainer, he stopped drinking soda, and he started making the choice to be active every day. He started to realize that he could get back into shape, he wasn't too old to be active and live his life to the fullest.
In 2012, Doug decided to take the plunge and register for his first Highmark Quad Ski in almost 27 years. He realize pretty quickly that a lot had changed in since his initial ski race; when someone asked him if his skis were antiques. Again, he found himself gutting through the ski event and bought a new pair of traditional skis shortly after. He also decided to register for the 2013 Highmark Quad Series. After participating in the Highmark Quad for 2 years he convinced his wife, Michelle to join the fun! Michelle was not a competitive athlete and it took a bit of convincing to get her to join him. Doug kept telling her, "you don't have to compete, you just have to complete."
This quickly turned into the Luthringer family motto when Doug and Michelle talked their two sons, Carter (then 8) and Evan (then 5) to participate in the Quad Kids events. Doug said that he has more fun watching his kids learn and grow by participating in sports and competing in the Quad than anything else! His goal is to someday watch his two boys cross the Quad finish line in front of him!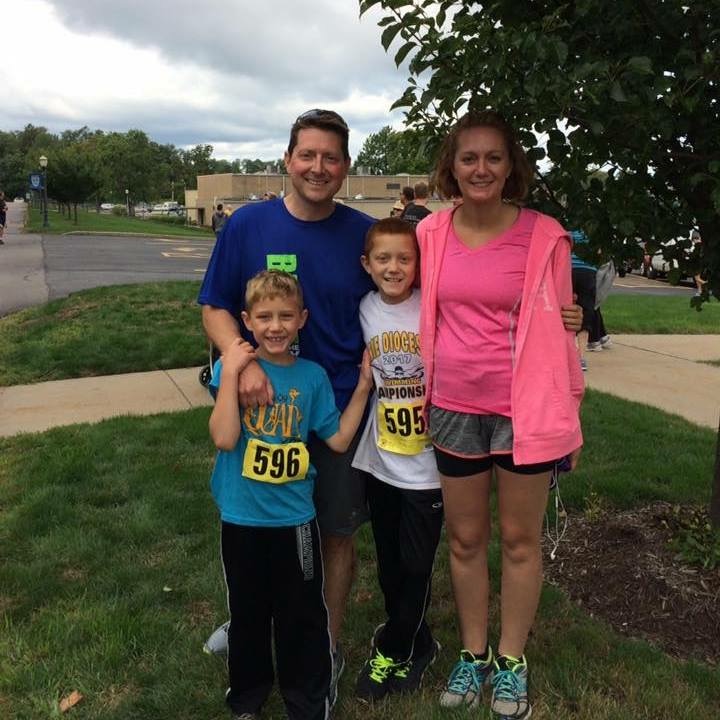 Last weekend the entire Luthringer Family – Doug, Michelle, Carter (now 11) and Event (now 8) found themselves outside, enjoying the beautiful snow NWPA is known for. Carter went out to ski and the entire family followed. Michelle took advantage of this moment and snapped a family selfie. The Luthringers are enjoying the snow now, but are looking forward to the 36th Annual Highmark Quad Swim that is scheduled for Sunday, April 22 at Edinboro University. Twenty seven years ago when 15 year old Doug Luthringer participated in his first Quad Ski, I don't think that he would have predicted that it would become a bit of a family tradition with all four Luthringers toeing the starting line at each event.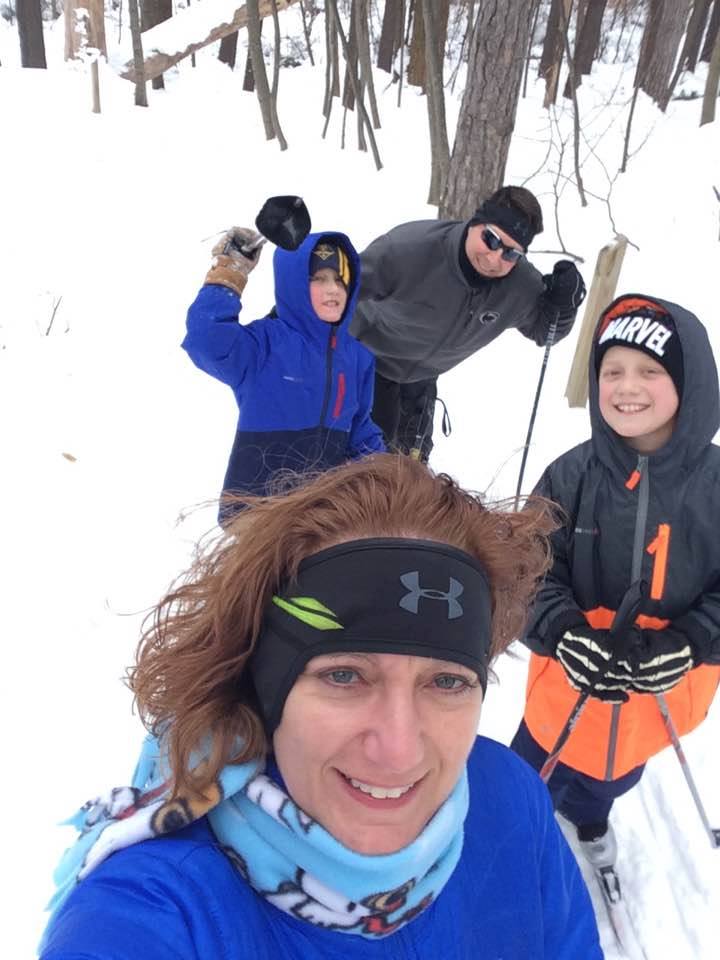 We look forward to watching Carter Luthringer, who will be competing in his first adult event series in 2018, attempt to finish ahead of Doug.  Congratulations to the entire Luthringer family and good luck during their 2018/2019 Highmark Quad Games!