From Columnist to Candidate
Why I am throwing my (pink) hat into the ring
October 25, 2017 at 1:15 PM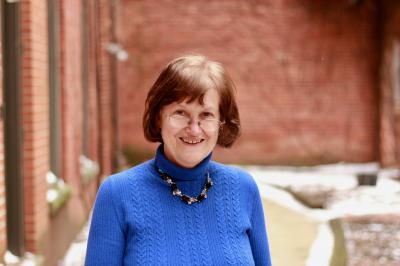 A baseball cap, a pink hat, a cogent quote on a paper scrap.
Those are some factors that influenced me to change careers, from lifelong local journalist to neophyte political candidate.
But making a run for Erie City Council in the Nov. 7 General Election is actually my second new midlife career.
Last Nov. 15, I met four friends at Panera Bread to commiserate about the shocking election of Donald J. Trump as president.
Except for one friend who came into our orbit in college, these girls and I (we never call ourselves "women") have hung out together since our days at St. Andrew's grade school. We are a middle-of-the-road bunch. We don't splurge when we eat out. One friend usually only orders a cup of hot water, then shares her stash of peanut M & Ms.
We've been stay-at-home moms, working women and parental caregivers; three of us are now grandmothers. We attend weekly Mass. We rarely talked politics. Then Trump became the Republican presidential nominee, and when even our most conservative friend said she would not vote for him, I used that minuscule voting sample to conclude that Trump couldn't win.
Of course, I was wrong, and one week after the election, I was at Panera, scarfing down the bootleg M & M's to ease the pain. Then I had to scoot, so I could join a capacity crowd to hear Doris Kearns Goodwin speak as part of the Jefferson Society's Global World Summit. Erie native Steve Scully, executive producer of C-SPAN, served as moderator.
After Kearns' lecture that night, fans lined up in the lobby of the Mercyhurst University D'Angelo Center to have books autographed. They clutched copies of Team of Rivals: The Political Genius of Abraham Lincoln or No Ordinary Time: Franklin and Eleanor Roosevelt.
 I held Wait Till Next Year, Goodwin's memoir about the joys and heartache of being a Brooklyn Dodgers' fan. I could identify. Like Goodwin, I grew up in a great family, with a devoted father who taught me to love baseball — the Erie Sailors and then the Pittsburgh Pirates.
Because the line for autographs was so long, Ferki Ferati, now president of the Jefferson Society, asked us to jot our requested inscriptions on index cards.
I handed Goodwin my card: "To Liz. Retired journalist, now baseball usher." She laughed, and I got a few seconds to tell her my Brooklyn Dodgers story.
When I wrote my autobiography for a seventh-grade assignment, my dad suggested I open with an anecdote. He told me that my mom was in labor with me during one of the most famous games in baseball history: the playoff between the Dodgers and the New York Giants. Dad said he was torn between listening to the game on the radio and awaiting my birth, and then I came into the world around the same time that Bobby Thomson hit his "shot heard 'round the world," a three-run homer in the bottom of the ninth to win the National League pennant for the Giants.
I love my dad's story. It helps to explains my lifelong love of baseball; after all, it was a backdrop for my exit from the womb.
It also helps to show why I became an usher for the Erie SeaWolves after I retired as a full-time opinion writer and columnist for the Erie Times-News at the end of 2015.
But as I reflect on my foray into politics, I'm also drawing some new lessons from my old baseball stories. First, like Goodwin, I was fortunate to have a dad who understood that a girl could love the boys of summer.
Baseball knowledge has served me well over the years. At Marquette University in Milwaukee, my college roommate was also a die-hard Pirates' fan and journalism major. Talk about compatibility! When our peers said "ERA," they meant the Equal Rights Amendment; my roommate and I were computing earned run averages.
Now I'm learning that politics can be hardball, and to navigate that field, I rely on my female friends. My friends I met at Panera that night eventually helped me to gauge whether my skin was thick enough skin to survive political brickbats. Friends from a book club, led by Laura Schaaf, have also been supportive. Our reading list has included Lean In by Sheryl Sandberg, Just Mercy by Bryan Stevenson, Evicted by Matthew Desmond, and "Erie Refocused," the comprehensive plan by Charles Buki. The friends — and the books — are all valuable resources.
I've also received encouragement from friends in person and "friends" on Facebook.
When I usher for the SeaWolves, I always feel cool when I scrunch on my baseball cap. It gives me an identity; it signals a sense of authority.
But my true feeling of empowerment came when my sister Colleen gave me a handmade knit pink hat to wear to the Women's March in Washington, the day after the inauguration.
With thousands of others, we protested peacefully, with our two brothers and with my friend Mary Ann, a classmate from Villa Maria Academy. Mary Ann isn't just middle-of-the-road. She actually lives on Middle Road in suburban Harrisburg.
After the march, Mary Ann sent me a two-inch strip of paper with this quote by Dorothy Day, co-founder of the Catholic Worker movement: "People say, what is the sense of our small effort? They cannot see that we must lay one brick at a time, take one step at a time. A pebble cast into a pond causes ripples that spread in all directions. Each one of our thoughts, words and deeds is like that. No one has a right to sit down and feel hopeless. There is too much work to do."
Two months later, that quote helped to propel me into running for political office at the local level. It has been hard to give up my weekly newspaper column, which I had continued to write after I retired. But I cannot stand idly by and let Trump's actions trample the values I grew up with in Erie: equality for all, common decency.
If I am elected to City Council, I will have a different storytelling role: I can actually help shape a new narrative about Erie, one in which we accentuate our assets and solve our challenges.
I will always advocate and celebrate fact-based journalism, which will inform my fact-based political decisions. And I pledge to tell the truth, even about the baseball anecdote that rests at the foundation of my life story.
The game with the shot heard round the world was played on Oct. 3, 1951, two days after I was born, which I didn't learn until years after I wrote my autobiography.
Always verify your sources, even if your source is your dear dad.
LIZ ALLEN worked at the Erie Times-News for 32 years. She is one of five candidates — four Democrats and one Republican — running for four seats on Erie City Council.