From plaid to Pyeongchang: Edinboro grad coaching Team USA halfpipe team
EUP Alum heads to the 2018 Winter Olympics
February 9, 2018 at 4:36 PM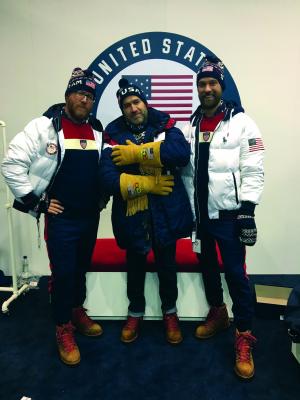 From Edinboro and Colorado to Vermont and California, Rick Shimpeno has been everywhere and more, but never did he expect a call from Rick Bower, head coach of the U.S. National Ski and Snowboarding halfpipe team.
"We need a coach, and you're on top of the list," Bower said. Needless to say, Shimpeno happily accepted and was on his way to train with the team by November 2016.
Shimpeno, a 1994 graduate from Edinboro University with a degree in photography, first hit the slopes when his father became a ski instructor at Mount Pleasant of Edinboro, where his father introduced him to the world of skiing and snowboarding.
"It was through my connections at Edinboro University and my network of riders that I made it out to Aspen Snowmass to become a snowboard coach," said Shimpeno, who, after meeting his wife Phoebe Mills, the 1988 Olympic bronze medalist in gymnastics, in Colorado, continued his coaching career by moving to Vermont where he became a staff member for the Stratton Mountain School in Londonderry.
While in Vermont he began coaching a junior national team, getting him even closer to the coaches at the time. Now fast forward to 2018 and Shimpeno is in Pyeongchang, South Korea alongside some of the greatest athletes in the world.
Team USA's snowboarding competition begins Sunday, Feb. 11, at 6:30 p.m. EST, with the women's halfpipe qualifying round. Halfpipe events wrap up on Tuesday, Feb. 13, beginning at 7:15 p.m. EST with the men's medal round. 
To view a complete listing of 2018 Winter Olympics events and to track Shimpeno's ski and snowboarding squads, visit http://www.pyeongchang2018.com.