From Rails to Riches: The Eastside Opportunity Corridor
Local politicians Breneman and Brennan unite to engage the community and combat Erie's east side blight.  
November 23, 2016 at 3:15 PM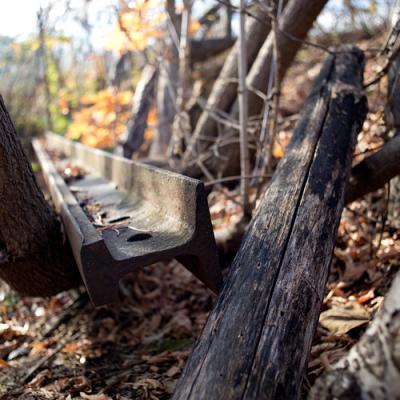 Historically, progress moves slowly on Erie's East 19th Street. The area first took shape from an idea born in Buffalo in the 1880s. That idea – the Nickel Plate Railroad – would define that region of Erie for the next century.
The rail line snaked its way south from Buffalo through Erie and onward to Chicago. Operating as both a cargo and a passenger line, the Nickel Plate Railroad – preceding Norfolk Southern Corp. – knifed through a residential stretch of Erie, bridging the much smaller Erie to its northern Rust Belt sibling Buffalo and the Midwestern megametropolis Chicago.
But such linking came at the cost of hauling in pollution and freighting in fear.
At its very beginning, Erie opposed the idea for various reasons – crime and safety key among them. And because the community seemed largely opposed to the tracks being laid, the railroad company broke ground on a Sunday since the courthouse wouldn't be open and officials or citizens couldn't delay what the company saw as the inevitable lynchpin between Buffalo and the Midwest.
So in rolled the heavy plumes of exhaust. The deafening blare of horns. The danger of children playing near the tracks. The halting of traffic.
After decades of the community railing against it, the connection – being a key stop along the Buffalo-Chicago path – hadn't changed the minds of Erie residents and officials.
In the 1960s, one Erie politician began what would become a half-century battle to unstake the iron snakes in the area. Unrestricted by term limits, Erie Mayor Lou Tullio called for the removal of the tracks decade after decade and term after term.
Not until Sept. 27, 2001 – 10 years after Tullio's death – would the last freight train roll down 19th Street. Eight months later, politicians, dignitaries, and a few lucky others boarded the final passenger train – a ceremony, really – to cruise from Greengarden Road to Parade Street at an 8-mph lull.
So up came the tracks, and a collective sigh of relief in the name of safety swept over Erie politicians and citizens alike. But before the community could heal the scars left where lines of steel lay for more than a century, in rolled something else – busted couches, broken TVs, and even discarded hot tubs.
It's easy to confuse them based on their last names only. It also doesn't help that they're both Erie council members.
The similarities continue in each man's brand of politics, perhaps at the heart of what drew them to work on a community project together: The Eastside Opportunity Corridor (EOC).
"Once he was in office, Jay came to me with the idea," says Erie City Councilman David Brennan. But before he began serving Erie as an elected official, County Councilman Jay Breneman says he knew he wanted to work on a project in this region.
Although they've become household names in the Erie political arena, neither has led a traditional path to office. Erie east side native Brennan filled the vacancy left on City Council after the death of Jim Thompson. As the term expired, the local architect would go on to win handily in 2013 and serve as the council's president until 2016.
Breneman, meanwhile, recently declared his bid for Erie's mayoral seat – up for grabs in 2017, as current Mayor Joe Sinnott terms out due to limits instituted after Tullio's historic six terms. Breneman grew up in western Montana, joined the U.S. Army around the same time the last freight train rumbled down 19th Street, and met his wife Jamie, who grew up in Erie. When it was time to settle down after an honorable discharge, the Brenemans decided to call Erie home. And like Brennan, Breneman wanted to make a difference.
Thanks in part to a strong grassroots effort, Breneman, an outsider, upset two-term incumbent County Councilman Ronald "Whitey" Cleaver in 2013 for his first foray into politics. But two years before that, in the summer between completing his bachelor's degree and starting his graduate work, he was interning at the Erie Area Council of Governments.
"Each day, the bus I would take took that route," Breneman says. "It'd go from neighborhood to neighborhood, but I saw something in between – and I said, 'Wait a second, what the hell was that?'"
That was – and largely still is – the scene on East 19th Street. Devoid now of train tracks, the street became littered with whatever can be obscured by brush and neglected lots.
"You see the garbage built up – and building up – in this area, and you have to think: Why not do something for the entire community here?" adds Brennan, who grew up near the area.
A less traversed pathway running east to west, East 19th Street is residential, rundown, and easy to overlook. Choked out by blight and overgrown vegetation, it's an incubator for crime. After all, where it's easy – and perceivably acceptable – to ditch a hot tub, it's easy to think no one's watching for other, more nefarious activity.
So the brief overview of how the EOC got started goes: One day Jay calls Dave. Jay and Dave decide to go for a walk. The walk they take spans 2.4 miles, starting at State Street and ending near Rodger Young Park on Downing Avenue. Dressed in overalls and ready for work but unnoticed by most eyes, as Thomas Edison once quipped, Opportunity stands at each intersection they cross. Jay and Dave see it. While naysayers might think the cleanup and reimagining of an area to be too difficult, the councilmen see the opportunity in the difficulty. They see the need not just to stop blight at 19th Street but to curb it, to beat it back, to reclaim the area for those living in it because their common political threads are community and progress woven together.
Both men are clear that what they have is a vision, not a "plan." It's not that they don't have a strategy on paper for the area – in fact, a strategic plan for the EOC does exist and is available online – it's more that the two see this opportunity as an evolving one that needn't be encumbered by what's simply on paper. Brennan and Breneman want to take action. But more importantly, they stress, they recognize that the community wants to take action and the community must be at the forefront of reshaping 19th Street.
"'It's about time,'" Breneman says. "That's what we're hearing the most when we knock on the doors of those in the area."
Breneman's 4th District, which abuts County Councilman Andre Horton's 2nd District, is diverse. It's young and old. Black and white. Poor and … less poor. It doesn't take a degree in urban planning to know that litter, social isolation, and vacant lots lower property values in a neighborhood.
"There are residents who've invested thousands of dollars of their own money in trying to better their neighborhood," Breneman says. "This is a way of ensuring that their investment doesn't go overlooked or forgotten – it's a way to bolster their investment."
Such investment, he adds, is "a collaborative approach among local governments, area college students, neighborhood residents, and experts in the field of architecture and community development to transform the former rail line into a connector to area parks, neighborhoods, businesses, and community destinations."
To date, that collaboration has been abloom.
The Sisters of Saint Joseph Neighborhood Network's Eastside Multicultural Community (EMC), which spans East 12th to 26th streets and State Street to East Avenue, has made the EOC a priority, second only to developing "a comprehensive blight removal plan and to transition blighted properties into productive uses," according to their EMC Revitalization Plan.
The first injection of impact capital to the region came from Erie County government. Under the County's 2016 budget, $5,000 was committed to, as Breneman puts it, "empower and engage citizens along the Corridor."
That investment has gone toward a series of neighborhood cleanups, one of which featured an Environmental Problem Solving Class from Mercyhurst University and SSJNN's EMC hauling away eight tons of trash on Oct. 22, 2015. On May 21, 2016, the SSJNN hosted Celebrate EMC!, which included a cleanup, free lunch for participants, raffles, and entertainment. The day also gave citizens the opportunity to review the vision for the EOC – and the hundreds in attendance overwhelmingly supported the direction of the collaborative effort.
"This isn't Jay and Dave's thing," Brennan adds. "If we can get the momentum going and step back to allow the community to take the lead, that means we've done something right."
And things are rolling along.
In May 2016, the Erie County Gaming Revenue Authority selected the Lake Erie Region Conservancy (LERC), a land conservancy founded in 2000 to identify and protect natural and cultural resources in the Erie area, to launch a pilot concept for the EOC with an operational grant of $50,000, which will be matched one-to-one.
For the pilot grant, funding will enable: an advisory committee consisting of neighborhood stakeholders, public officials, and businesses; at least three public meetings; a document capturing planning efforts, neighborhood input, and the feasibility of implementing aspects of the EOC; preliminary engineering and design for street crossings and bicycle lanes; and the improvement of recreational spaces along the corridor.
Additionally, Erie County Executive Kathy Dahlkemper committed $10,000 through special project funding with a required match of $5,000 in June 2016. The funding will go toward a detailed construction plan, mapping, drawings, and cost estimates prepared by a qualified professional, as well as public outreach.
What's more, the EOC has received funding pledges from local businesses. Velocity Network – the local service internet provider deploying fiber internet throughout the region, which plans to move its headquarters to downtown Erie – pledged an initial $50,000 for technology infrastructure during the implementation phase.
General contracting company E.E. Austin & Son, located in the neighborhood at 1919 Reed Street, has committed $11,000 in concrete and construction. In a letter of support to LERC Director Tom Fuhrman, E.E. Austin Manger Peter S. Austin said the company "wholeheartedly supports this plan," adding, "we take great interest in this attempt to create a space that we and our neighbors can be proud of."
It's being furthered through conversations with elected state officials who represent the area, Rep. Pat Harkins and Sen. Sean Wiley, along with meetings with the more than 60 businesses, nonprofits, and organizations within walking distance of the area. Negotiations for a lease of the land still owned by Norfolk Southern is promising.
Signage, like historical markers, as well as public art and a bike trail, are ideas in the works, Brennan says. But ultimately, what happens along 19th Street will be up to the community.
"By improving the area, it improves the safety. By improving the aesthetics, people take ownership of it. That's a very important part of this process," Brennan explains. "We want the people in the area to take ownership of the area. We want this to be a neighborhood initiative, not just something we develop."
To both Breneman and Brennan, the Eastside Opportunity Corridor is about placemaking.
"We want to provide residents and business owners in the area the opportunity to design their neighborhood. When we think of big investments or economic development, we think of buildings being razed, building up big projects," Breneman says. "In this case, we're not tearing anything down. Instead, we're engaging people in the area and asking them to design this blighted stretch of property. If we can leverage resources to make it happen, I think that's the best relationship any elected official can have with any community member."
"Instead of people coming from the outside – consultants, professionals – saying 'We think you should build this …,' placemaking, really, is asking the people who live in the neighborhood, who work in the neighborhood: 'What do you want to see? What do you think will work here?' We want the people in the community, in this neighborhood, to construct these things and offer the resources and the ideas," Brennan adds. "We're just out there trying to bring it all together."
Given its history of development, the progress made in the short existence of the EOC is a pace-changer for this region of Erie.
Given its history of development, the progress made in the short existence of the EOC is a pace-changer for this region of Erie. The momentum begun by two Erie politicians with area residents and local organizations to link a community not to megametropolises but to its residents is inspiring and encouraging – and a clear illustration that Erie is capable of collaboration.
Ben Speggen found inspiration in – and paraphrases with apologies here – the Thomas Edison quote: "Opportunity is missed by most people because it is dressed in overalls and looks like work," as well as Winston Churchill's quip that "A pessimist sees the difficulty in every opportunity; an optimist sees the opportunity in every difficulty." Projects like the Eastside Opportunity Corridor, which can be found on Facebook at facebook.com/eastsideopportunitycorridor, give him hope for Erie. He can be reached at bSpeggen@ErieReader.com and you can follow him on Twitter @BenSpeggen.