From The Editors
Blues and Jazz Festival, Discover Presque Isle, and Beer on the Bay are just a few stories amongst the great reads in this issue. But we're also asking the question: Why does Erie like to beat itself up so badly?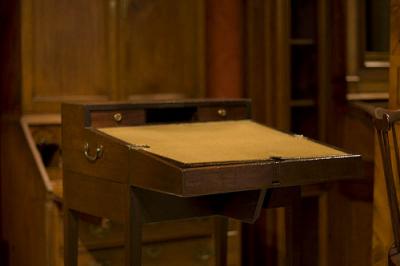 This issue's cover story begins with a question: do you remember her? If you're reading this in print, the "her" is black and not underlined. If you're reading online, you'll notice it's blue and underlined. It's a hyperlink back to Cory Vaillancourt's cover story on last year's Blues and Jazz Festival, where he described a beautiful woman, embracing the warm aestival aura sweeping through the city.
As it turns out, the woman Cory was describing is Erie. Here he picks up where he left off, telling of their affair last year and what she's been up to this year. Yes, she's been known to hang out with Kansas, the Buckinghams, and Vanilla Ice, but she also loves her Blues and Jazz.
That's why we're proud to feature the Erie Art Museum Blues and Jazz Festival on our cover for the second-straight summer. Cory talks about the festival and what you can expect to see Erie doing there -- apparently that involves a bicycle, a cooler, grillin' meat, and a hula-hoop, which sounds like a lot of fun to us.
He also chronicles this year's lineup in an interview with museum Director John Vanco, who worked to ensure he's offering Erie a great lineup for the 20th installment of this festival. Erie, Cory writes, "is beautiful, and if you haven't yet seen her summer-self in full flower, you're about to get your chance," so plan your weekend now, and come see Erie and the Erie Reader enjoying one of Erie's favorite festivals.  
But Cory's not the only writer who's been personifying Erie. If you've been following Toby Keller's blogs at ErieReader.com, you know he's been dating Erie this summer. Toby, a Warren native who writes about Discover Presque Isle Days as this issue's Pick of the Week, has yet to live in the Gem City. As his first summer here will soon come to a close, this soon-to-be college senior has a decision to make: Does he stay or does he leave, which means he'll either be part of the brain gain or brain drain -- words that cut deep in this city, as many people may be quick to say, "Why would a twenty-something want to stay here? What's Erie possibility got to offer him that somewhere else doesn't?"
Perhaps that's because Erie seems to love beating itself up. Pinpointing the origin of this self-loathing may take some time, but instead of focusing on that, there's a suggestion you'll find helpful -- and maybe a bit funny -- in Upfront that comes in the form of the hashtag #ErieProblems.
Without going into too much detail -- and spoiling your fun time with Upfront -- we need to find a way to laugh, and more importantly, focus on our positives. Here's a quick example: "So exhausted from too much live music this Saturday because of Crawford County MusicFest and Ball: I #ErieProblems."
For an example of how to focus on the positive further, read Ben Speggen's article about Beer on the Bay. Back for the fifth year, Beer on the Bay brings vendors, brewers, and beer enthusiasts to the Burger King Amphitheater at Liberty Park. Under the direction of the Erie Regional Chamber and Growth Partnership and Erie Brewing Company, the event's grown in size each year, attracting not only Erieities to the event, but tourists as well.
Consider that beyond purchasing a ticket to the event, tourists are dining in our city, seeking entertainment in our city, bunking down for the night in our city, and waking up to enjoy breakfast in our city. If we can put our best foot forward and stop grumbling about ourselves, maybe they'll come back and visit our vivacious vixen again. Who knows, maybe they'll even decide to stay and we can then begin to complain that we have too many smart, creative, and imaginative people living in our city.