From The Editors: Aug. 5, 2015
For better or for worse, Erie has spent nearly a decade with Mayor Joe Sinnott.
August 5, 2015 at 7:00 AM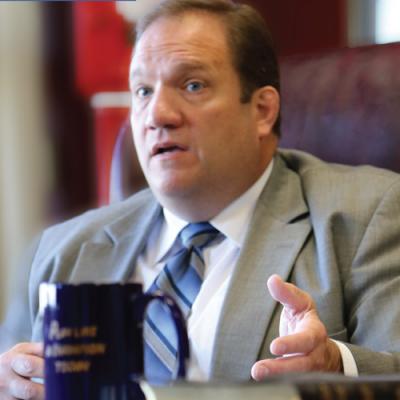 For better or for worse, Erie has spent nearly a decade with Mayor Joe Sinnott. And for better or for worse, Sinnott, who ran unopposed for his final of three terms, reaching the imposed limit on all mayors after Lou Tullio's two-decade long stand, isn't an out-and-front kind of guy.
Although there had been some grumblings in years and terms past, not much was made of the public perception of Erie's Mayor. Maybe because citizens thought he was doing the job well. Maybe because no one cared. Maybe because it hadn't been a matter of life or death, yet.
But after the alarming uptick in crime and violence throughout the City, many began questioning his public policy — and there's a trail to follow one of those conversation threads. Local businessman Dale McBrier questioning the Mayor at an open forum on violence, to which Erie Times-News Pat Howard responded in his op-ed, titularly arguing that "Erie needs Mayor Sinnott to raise his expectations," to which Sinnott — against his normal policy of not addressing editorials — fired back, defending his stance and his actions.
In short, Sinnott sees the City's core competencies being that of law enforcement and public services, jobs programs a secondary concern, and social services not a role the City should play.
And in short, people want answers, and they want them now.
So Managing Editor Ben Speggen wrote the Mayor an email. In it, he offered the chance to go on record, the chance to meet off record — either way, the chance to get to know more about the Mayor's philosophy and vision. Mayor Sinnott responded, said he wanted to go on record, a date was set, and Ben and Contributing Editor Jim Wertz headed down to City Hall, not in search of a silver-bullet-proof-vest answer but to offer a longform interview that would fill as many pages as possible and address as many topics as they could fit in.
Does it answer everything? No. Does it cover all topics from all angles? No. Does it provide a continuation of the conversation in the form of a 5,000-word dialogue that seeks to move the discussion of crime and violence and how the Erie community and the City of Erie Administration address the most pressing concern facing us today? Yes.
We hope that at the very least this helps clarify how the Mayor sees his role in this conversation. At the very most, we hope that it's a conversation you'll join, too, so that it doesn't end here.
What does end here, in this issue, is the longest running column in the Reader, Street Corner Soapbox. Aside from his always on-point commentary, longtime Reader contributor Jay Stevens has profiled swimmers, teachers, and chefs. He's authored outstanding features on the Eerie Roller Girls, the Paterno scandal and Erie's role in it, and Lake Erie and the environmental threats facing it. He covered the controversy surrounding raw milk and numerous political events, and he penned the first coverage of Erie's bayfront development on the former GAF site.
But you likely knew all of that already. What you may not have known was that Jay and his family have since moved to Minneapolis. And as Jay puts it in his farewell column, which you'll find in this issue, "you just can't write for a place like Erie without living in a place like Erie."
We wish him the best of luck as he starts drafting the next chapter of his life. And we encourage you to follow him on Twitter @Snevets_Yaj, as he'll soon be launching a podcast amongst what we're sure will be many other creative ventures.
The next installment of Erie Gives Day falls on Tuesday, Aug. 11. From 8 a.m. to 8 p.m., Erieites have a twelve-hour window to donate to the nonprofit of their choice. And if past years' successes and the swell of donations as the event continues to grow are any indications, we can expect to see record numbers yet again. Which spells a good day for nonprofits throughout the region, as the Erie Community Foundation also provides a prorated match to all donations.
For many nonprofits, this day, this twelve-hour window, provides the opportunity to secure the funds necessary to sustain their organizations and their missions in order to ultimately give back to the community. So it seems odd at best that again the Erie Regional Chamber and Growth Partnership is using the day to raise funds for... fireworks.
"Your support is critical in raising adequate funds to ensure the return of Boom Over the Bay next summer!" read at email that went out July 30. "Thanks in part to YOUR generosity, the ERCPG and the Flagship Niagara League brought back the BOOM this past 4th of July!", it continued.
Doesn't the Chamber have a strong enough network of businesses that could fund this if a true desire for fireworks is clear and present? Must donors with limited resources truly choose between funding their own firework show or any one of the various organizations, like the Erie Neighborhood Watch Council, that endeavor to address, curb, and reduce violence in our community?
Let's also remember that ERCGP tried this last year with a target goal of $40,000, falling quite short by netting less than $9,000.
Jim Wertz explores this issue more fully in his regular column in this issue, where he explains that this has never been about fireworks, but instead the fact that a campaign exists to siphon off critical funds from culturally-enriching, social-oriented, educationally-based organizations — for fireworks.
Because let's be honest: If there's anything that's simply "just for show," it's fireworks — bursts of colorful gunpowder in the night sky over which we ohhhh and ahhhh but for a brief moment, only to return to the very real and very present threat of gunfire throughout our city. Competing in a limited marketplace against organizations in search of real solutions to make Erie a safer, better place to live in simply to fund fireworks is a lot of taking without much giving back.