From the Editors: December 23, 2015
New Year, New Media: Why the impending sale of the Times Publishing Company is nothing to celebrate.
December 23, 2015 at 9:15 AM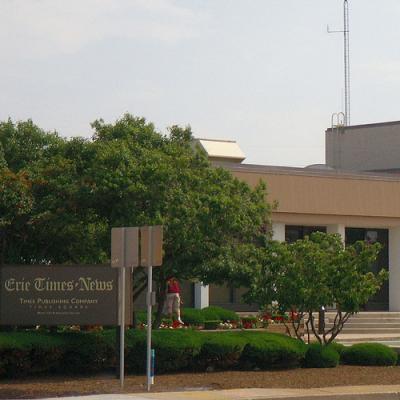 Since tribal times, storytelling has been a centering force of communities: The singular way we've had to understand where we came from, and what has happened to us collectively that might inform who we are moving forward.
In the U.S., newspapers predate our revolution. News — at least that which seeks truth — is the key to democracy. And the ability to report the news from within a community by people who comprehend where they live — and, more importantly, love where they live — is critical to that community's sense of itself as a vital, validated, distinctive place.
So the news about the sale of Erie Times-News to New Media Investment Group Inc. is saddening on many levels. As John Guerriero explained in the ETN on Dec. 15, "New Media is the New York-based holding company of GateHouse Media LLC, which controls 575 community publications in 32 states." Even the most cursory research of GateHouse and New Media reveals patterns of earnings-driven decision making: exactly what you'd expect from a publicly-traded company more interested in pleasing shareholders than subscribers.
Thus marks the end of the Mead family's 127-year ownership. And though the paper has long been run as a business with profit margins in mind, its owners live here. So representing this community's story authentically remained a priority, even as the Internet devastated the daily newspaper's power.
In the obituary he wrote for Ed Mead, Chairman Emeritus of the Times Publishing Company who died last March, Kevin Cuneo described him as "the voice and in many ways the heart of Erie during a 63-year career with the Erie Times-News.
"Mead's colleagues at the Times Publishing Company were fond of him because he always went out of his way to learn about them and their families," added Cuneo.
Hardly a description you'd hear regarding the out-of-town CEO of a holding company.
This news is also distressing because — although no one ultimately knows what will happen once the sale of the paper closes — many excellent journalists who work there are undoubtedly on edge about whether or not their new owner will consider their jobs worth keeping.
And New Media's trend is not encouraging.
After New Media acquired the Columbus Dispatch, a headline last September in Columbus Business First read, "What's next at the Columbus Dispatch: 20+ newsroom job cuts, new publisher, changing editorial page, less philanthropy." The article also reported that "63 Dispatch employees who don't work in the newsroom are losing their jobs as well. Multiple newsroom staffers, including editors and a reporter, also have accepted buyouts offered by the company. Some former editorial writers are shifting to reporting roles."
Additionally, Rhode Island Public Radio reported in September of 2014 that "Twenty-two members of the Providence Newspaper Guild were laid off Tuesday, as part of New Media Investment Group's acquisition of Rhode Island's statewide newspaper, including the Providence Journal's well-respected longtime metro columnist, Bob Kerr." The move ended that veteran journalist's 43-year career.
Even the most cursory research of GateHouse and New Media reveals patterns of earnings-driven decision making: exactly what you'd expect from a publicly-traded company more interested in pleasing shareholders than subscribers.
Any layoffs are heartbreaking, particularly at the expense of those who've given their lives to a company. But community journalists with long careers have accumulated a comprehensive understanding of their city's social, political, and economic landscape, and made connections with sources and story-makers that cannot be rushed. At their best, these are the elder storytellers of the tribe. And while their true value cannot be measured by any bottom line, they are often eliminated in favor of less experienced — and less expensive — journalists.
Interestingly, New Media is the company that just sold the Las Vegas Review-Journal. If you've been following this story at all, you know that the buyer of the paper initially refused to be revealed. Turns out it was Sheldon Adelson, who only confirmed his purchase after the Republican debates in Las Vegas at his Venetian property.
As the Review-Journal itself explained, "New Media Investment Group acquired the Review-Journal's parent company, Stephens Media LLC, for $102.5 million in cash in March. GateHouse Media LLC, a subsidiary of New Media, will continue to operate the Review-Journal and associated publications under a management agreement."
On Dec. 17, The Guardian reported that "News + Media Capital Group LLC bought the paper and some affiliated publications for $140 million, a markup of about 37 percent from the paper's last sale earlier this year, when the similarly named New Media Investment Group bought it."
The Guardian also included the perspective of media analyst Ken Doctor, who "crunched the numbers and said the previous owner effectively flipped the newspaper for a profit. Adelson had been pursuing the publication and then ended up paying three times the paper's worth, perhaps a sign of a new breed of newspaper owner: the political buyer."
Doctor concluded, "This is becoming a Monopoly game. The losers in this are the readers of the daily American newspaper." 
On the same day, ABC News reported that New Media was "defending the transaction and slamming the media.
"[GateHouse CEO Mike Reed] said the public company had no intention to resell the paper but did so out of fiduciary duty in the interest of its shareholders."
Meanwhile, the Financial Times reported that "Forbes estimates Mr. Adelson's net worth at $24.5 billion. He was the single biggest donor in the 2012 presidential race and is being aggressively courted by the Republican field this year."
Of course, Adelson didn't buy the Erie Times-News. But New Media did. And the fact that New Media consistently puts profits over people is nevertheless troubling.
So that, perhaps, is where the story of the ETN gets most distressing. We're not suggesting that some biased billionaire is going to sweep into town and purchase the paper within a year.
But once a newspaper is on the open market, it's a commodity available to the highest bidder.
Meanwhile, the most troubling truth of this is that hardworking, committed journalists who have helped this community see itself, and who — in many cases, have let us see them through columns and blogs and social media — now must wonder if an outside company will value their years of dedication and storytelling.
Our hearts go out to them.