From the Editors: November 23, 2016
Finding gratitude in a thankless time. 
November 23, 2016 at 10:15 AM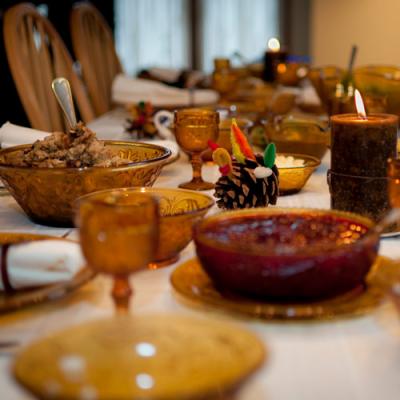 The holiday season is officially upon us. Ruled by the massive sprawl of Christmas, the season is bookended by two days that offer a time of reflection. New Year's Eve and Thanksgiving both let us look back on the year's events. And my, oh my, what a year it's been! 
For some, it might seem naive to list what we're thankful for this year. To certain people, 2016 has been quite the thankless year. But amidst the fear, the violence, and all the heightened emotions, it's not impossible to find silver linings. Daniel Doubet of Keystone Progress penned an op-ed expressing his anger in the wake of the presidential election. Setbacks and defeats can become rallying cries, engaging new voices in our political conversation. Things are far from over, and no matter what your political affiliation, we're still standing. 
Things are being built. New businesses are opening up and finding success all the time. Just look at RJ and Jamie Messenger's Iron Empire Clothing, which has recently upgraded to a larger storefront downtown. Ed Bernik talked to them about how their business continues to grow and thrive. Last year, they were awarded the People's Choice Award at Disrupt Erie, which hosted its second annual awards on Nov. 16. Congratulations to Tom Laird of Expivia, Erin Green of Verify Systems, Fred Williams of Climate Changers Inc., Jennifer and Terri Reed of Relish Studio & Gallery, and Joe Prischak of the Plastek Group on their wins this year.
There are things in the works, plans being made. Ben Speggen takes a closer look at a section of our city that demands revitalization. Talking with local politicians Jay Breneman and David Brennan, Speggen outlines the history and future of an area of 19th Street referred to as the Eastside Opportunity Corridor. 
New members of our community are being welcomed. Our city's thriving refugee population is finding its voice, becoming a pivotal part of Erie's story. Jim Wertz tells the story of one particular Iraqi refugee, Maitham Basha-Agha. Maitham shines a positive light toward whomever he meets, and we're immensely excited to be working with him at the Reader.
This issue is hitting the stands during another type of homecoming. People from across the county are filing in and flying in to Erie to be with their families. From college students to thirty-somethings and beyond, it's time to come back, even for a brief time. 
The day before Thanksgiving – known to some by the cringeworthy moniker of "Blackout Wednesday" (or simply "Black Wednesday") – is a relatively new phenomenon, and one of the biggest drinking nights of the year. First of all, listen to your mother: Be safe! But as you enjoy your turkey-eve responsibly, take the opportunity to reconnect with friends you rarely see all year. Familiar faces pop in, often asking, "So, how is Erie doing?" 
We sincerely hope the answer is, "Better."