Gabriel Alegria & the Afro-Peruvian Sextet Return to the Erie Art Museum
Get ready for a performance not geared to those passive listeners at jazz concerts.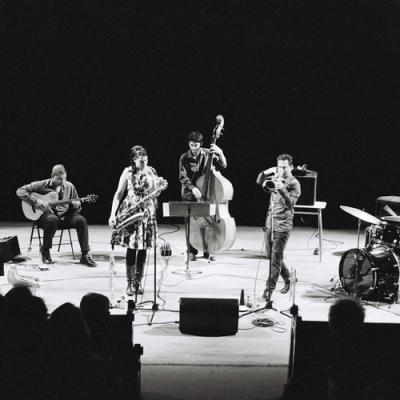 If you're one of those passive listeners who sits still even at jazz concerts, you'd better prepare to have your demeanor strongly tested by Gabriel Alegria & the Afro-Peruvian Sextet.
"If you go to jazz gatherings in Peru," Alegria says, "the audience becomes part of the music, shouting encouragement, hand-clapping to the rhythmic patterns."
Some area music fans won't be surprised, for they may have attended one or both of the previous Afro-Peruvian performances at the Erie Art Museum.
Well, you can't do a truly good thing too many times, so the band is returning to the EAM April 13.
This distinctive cross-cultural, Lima, Peru-based ensemble is led by high-energy trumpeter Alegria and powered by several percussion players, some on instruments alien to American jazz fans, such as the cajon (box drum) and quijada (jaw bone).
The band also features saxophonist Laura Andrea Leguia, five-time Grammy Award-winner bassist John Benitez, criollo guitarist Yuri Juarez, Shirazette Tinnin on traps and cajon, and Freddy "Huevito" Lobaton, an oft-honored multi-percussionist.
"What we discovered working in this music is that there's a certain similar energy between pre-1940s jazz and Afro-Peruvian music," says Alegria. "We don't play in a traditional jazz style; it's about the intention in the music. There is a joy, a positive energy. The energy is always there, and that energy is very much a part of the Afro-Peruvian tradition."
The band, which is celebrating the release of its third album (10), has drawn much praise in the U.S., not only from jazz critics, but several well-known American jazz musicians, including multi-award-winning composer, arranger, conductor Maria Schneider,
"Gabriel's a wonderful trumpet player and composer creating a sound few people have heard. Very fresh," she said. Veteran bassist Ron Carter said, "Gabriel is a talented and inspired leader and a positive force in the Peruvian jazz movement." – Bob Protzman
7 p.m., Tuesday, April 14 (doors open at 6:30) // Erie Art Museum, 20 E. Fifth St. // 459.5477, ErieArtMuseum.Org // $20