Gallery Night Returns This March
Treat yourself to a night on the town at some of Erie's best galleries. 
A little chilly from this frigid winter? Perhaps some paintings, a show curated by middle-schoolers, photography, or a light-and-sound installation may be just the right dose of warmth to carry you through to spring. You can find them all on Gallery Night. Compared to other Gallery Nights, this one is tiny, with only five venues on tap. It will be easy to attend them all and, perhaps, linger a bit longer at each.
If you're making a night of it, start on the west side where Kada Gallery is featuring the works of Frank Sullivan, known for richly colored and textured paintings of places near his home in Presque Isle, Maine. According to the Kada website, the works "depict his perception of places or things that have been forgotten by time and man. For him, dilapidation and neglect tell a story of beauty, one that as an outside viewer we cannot know, but instead, wonder at." Sullivan will be on hand for the evening.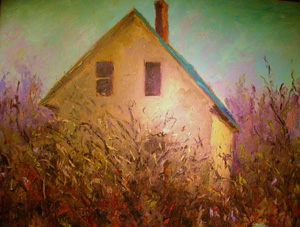 Next, stop by Lighthouse Jewelers where jewelry crafted from recycled metals is in focus. Featured are Wind and Fire Bracelets from New Jersey and Jillery by Jill Fagin of New York. Also highlighted is Erie artist Dotti Gilbo of DMG Creations, who crafts jewelry with beach glass and fine silver precious metal clay.
Then, head downtown for a stop at Glass Grower's Gallery, showing Nicole Martin's photography in Revisiting Light Polarization and Manipulation of Imagery. This is a must-see for those who treasure Martin's manipulated Polaroid images of years ago, and a chance to meet with the artist.
When ready, step next door for the meat of the night at the Erie Art Museum, which is offering an eclectic assortment of delights. Styled by Adams: Streamlining America, 1934-1958 showcases the industrial design work of Wilbur Adams, and Kids as Curators, now in its 11th year, gives you the opportunity to, as it says on the EAM website, "walk into the brain of a 12-year-old." (Both closing soon!)
Immerse yourself in Storm by Ian Brill, a site-specific installation that combines light, sound, and technology within the unique confines of the McCain Family Gallery to find Carl Heeschen's charming creatures prowling in the Ronald E. Holstein Gallery. The small exhibit focuses on a selection of linocuts and other prints depicting animals, by Heeschen, a professor of art at Allegheny College for 35 years.
Also on exhibit will be First Class, works by museum instructors and students, and a selection of paintings from the permanent collection that have not been exhibited previously.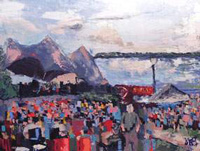 Your last stop is to see Jeff Kuntz's dreamy landscapes at Urraro Gallery, in a show titled Wanderlust. If you like poetry, though, you may want to rearrange your night to make sure you are there when poets Sean Thomas Dougherty, Lev Anatoly Burykin, and Michael Bennett read some selections.
All venues will be providing light refreshments. In addition, Urraro has music by Uncle Tony's Pizza Shop and the EAM will have hands-on painting, drawing, clay demos, and a pottery sale from Clayspace. As always, you get a chance to win a gift certificate to any of the galleries if you visit at least three of the five participating venues.
Gallery Night may not make winter end any sooner, but it's bound to be a great way to warm up your freezing soul.  – Mary Birdsong
7 to 10 p.m. Friday, March 6 // Free Admission // Various locations // More at erieartmuseum.org/events/gallerynight