Game of Arms
Erie arm-wrestling team lands spot on AMC's new hit show.
April 30, 2014 at 9:42 AM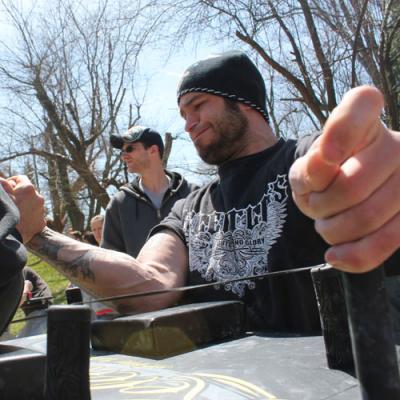 Early spring is a goldmine for sports fans. It's playoff season for hockey and basketball, baseball is hitting its stride, and even the NFL has football fans yammering on about the upcoming draft. Still, while Erieites have plenty of major sports stars to display on their glowing, high-definition flat screens, there are some underground athletes right here in the Flagship City that can make for the most compelling television of the lot.
Arm wrestlers may not get the same billing as their ball- and puck-moving brethren in most markets, but in Erie, the underground sport may have the upper hand in national exposure with Game of Arms, an unscripted reality show on AMC that finished its first season Tuesday, April 29. The program followed five teams of arm wrestlers from different areas around the country as they faced off, quite literally, mano-a-mano. One of those teams was the Wrecking Crew, known locally as Team Relentless, a group of five individuals representing Erie against the strongest arms in New York, California, Missouri, and Louisiana. In each episode, two of the teams square off, with each member facing off against another challenger in a best-of-five matchup for a $1,000 team prize and an extra $250 bucks for individuals winners.
While the other four groups may call a larger media market than Northwestern Pennsylvania home, it's hard for any other city in the nation to match the area's arm wrestling history.
"Arm wrestling has always been big in Erie," James Wagner says, elbows resting on the table as though he'll be grappling with another competitor shortly. "Danny Carr and Donnie Plonski helped start it. They were arm wrestling in the infancy of [the sport] in the United States, so there's always been a presence here in Erie. If you were raised in Erie, you wrestled in Danny's tournaments, and then after [Danny] moved on you wrestled in Donnie's tournaments."
James is joined at the table by fellow Erie teammates Bart Wood and Dave Chaffee, who both nod in agreement. It's a funny thing, meeting people you watched on TV. I'd call myself a rather large individual at nearly six-and-a-half feet tall, but it was hard not to feel miniscule compared to the trio, each sporting biceps swollen enough to match my thighs.  They seem unreal,  these physical specimens whose limbs bulge from exerting over 200 lbs. of force through their grips alone and can pull an SUV around with their wrist, but real they are, with bodies chiseled through dedication and training.
"I will tell you that 90 percent of all arm wrestlers diet, work out, train, and know exactly what they're eating," James says before taking a puff from his e-cigarette, the words "More human than human" emblazoned across his red shirt. "The arm wrestlers now are more physically-fit, developed, built, and trained for our specific areas, as opposed to those that are the beer-guzzling, double meat-eating kind."
Looking at the trio, it's easy to see what percentile they fall under, with James and Bart's 18-plus inch biceps squeezing out past the sleeves on their t-shirts. Dave's arms are covered in a black pullover, but the heavyweight's sheer muscle mass can't be disguised by a layer of cotton when the man has the ability to bicep curl over 200 pounds with a single arm, roughly the weight of an average NFL wide receiver.
While James and Bart are accomplished arm wrestlers, Dave has reached a level that few pullers ever do, becoming a world champion. The 36-year-old beat out the field at the 2010 World Arm Wrestling Federation Championship, placing first in the men's right-handed superheavyweight division, joining fellow Erie-natives Dave Sherwood and John Heynoski, Sr. to complete the feat. Even more, fellow Erie teammate and West Virginia native Travis Bagent, whose smack-talking ways are backed up by his talent, was a world champion in 2003. To round out the current five-man squad, John Heynoski, Jr. followed in his late father's footsteps and joined Team Relentless, which was named after Heynoski, Sr.'s motto.
"I've got to say, we're considered a powerhouse since Dave's success," Bart says. "James has won many Master's national titles, I've only placed in the top four, but with Dave's dominance, a lot of people have noticed Erie."
Dave's performance helped catch the eye of the people at Undertow Films, the company that produced hit shows like Deadliest Catch and wanted to create a gritty, underground feel for Game of Arms. In addition to the team's pulling prowess, Undertow showcased the various storylines that accompanied the competition, meaning that the team would have to get used to having the spotlight on them at home as well as the arm wrestling table.
"It was weird at first," Dave says of the filming experience. "I wasn't used to it at all and I was nervous all of the time, but you do it once or twice and these guys make you feel really comfortable, like they're not there."
Even better, the TV experience not only provided exposure for the group, but also some financial stability, helping the team with travel expenses from trips to tournaments across the country. While Dave could earn upwards of $100,000 this year if he performs well in various tournaments, a good year for James might net him just around $5,000, meaning that all three men hold down regular jobs, with Dave serving as a corrections officer at the Erie County Prison, Bart as a cement mason, and James as a maintenance worker.
"We were all joking that we had the coolest sponsor ever, that AMC was sponsoring us to arm wrestle," Bart laughs while he leans back in his chair.
Dave can pull in some nice paydays at major tournaments, but for most people, arm wrestling is not a lucrative sport, especially with the potential for injuries. Before becoming a world champion, Dave broke his arm in his second tournament ever, the snap creating a noise loud enough for the whole room to hear. Bart has battled torn pectoral muscles and signs of bursitis in his elbow. James busted up his thumb so bad that he couldn't brush his teeth with his left hand for three months because he couldn't pinch down. Yet even with the wear and tear, the thrill of arm wrestling drew them in despite the risks.
"For me, I was always an athlete, but after a certain age, you can't do certain things and you can't play football anymore," Dave says quietly, leaning forward in a chair that seems a bit too small for him. "But this, you can arm wrestle for a long time, and being competitive, it's just fun. And as a team, we're great friends."
James agrees with his Team Relentless companion, adding on to the idea of bonding in the sport.
"For me being older, I've quit a few times [before], but came back again with this latest rendition of this team," he says, a smile on the 46-year old's stubbled face. "When you're in that together, it's something you respect and share. I don't have to win to get their respect, I just have to fight and bust my ass and they'll just be as proud of me as if I won."
Arm wrestling may not have the following that other sports do, but that doesn't make it any less passionate. Similarly, Erie may not have the glitz and the glamour of some other cities, but like Bart, Dave, and James, it certainly has the heart to put it over the top of the competition and emerge victorious in the Game of Arms, regardless of the pin count.
Alex Bieler can be contacted at aBieler@ErieReader.com, and you can follow him on Twitter @Catch20Q.