Geeked Out: 2014's Top 10 Moments of Geek Culture
From Stars Wars to actual trips to Mars, there are the top-10 moments of geek culture in 2014
December 23, 2014 at 8:15 AM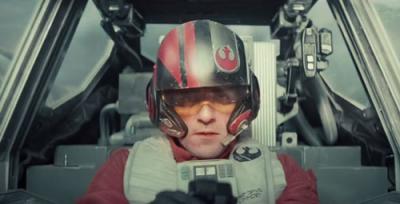 As the days become longer and the nights become shorter, it's that time to look back across the passage of the last twelve months that were 2014. While I am not always a fan of lists – the kind that all too often litter websites – I am fond of thinking back on all the great things that happened in a year. So as we close this year and this volume of the Reader, let's look back at all that was awesome geeky, nerdy, and amazing in 2014.
10. Star Wars
This Thanksgiving, our table conversations all revolved around Star Wars. With the release of the trailer, everyone quickly dusted off their copies of the venerable series and sat down and washed in the waves of nostalgia. This new trailer converted us all back into our former adolescent selves as we remembered what it was like when we watched Star Wars for the first time.
Just think about that trailer for a minute. It was perfect – the first few shots were that of people, and it wasn't until moments later when the CG kicked in that we all got chills as we watched the Millennium Falcon soar through the sky.
The hype is palpable.
9. Flappy Bird
Flappy Bird wasn't released this year, but it definitely ended up on everyone's radar in the early part of 2014. Flappy Bird was the phenomenon of Dong Nguyen, an independent game designer  from Vietnam. It was a phenomenon in the truest sense. Nearly everyone was talking about Flappy Bird, gaming publications were blindsided by the skyrocket of interest in this game, and many game designers were split on whether to celebrate its simplicity or cry foul.
Regardless of what you thought of the matter, Flappy Bird highlighted a known issue in the game development community to the outside world: Cloning. In the wake of Flappy Bird's success, the App store was FLOODED with knock-offs of the original. In the end, all the attention and debate surrounding the game resulted in Nguyen pulling the game down – even though it was a runaway success, earning him tens of thousands of dollars every day, from a free game serving ads.
8. Serial
Look, I am a podcaster myself, so maybe this is self-aggrandizing, but Serial is literally the best use of podcasting to date. We are all familiar with the standout podcasts like This American Life, The Nerdist, and Planet Money, but Serial was such a huge success that it helped reinvigorate the medium and make us remember why storytelling in a radio/podcast format can be so powerful.
It has become a ritual for me on Thursdays to sit down and find out the next turn to Adnan's story.
For those not in the know and not tuning in regularly, Serial reexamines the case against Adnan Syed, who was convicted for the murder, by strangulation, of his ex-girlfriend Hae Min Lee. Most of the trail was based on a sole testimony by Adnan's friend Jay. All of this took place over 15 years ago back in 1999 when they were all in high school.
In a world where investigative reporting has been snuffed out of major cable news, Sarah Koenig and Serial remind us that sometimes a story takes time to properly formulate, and even then it can still be a mess.
7. Comic Books
Yes, comic books! While they aren't new by any means, this year was an amazing year for comic books' ever-growing diverse fan base. Who would've know that in 2014 we would see Captain America's shield passed to a black man, Thor's mighty Mjolnir wielded by a woman, and have a Spider-Man who is Puerto Rican? This was an incredible year to see comic books begin to address these larger issues and begin to give a better representation for the incredibly diverse world in which we live. Also, you can factor in that Marvel also announced a Black Panther movie!
6. Local Multiplayer Games
Holy crap, people – this year was incredible if you like playing games with other people in the same room. Nintendo was killing it with releasing Mario Kart and TWO Super Smash Bros. games. Add in the wealth of indie games such as Lethal League, Sportsfriends, Crawl, Gang Beasts, Nidhogg, and Towerfall. Heck, I've already sunk countless hours into the multiplatform Plants vs Zombies: Garden Warfare, an amazing spin off from the critically acclaimed tower defense game.
5. Guardians of the Galaxy
Before 2014, I would be hard pressed to believe that one of the best movies I would see would, one, be a comic book movie, two, feature a team of four people with no super powers, and three, feature a soundtrack comprised of old pop hits from the '80s. But it's obvious now to anyone who has seen Guardians of the Galaxy that all those above statements are absolutely true. With this film, Marvel has completely established themselves as a major player in Hollywood. For better or worse, prepare for a LOT of comic book movies coming out in the next twenty years.
4. The Lego Movie
The Lego Movie was an unexpected pleasure. With very little idea of what a Lego movie would be like or even about, I was stunned. The Lego Movie not only captures the essence of what the act of playing with the iconic toy is like, it also has such a soft touch on dealing with much more real interpersonal issues we as humans face. And the end, where it pulls back to a story about a father and son, is deftly executed.
3. 3D Printing
3D Printing continues to amaze me in every conceivable way. This year we are beginning to see the fruits of the maker movement finally take grasp in mainstream. From the President of the United States himself acknowledging the importance of this manufacturing revolution to the many startups/documentaries/production breakthroughs that have been appearing, the future will forever be shaped by this new movement.
2. Net Neutrality
2014 also featured the largest defense of the Internet to date. Net Neutrality is slowly becoming a household term, as the battle for how we use and regulate the Internet continues to be waged. It has been a busy year for this particular sortie since the Supreme Court struck down the loose structure the FCC had in place to regulate the utility of the 21st century. Now the battle rages on for how we classify it and decide who gets to control it. The fight isn't over, and for the benefit of all, we must continue to work toward keeping the Internet free for all who want to work and do business on the most important technology of our lifetime.
1. SPACE!
I've said it once, but let me say it again… WE ARE GOING TO MARS! This year has been incredible if you geek out about outer space. From all the amazing discoveries from the Curiosity Rover – including water and organic compounds on Mars – to the European Space Agency's Rosetta Comet Landing mission, space geeks like me have been all a twitter. Factor in the new Orion space vessel and the amazing new rockets of the Space Launch System and we space nerds can barely contain ourselves. The future is now and deep space exploration is almost at our fingertips. It is an incredible time to be alive, knowing that in twenty years a human will walk on the surface of Mars and will then come home to tell us all about it.
John Lindvay can be contacted at jLindvay@ErieReader.com. You can follow him on Twitter @Fightstrife.
Sponsored by: Epic WebStudios