Geeked Out: Action Toy Man
Action Toy Man is Erie's locally owned toyshop that makes us all regress to our six year old selves and be washed with the waves of nostalgia.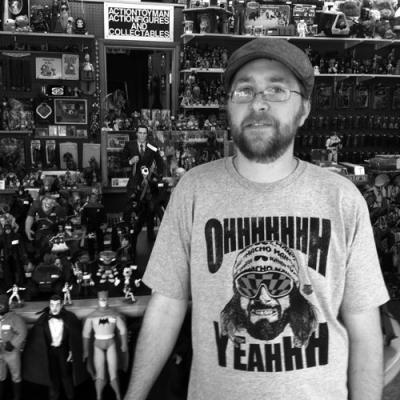 Action figures are small armatures of pressed plastic glued together with points of articulation. They run the gamut of pop-culture and typically we remember them from our youth. Action Toy Man is Erie's locally owned toyshop that makes us all regress to our six-year-old selves and be washed with waves of nostalgia.
Action Toy Man is a three-story store on the corner where Elmwood Avenue meets 26th Street. Inside are dioramas galore of all your favorite memories of childhood. Groupings of Star Wars, Superman, Legos, and Transformers are set around the store. Walls are covered floor to ceiling in boxed action figures. Outside, I was a self-proclaimed grown-ass man; inside, I'm 10 years old again, attempting to resist every urge to sit down cross-legged and play with the set of Street Shark figures.
Yes – STREET SHARKS! I bet you forgot about them, just like I did until I saw a set of them sitting on a shelf, begging to be taken home.
Patrick Short is the owner-operator of Action Toy Man. Did you know that this store has been around since 2010? I didn't – and for that, I am ashamed! Patrick, after losing his job at KB Toys while still finishing up his college degree to become an electrician, decided he wanted to open his own store selling action figures – something he was predestined to do.
 "Figures have just been my whole life; between having a brother who is ten years older [and his collection of Star Wars toys]… it just never stopped." His older brother loved Star Wars, and so Patrick spent the majority of his childhood peddling Garbage Pail Kids cards to bank money to purchase Star Wars figures. When talking to Patrick, it becomes clear that he not only loves these figures, he loves sharing that love with his customers.
When he first opened, he thought that his store would only attract others just like himself (read: collectors, geeks, nerds, etc.). Except that wasn't the case at all. He gets everyone from kids, to grandparents, and everyone in-between.
He is a father himself, and it's no surprise that his son loves the same types of toys as he did. Except in their house, it breaks down like this: In one corner is Patrick's old small Wrestlemania ring and in his son's, is the newer larger Summer Slam ring.
This carries over to all the genres, and it's something Patrick says the toy manufacturers got right. Patrick commented that everyone has at least a few great memories from their childhood, and more likely than not, those memories can be unlocked by seeing the toys of their youth.
Modern toy makers are always looking to find a way to recreate the toys from our youth today. While it may seem very basic and capitalistic, it still allows us to look back at those good memories. "It's the subconscious that's chasing after those good memories," Patrick added.
Currently the store is an impressive sight to behold. With a recently opened third floor where board games and G.I Joes are displayed, the store is massive and will allow Patrick to continue to grow. As of now, he estimates that he has over hundreds of thousands of individual pieces, but there are probably over a million pieces for sale, as he has over 130 consignment partners that he works with.
Erie tries very hard to behave as a large city but stores like this struggle to survive here. Action Toy Man is the only action figure store we have, and it has been a long road to get to his modest level of success Patrick enjoys today. The secret he said was one part listening and one part responding to what the customers want.
"I built this store one customer at a time," Patrick admits. Which isn't too surprising, because after I left having talked to him for 30 minutes about his store, I immediately wondered when I could get back there to look and talk some more. This is old-school small-business 101: make sure each customer leaves with a great impression, then they will sell the store for you through recommendations. He does admit, however, that the first year was nearly impossible. Looking at his numbers, many would have thrown the towel in and moved on to the next project. But he  persevered.
The future is looking bright for this little toyshop that could. Recently, Patrick has begun the works of creating a membership program. "Customers kept asking me, 'Hey do you have a place where I could get a coffee and sit and read or just hangout?'" Patrick told me. In response to this, he turned half the upstairs into an apartment for future potential members-only Pay-Per-View events or perhaps weekend classes on building cosplay outfits. While most of those details aren't hammered out yet, I have to admit I'll be waiting in line to sign up.
John Linvday can be contacted at jLindvay@ErieReader.com, and you can follow him on Twitter @FightStrife.